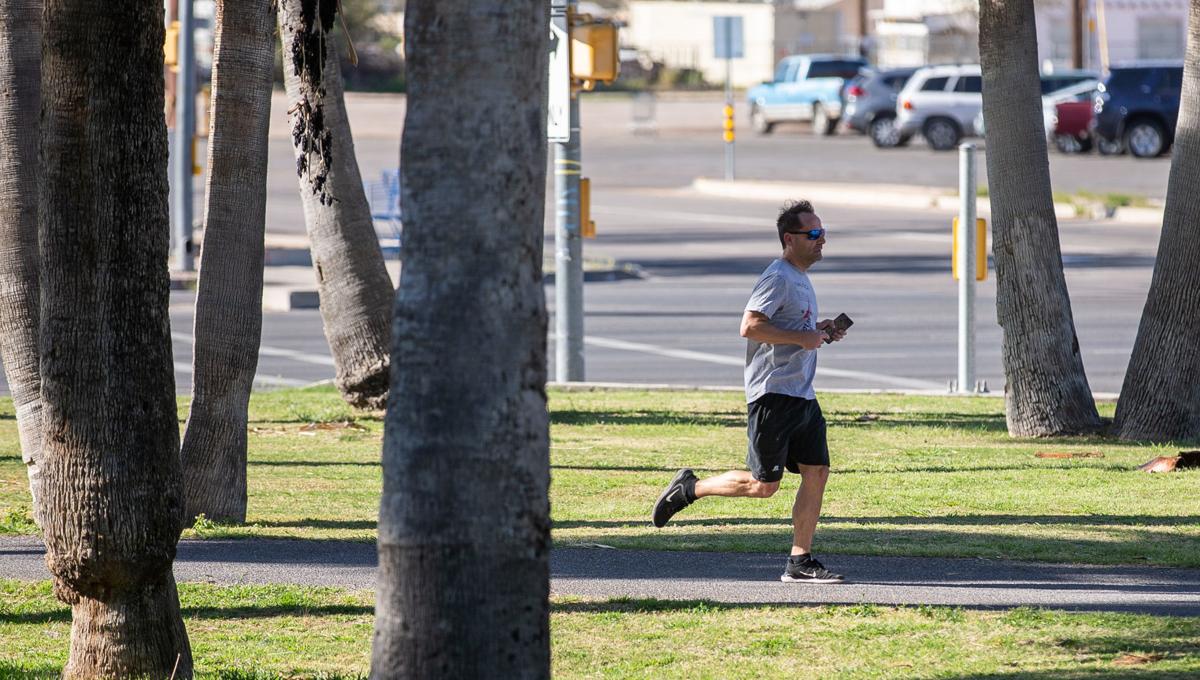 A week ago, Tucson followed cities across the nation and temporarily shuttered its gyms in an attempt to limit the spread of the coronavirus.
Competitive athletes, gym junkies and people just trying to get or stay fit suddenly found their routines interrupted.
It wasn't long, however, before they literally took to the streets.
Anyone working from home over the past week has no doubt noticed an increase in walkers, joggers and runners in the neighborhood. More than ever, people are walking (or running) the streets as a way to stay physical in a time of social distancing.
Road running is safe for most, unless a doctor has advised otherwise, and can provide more than just the obvious physical benefits.
"Assuming that we follow CDC protocols, outdoor exercise in a calming way is supposed to be good for immune and mental health," said Randy Accetta, director of coaching education for the Road Runners Club of America.
Accetta said it is important that runners follow guidance from Arizona and Pima County public health agencies and continue to be good health stewards. The Road Runners Club has a list of basic do's and don't's. Do, for instance: practice social distancing of at least 6 feet. Don't share water, sports drinks, towels or food — or spit or expel snot in public.
Accetta said the most important rule is to take it simple, especially if you're a beginner. While indoor gyms and tracks are closed, Pima County and the City of Tucson have kept parks, trails and multi-use paths open. National and state parks are also still open to the public, but with limited services. As of now, only the popular outdoor recreation spots of Tumamoc Hill and Sabino Canyon have been closed to visitors.
"Just go move," Accetta said. "Walk and run, walk and run. Do whatever you want to do, just don't do it too hard."
Accetta referenced "fartlek," a Swedish word that translates to "speed play." The idea is to vary your pace as you run, alternating between fast sprints and slow jogs. It doesn't matter how fast, slow, short or far.
"It's a pretty standard workout in the running world, and it holds pretty true for right now," Accetta said.
People who still are not sold on the idea of road running have other options. Accetta recommends lifting boxes or holiday decorations or junk in your garage or storage room if weights aren't available.
"Go kick a ball against the wall, play catch with your kids, play tag. Just get out and move a little bit," Accetta said.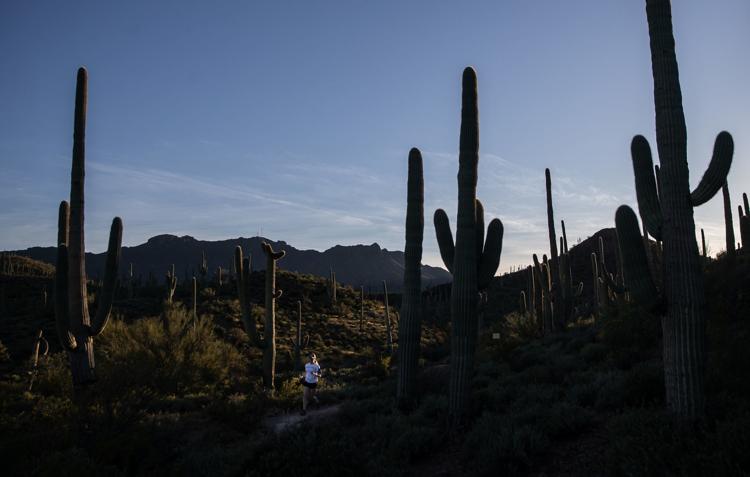 While many people enjoy running alone, the sport is surprisingly social. Many runners lean on each other as a core function of their social spheres. As a result, many are asking their local running clubs if it's OK to run in pairs or groups. Answers vary.
"Some local groups say absolutely, as long as the regional groups are allowing it," Accetta said.
Still, Accetta and his wife Tia have canceled their bi-weekly running group.
"The Workout Group" has grown since its founding in 1997, with upwards of 50 and 60 people gathering on Tuesday and Thursday nights to run with the Accettas.
"It's the longest-running (running) group in the history of the world, I think," Accetta said, adding that the group takes a break during the peak heat of the summer months, but aside from that meets without fail every Tuesday and Thursday. "We have generations of runners."
The break is unprecedented for the group. For decades, local runners have used the meet-ups as a way to help each other through hard times.
"We used the group to come together after the Boston Marathon bombing and Gabrielle Giffords shooting," Accetta said. "All my life has been spent bringing people together in pursuit of fitness. Now we have to send people away in pursuit of fitness."
The group has migrated to Facebook, Instagram and other social media platforms to share exercise ideas and tell their stories. It's going to be that way for a while.
On Friday, the Southern Arizona Roadrunners, a nonprofit dedicated to promoting health and fitness in Southern Arizona through running and walking, canceled all events for the next eight weeks, citing guidelines from the CDC. In a post on its website, the group said the dangerous summer heat limits the group's ability to reschedule some of the events.
"Utmost in our considerations is the health and well-being of our community," the post said. "In the coming weeks, the potential human and economic toll will, no doubt, be difficult to grasp, but it is our hope that our community understands that our commitment to health and safety is second to none."
For competitive runners, the forced break from races could be a good thing in terms of finding balance, Accetta said.
While some people might want to hit the trail and run hard or take an extreme bike ride, Accetta said it's important to remember that every workout should be in service of a person's own needs, rather than any external or internal goal.
"Let's use exercise for ourselves and not the clock or log book or Strava," Accetta said.
"Get away from comparing yourself to others and use running for you."
Concerned about COVID-19?
Sign up now to get the most recent coronavirus headlines and other important local and national news sent to your email inbox daily.