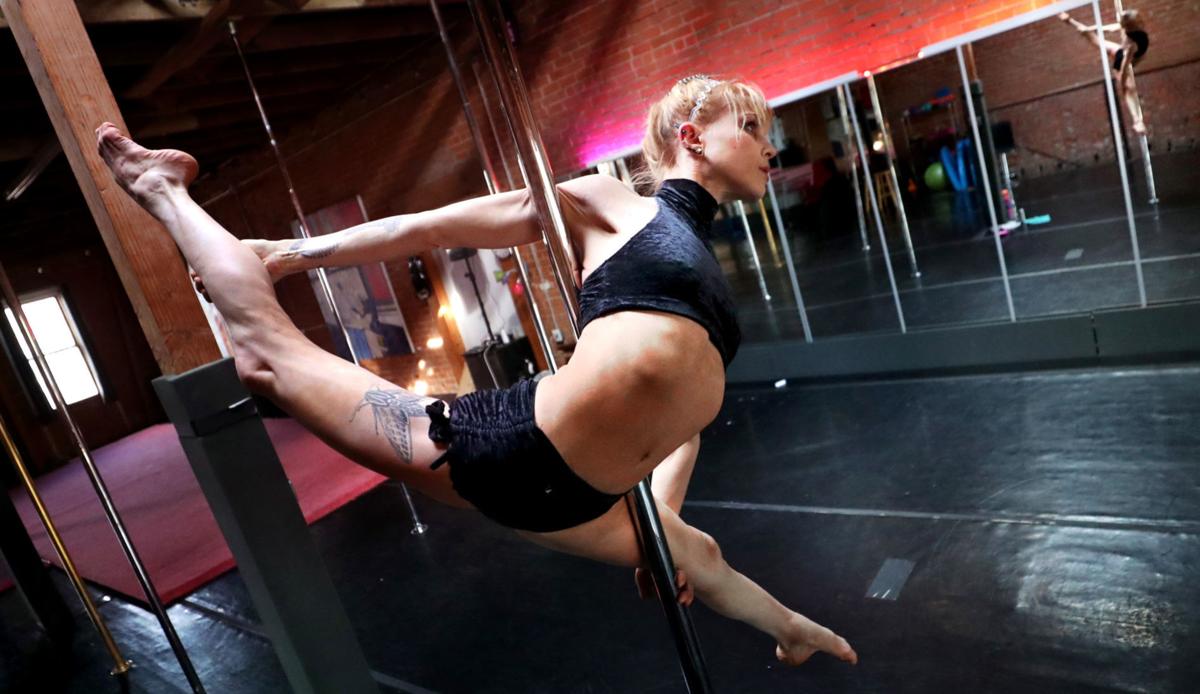 For most of her life, Anna Mirocha thrived in Tucson's outdoor sports scene, enjoying the city's natural wonders as she hiked, ran and biked her way across town.
That all changed in 2008, when she was hit by a semi truck while riding her bicycle. Two of the vehicle's wheels ran over her lower leg, narrowly missing her ankle. Mirocha suffered a crushed tibia and had to have several bone grafts, effectively ending her time as a road-sport athlete.
Seven years later, Mirocha read an article about the up-and-coming sport of pole fitness and the sisterhood among those who participate in the sport. Mirocha said she found the idea of pole fitness both intimidating and cool.
"It was right around when feminism was getting mainstream," Mirocha said. "My whole life it felt like most of my problems stemmed from being a woman. A lot of it's just the way women are just made to feel bad about themselves, particularly our bodies."
Mirocha recruited a friend and went to a class at the only pole studio in Tucson, taking it slow for the sake of her leg.
"I was addicted immediately. Soon, I was going as many times a week as I could," Mirocha said. "Now, it's my whole life besides work."
The 38-year-old web editor and part-time pole sports instructor is part of a growing — and local — movement to get the sport into the Olympics. And it's not just a pipe dream.
In August 2016, the International Pole Sports Federation filed its first International Olympic Committee application. The next year, the organization that oversees all Olympic and non-Olympic sports federations granted the ISPF official observer status, helping to legitimize the sport through international recognition.
Devotees compare the sport to gymnastics events like uneven bars and rings. Pole sports are not exotic dancing, and certainly not what Jennifer Lopez did in this year's Super Bowl halftime show. High heels are not allowed.
"This means the discussion is on the table and we've complied with all they asked," said Rori Chacon, who teaches alongside Mirocha at Kinetic Arts in downtown Tucson and is a member of the American Pole League, the only United States group recognized by the ISPF.
Pole sports were well along their way to being demonstrated at an upcoming Olympics before the coronavirus pandemic put sports, including this summer's Games, on hold. On Friday, the ISPF announced it will suspend the 2020 competition season as well as the October world championships.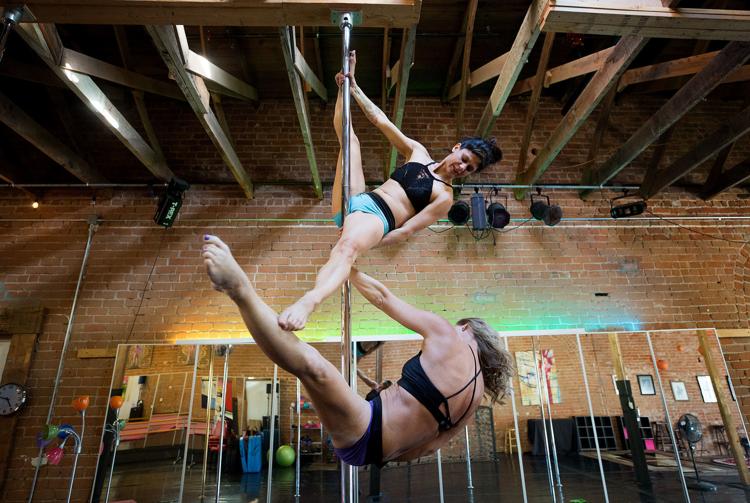 "We as a sport strive to be Olympic, and with the IOC's decision to postpone the Olympic games, we believe that suspending our season would be the safest option for everyone, and the option that is fairest toward our athletes," the ISPF said in a news release.
The postponement of the competition season hasn't blocked the sport's path to the Olympics. It's simply delayed, like nearly everything in sports.
"It would be great to have pole in the Olympics," Chacon said. "I think it would be fun and watchable, like how I used to watch gymnastics growing up."
Chacon's 7-year-old daughter introduced her to pole sports several years ago, after receiving a homework assignment to find an article about current events. The girl found an article about 10-year-old Tucsonan Paige Olson, who had recently won first place for her 10-14 age group in the U.S. Pole Sports Federation Championships in New Orleans.
Chacon sought out a pole sports class for her daughter to take, joining her shortly after.
"I like that we could do it together, and it was a little bit cheaper than gymnastics," Chacon said. "And honestly, I liked the controversy part about it. I thought it was new and exciting."
There is a difference between pole sports and exotic pole dancing that seems to get lost in the conversation at times, Chacon said. Kinetic Arts teaches both types, but only pole sports classes are open to students of all ages.
"Both are valid and wonderful," Chacon said, talking about the skill in which Kinetic Arts' owner Brenna Mirae brings to the "flirty flow" classes she teaches. Mirae grew up taking gymnastics and dance classes before starting work as a pole dancer in 1999. Several years later, Mirae decided she wanted to help pole dancing find legitimacy in the dance world.
Chacon said pole sports have made her stronger and more confident, noting that it was an activity she could pick up in her mid-30s — unlike ballet or gymnastics.
"Pole allowed me to live out my dream of doing something like that," Chacon said, adding that pole sports don't cause athletes to "age out" like they often do in gymnastics. Instead of relying on one's legs, like many endurance sports, pole sports focus mostly on a person's core strength and upper body.
"The vulnerable environment also kind of promotes bonding. We're all self-conscious; it's just human nature a little bit," Chacon said. "After a few months, you just get over it. You start to think about what your body can do instead of how it looks."
The APL, which was started in Tucson by Olson's mother three years ago, was on track to have upward of 50 to 75 members this year. In its first year, it had 30 members.
Kinetic Arts' students include men and women of all different ages, shapes, sizes and abilities, and its class offerings include pole fundamentals, technique, "poleography," "flexuality," aerial hoop and more.
"People really enjoy it as a way to work out," Chacon said. "And it's cool to measure your results in not adding weights at the gym, but rather, 'I couldn't go upside down eight weeks ago, but now I can.'"
Chacon jokes with her gym-junkie husband that unlike his muscles, hers do more than just look good.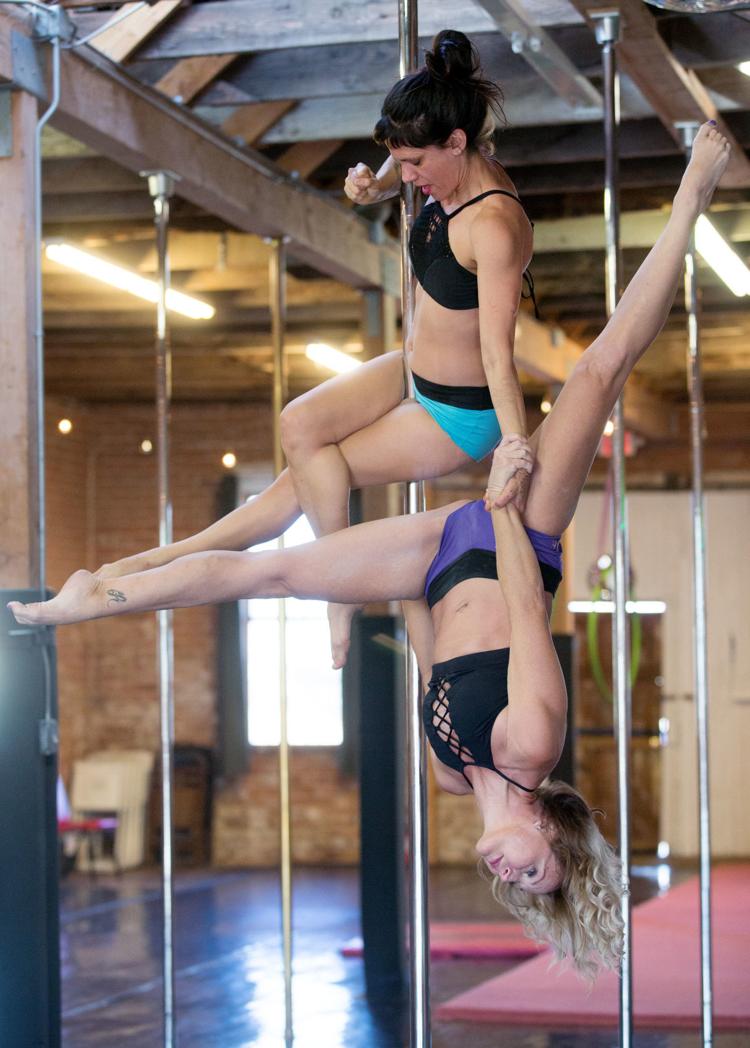 Like Chacon, Mirocha relishes the physical strength she has gained from her time in pole sports but added it has been both empowering and good for her mental health.
"I've never felt so good about my body," Mirocha said. "I've had plenty of therapy. … This is the best supplemental therapy."
She also likes that pole is a sport for everyone, but admits that it tends to come easier for athletes. Mirocha said that while everyone has their own idea of what pole sports are really about, they're gradually opening their minds to it.
"Whatever you want to make out of it, you can. You get out of it what you put in," Mirocha said. "Whatever limitations you feel you have, you can probably get past them and then some."
Mirocha cherishes the sisterhood she' has found through the sport, saying it "counteracts all the crappy feelings" women have about themselves.
With Kinetic Arts temporarily shuttered and the competition season on hold, Mirocha, Chacon and the rest of the world's pole athletes have little recourse in the meantime.
"Pole athletes are serious about their training, and I know how hard it is to be away from their beloved sport," Chacon said. "But I think this postponement will allow everyone to relax, focus on doing their part for their families and communities right now, so they can come back stronger than ever next year."
Be the first to know
Get local news delivered to your inbox!