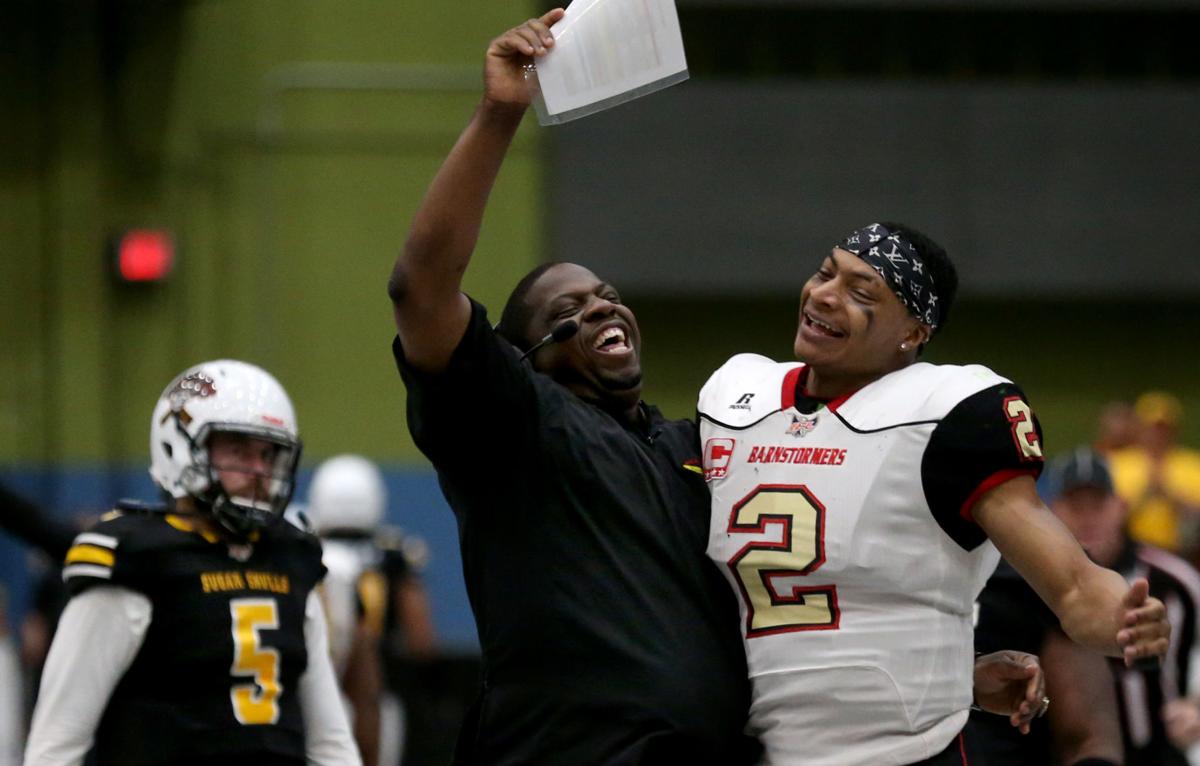 Slowly but surely, Dixie Wooten is molding the Tucson Sugar Skulls' roster into a blend of last year's expansion team and the Iowa Barnstormers. On Wednesday, Tucson announced the signing of ex-Iowa quarterback and 2019 Indoor Football League MVP Daquan Neal.
Starting every game for the Barnstormers, Neal led the IFL with 83 touchdowns and was second in passing yards per game (188.7).
The 6-foot-2-inch, 215-pound Neal also finished fourth in the league with 46.4 rushing yards per game.
With Neal under center, the Barnstormers overcame a two-possession deficit in the second half to beat the Sugar Skulls 61-58 during an April showdown at Tucson Arena. Neal completed 19 of 26 passes for 265 yards and scored seven touchdowns.
His coach that day? Wooten, who was named Tucson's head coach and general manager last month following three years in charge of the Barnstormers.
"I just want to thank the Tucson community and Coach Wooten for welcoming me and for allowing me to continue my career," Neal said in a news release. "It was a great experience both on and off the field last year when we came to Tucson."
Neal gives Tucson a key piece to the 2020 season. The Sugar Skulls made the playoffs in their first season of existence, but were unable to advance. The team parted ways with coach Marcus Coleman following the season, and has been bringing back key parts of last year's roster in the weeks since Wooten's hiring.
"To win a championship, you need a strong quarterback and the Sugar Skulls have one," Wooten said.
"He is the MVP. He is one of the most dangerous dual threat QBs in the IFL. He's a leader, a hard worker, a great teammate, and he gives back to the community."
Neal is the second former Barnstormer to join the Sugar Skulls since Wooten was hired. Last week, Tucson signed safety Jajuan Harley, who was the defensive captain for Iowa in 2019. Assuming the Sugar Skulls re-sign All-IFL linebacker Zach Allen, defensive tackle Keith Jones Jr. and cornerback Dee Maggitt, all of whom played in Iowa before joining the Sugar Skulls last year, Tucson will have five players with Barnstormers ties.
The club has also re-signed linebacker Robert Metz, wide receiver Jeremiah Harris and cornerback Cam Gaddis. Other signees for 2020 include wide receiver Koree Reed and quarterback Johnny McCrary.
"Coach Wooten and I have unfinished business in the IFL and I'm happy for the opportunity to come to Tucson to help make history," Neal said.
"I know I'm going to work hard for Coach Wooten and keep progressing as a quarterback. Let's get this ring, Tucson!"
Contact sports content producer Justin Spears at 573-4312 or jspears@tucson.com. On Twitter @justinesports