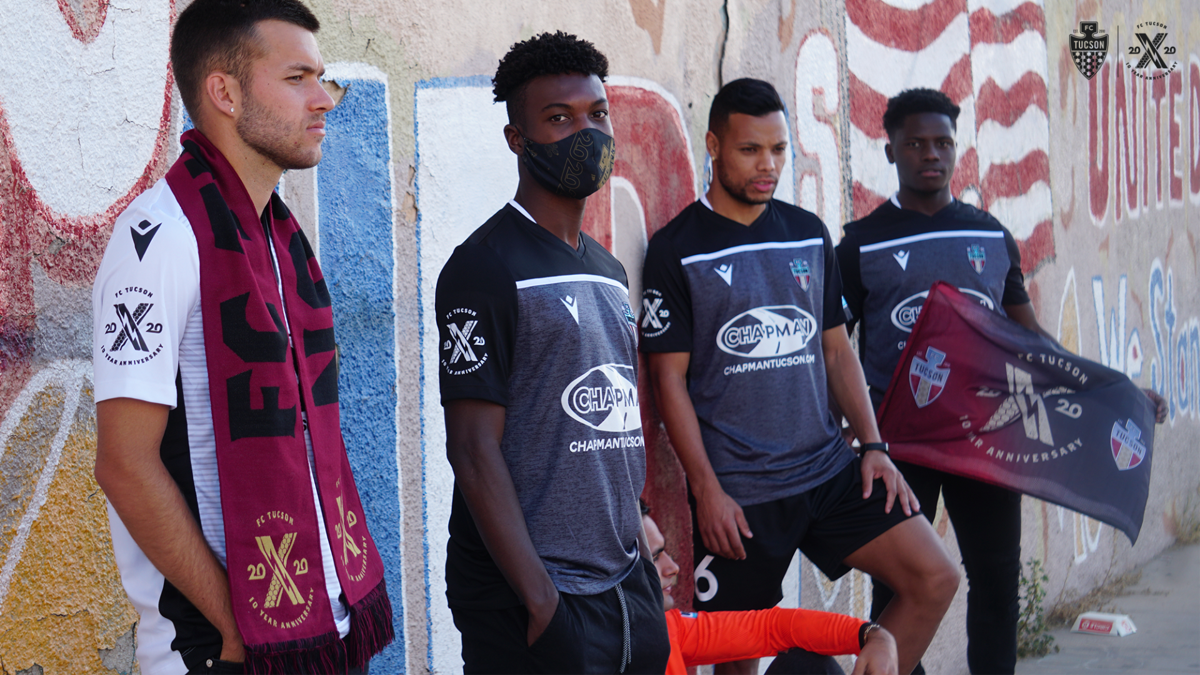 The invitations were sent. The restaurant was booked. There were going to be hype videos and a fashion show and, probably, a standing ovation.
FC Tucson's March 18 jersey reveal party never happened, however. Just like almost everything else in sports, it was canceled because of the coronavirus outbreak.
Amanda Powers' first crisis as FC Tucson's club president came with both an emotional and financial cost. The team had already ordered tens of thousands of dollars' worth of merchandise to sell during the 2020 season.
"Because everything went on hold," she said, "we're stuck with the bag."
And 1,000 opening-day flags. And another 1,000 bandannas. And, of course, the jerseys.
FC Tucson unveiled the new gear on Wednesday afternoon — "520 Day" — and is now selling jerseys, hats, hoodies, scarves and more on FCTucson.com. The new jerseys are $75, with a $20 upcharge to add the name and number of any current player on the city's pro soccer club. Fans who purchase jerseys will receive a hand-sewn FC Tucson mask for free. (Local orders can be picked up at The Shop, 3130 E. Fort Lowell Road.)
COVID-19 has been devastating for Tucson's professional sports teams, all of which operate with razor-thin margins even in the best of times. The Indoor Football League's Tucson Sugar Skulls saw their season canceled during training camp. The Tucson Roadrunners were cruising toward the Calder Cup playoffs when the American Hockey League suspended, and then ended, the 2019-20 season.
All three teams are selling merchandise online during the shutdown. Buying local both supports the teams and helps them cut down on excess inventory. Powers, for one, has been warehousing countless boxes of FC Tucson gear in her home. Purchase a T-shirt, hat, water bottle, scarf, jersey or bandanna, and the team's new president — she was hired in January — is likely to be involved in fulfilling the order. She takes jersey orders to The Shop, which has them waiting for fans via curbside pickup.
Similarly, the Sugar Skulls have launched an online sale of hats, tees, commemorative footballs and other gear. A never-before-seen alternate jersey — the Sugar Skulls were planning a "red-out" for their March 29 home opener — can be bought for $80 on the team's website. Black home jerseys have been marked down to $40, and select tees can be had for as low as $10. The Roadrunners continue to sell jerseys, shirts and hats online and at retail outlets throughout the city.
The Sugar Skulls and Roadrunners gear is timeless, meaning leftover stock can be rolled over to next season — whenever that starts.
FC Tucson's new jerseys, however, include a 10th anniversary logo on the sleeve. The team plans to celebrate the milestone this season, whether games are played or not. The logo — a Roman numeral X — comes with dashes of local flavor: a rattlesnake skin pattern, a river signifying the Santa Cruz and a lightning bolt that the team says is "a symbol of Tucson's energy and illumination of the desert skies."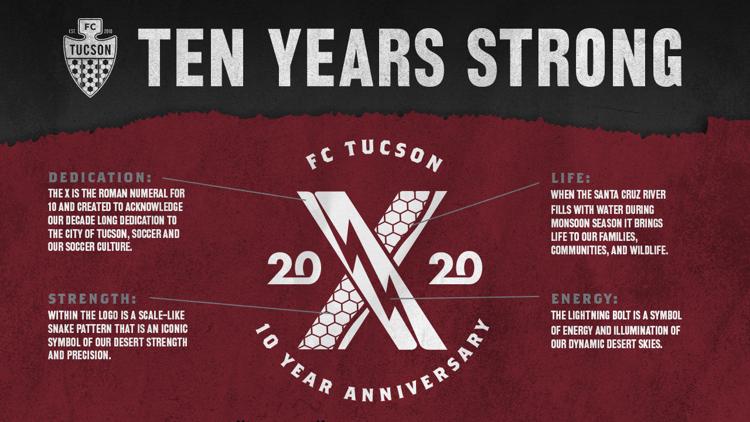 FC Tucson will continue to wear black at home, as well as some gray. The white road jerseys include a new wishbone collar. The kits themselves are being made by Macron, an Italian sportswear company that also outfits USL Championship's Phoenix Rising FC and Miami FC.
Powers, a member of the USL's coronavirus task force, said she expects to learn within the next 10 days whether USL League One and its parent organization, USL Championship, plan to play a 2020 season. She said games could begin in July and run through November in front of about 25% capacity at stadiums. Players and coaches would be tested frequently for the virus.
There are major issues with the July-November schedule, however. One is financial: Few teams in USL League One can make money with their stadiums at 25% capacity. The other is travel: FC Tucson flies commercial. Had the 2020 season started on time, the Men in Black would have already played in Orlando, Florida; Chattanooga, Tennessee; and Greenville, South Carolina, with multiple flight legs on each trip. The team would have spent Friday traveling to Nebraska for a match against Union Omaha.
"How," Powers asked rhetorically, "do I social-distance on my way to Georgia?"
To solve that problem, Powers and others are exploring a 10-game season spread over 45 days, with opponents coming from both USL League One and the USL Championship sides. FC Tucson would play Phoenix Rising FC, New Mexico United, El Paso Locomotive FC and other regional teams, traveling to road matches by bus and spending one night per trip in a hotel. The plan in some ways mirrors that of Major League Baseball, which has discussed playing a regional schedule designed to cut down on plane travel and hotel stays.
The club has also pursued a scenario where Tucson would host up to 30 teams for a 60-day World Cup-style tournament at Kino North Stadium and Kino Sports Complex. That model, which would require multiple hotels and pre-match quarantining, is the most ambitious of the options.
"Whatever the case is, I've got merchandise," Powers said. "2020 is a year that's going to be forever in the history books with that asterisk on it. Why not launch a jersey with this emblem on it?"
Be the first to know
Get local news delivered to your inbox!