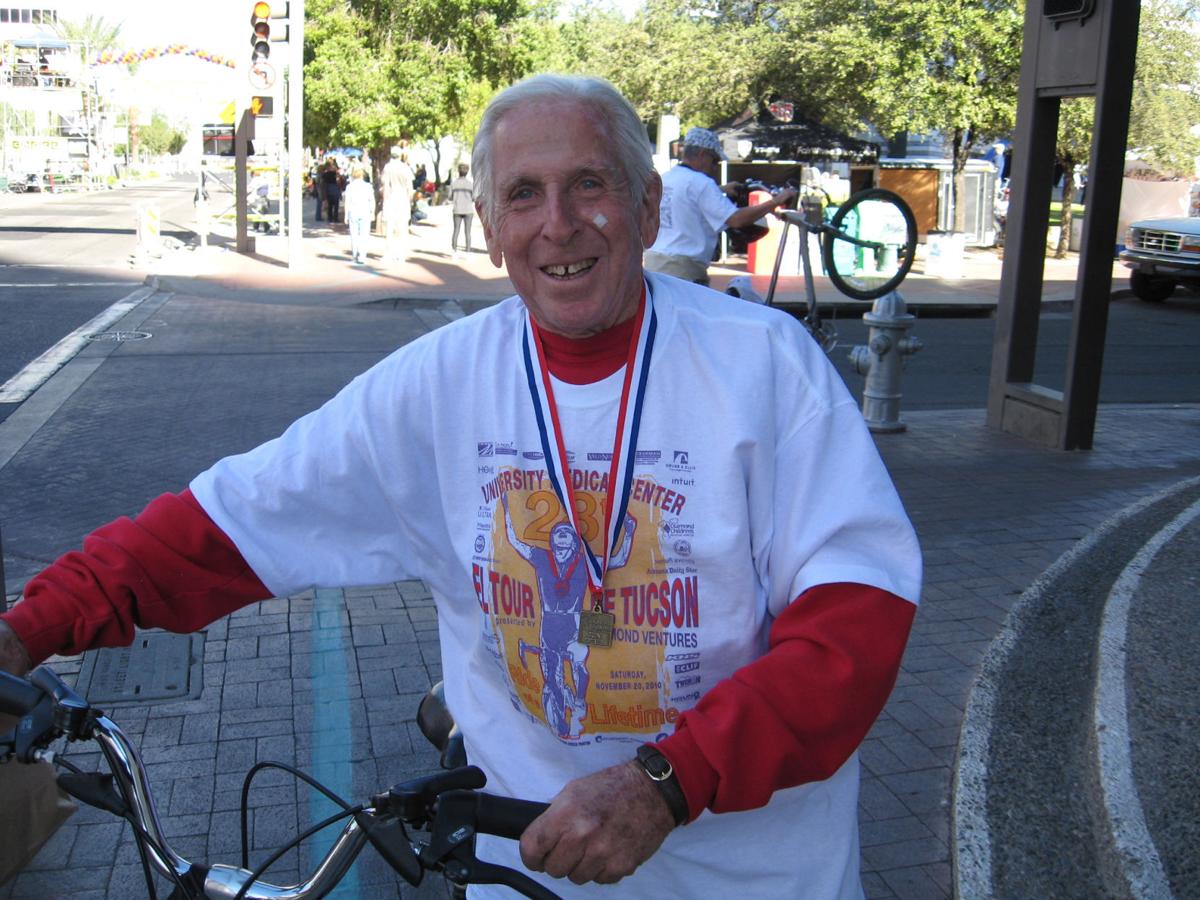 It all started innocently enough.
In 1984, Leila Warfield answered an ad in the paper. That action led to 33 years of volunteering for her and her husband, Totten, with the El Tour de Tucson.
Wednesday started the "thank you" tour. The 93-year-olds, who have been married for 70 years, have been named the ambassadors for this year's event.
The 35th El Tour kicks off with the Loop the Loop Saturday; El Tour itself is scheduled for Nov. 18.
"I sent in a check for $1,000 to thank them for letting us volunteer and I got a call and they said, 'You have it all backwards,'" Totten said at a news conference Wednesday. "I said, 'It has been a pleasure working for you … and thanks for sending that check back!"
The first few years of El Tour featured just a few hundred bicyclists; that number has now grown to 8,000, making the annual ride Southern Arizona's largest participatory sporting event.
None of it could have happened without volunteers like the Warfields, El Tour founder and president Richard J. DeBernardis said.
This is why it was time to recognize the volunteers, and not another celebrity. Cycling legend Greg LeMond is among the many famous and accomplished athletes to be honored by the Tucson event in the past.
"Volunteers are very important," DeBernardis said. "I don't know anyone who has been volunteering for 33 years, and at the same place. Leila and Totten are always there. They are like great-grandparents to us now. They are a good example to show that you can raise a family, work, and still have time to volunteer and make a difference."
Why did they keep volunteering?
"Our health," Totten said. "We are very fortunate to have our health at 93."
The Warfields stay active with running, cycling and traveling. Their grown children, including their son, Tom, try to keep up.
"They are absolutely great parents," Tom Warfield said. "They have been mentors. For them, this has been like an extended family. And seeing the love for giving back from Richard was right down their alley.
"When they first started volunteering, (the rest of the family) got re-acquainted with cycling. We did everything from the fun to the, at that time, 115-mile — it's now 106 — rides."
Leila and Totten Warfield have worked El Tour de Mesa, the Cochise County Cycling Classic and other races around the state. When DeBernardis thinks of the Warfields, one story comes to mind:
"We put on the event in Cochise County and there was a checkpoint by the 160-mile mark, no one is out there and no one wanted to take it. They took, it and the cyclists stop and want to talk," he said.
"Leila and Totten stayed there until the last cyclist came in. I think of them by that mountain, with their tent and lawn coolers, feeding the cyclists. They don't need to be up front."