Last week, El Grupo Youth Cycling decided to cancel its three-week summer bike camp, which was to have begun June 1.
El Grupo's staff and board of directors looked at every conceivable option to conduct the camp in a safe, responsible manner, but they concluded — regretfully — that the risks outweighed the potential benefits.
"All of us in our hearts wanted to go ahead with our summer bike camp," El Grupo executive director Kate Hiller said. "It's hugely disappointing."
Although some pandemic-driven restrictions are being lifted in Arizona — and El Grupo's main activity, cycling, takes place outdoors — Hiller and her staff didn't feel comfortable enough to move forward with the camp. Parents who had registered their children were notified of the decision via email on May 15.
In a phone interview, Hiller explained the reasons behind the decision. They include:
Enforcing social distancing practices with younger, inexperienced riders. The closer a group of cyclists can ride to one another, the safer they are. "You're a unit moving down the street," Hiller said. "Coaches can talk to a couple of kids at a time — 'move in,' 'single file' — to get them directed." It's also difficult, in general, to prevent kids as young as 7 from doing "the joyful things that kids do," Hiller said.
The difficulty of hydrating while wearing a mask. In a survey, parents told El Grupo they were concerned their kids wouldn't drink enough water if they had to wear masks while riding. El Grupo already had decided that "if we're riding, we're riding with masks," Hiller said. "We feel that's an important thing to communicate to the community. We want protection at every level."
Public parks not being open yet. The destinations for El Grupo summer camp rides include the splash pads at Brandi Fenton Memorial Park and Catalina Park. "They become their own swamp coolers," Hiller said. "They get their clothes wet. They're ready to go." The earliest parks could open, according to Tucson Mayor Regina Romero's latest decree, is June 8.
El Grupo considered implementing multiple protocols to ensure a safe experience, including mandatory temperature checks and hand-washing, and reducing the weekly camp enrollment from 50 to 21. The staff couldn't get past the unpredictability of the virus and the overall situation, however.
El Grupo has received funding from the federal government's Paycheck Protection Program, helping to keep its staff employed and to offset the revenue lost from canceling summer camp. The nonprofit plans to hold a makeup camp in mid-October, coinciding with TUSD's scheduled fall break (Oct. 12-16).
Team El Grupo — whose participants are 12-18 years old – resumed riding last week for the first time since March. Hiller is hopeful her team can learn from that experience.
"Our job as a youth-development bike organization is to figure out how to do this," she said. "We're not going away. We just have to pivot a little bit."
Erring on the 'side of safety'
The Centerfield Baseball & Softball Academy has reopened, with numerous safety measures in place.
The decision by owner George Arias underscores how difficult that call is to make. There is no definitive right answer.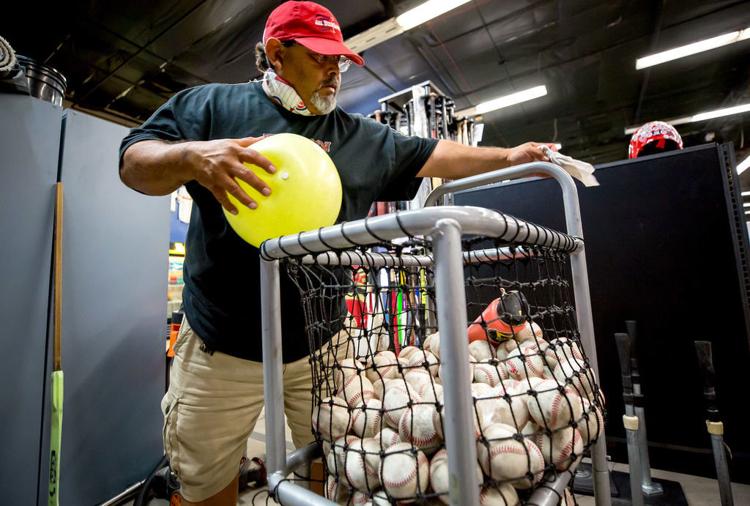 "It all depends on what you believe," said Arias, the former Pima College and Arizona baseball star and major-league third baseman. "I want to err on the side of safety. I'll do whatever I can to make sure we have a safe environment.
"At the end of the day, if I have to shut down, it'd suck. We've been open for over 15 years. It was always a safe haven for kids to come and hit and work out. It would just be sad to see something like this go."
Centerfield, one of three baseball/softball training facilities in the Tucson area, had been closed since March. The Hitting Factory also has opened. D-BAT remains closed.
Centerfield reopened Tuesday, three days after the expiration of Gov. Doug Ducey's stay-at-home order. But Arias did not act hurriedly. He and his staff, including family members, spent most of the past two months formulating a plan and preparing the 30,000-square-foot facility.
They thoroughly cleaned the building, including removing old equipment. They put tape on the ground and signs on the walls reminding people about social distancing. They removed chairs, added sanitation stations and are limiting guests to one per player. They're taking and logging staff members' temperatures daily. They're even spraying down the baseballs.
Employees also are required to wear masks. Ballplayers are encouraged to wear them but don't have to at all times.
"When they hit, they can take it off," Arias said. "I'm 50 feet away feeding the machine or throwing BP. After the round is over, they can put it on and go home.
"It's kind of bothersome. But … you have to do it. We want to let these parents know that we care about your kids."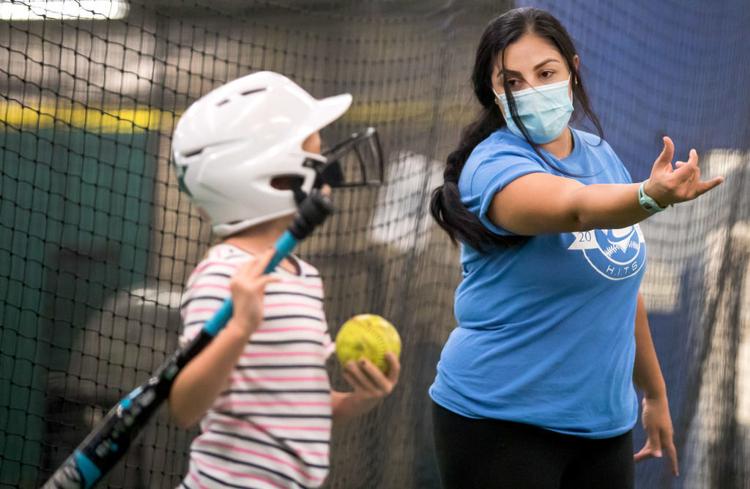 Centerfield also has opened registration for its summer camps, which are scheduled to start June 1 and which Arias described as the business' biggest money maker. The camps will be limited to morning baseball instruction with no aftercare program in the afternoon. Arias said registration is down about 75% for this time of year.
The facility is operating with limited hours — 2 p.m. to 8 p.m. — for the rest of May. Centerfield's usual hours are 9 a.m. to 9 p.m.
Business has been "slow" the first few days, Arias said.
"Which is probably a good thing," he added. "We've got enough to where it's spread out. It's kind of a relief. I was kind of worried at first — maybe everyone will come all at once? If we get too many, what's that going to look like?
"We have 13 batting cages. Maybe three or four are going, so it's easy to monitor. I can't see us filling up all 13."
The fact that most Tucson Little Leagues have canceled their seasons undoubtedly has hurt attendance. Spring and summer typically are Centerfield's most prosperous and populated periods.
Downsized but still Elite
The same holds true for Elite Sporting Goods, which supplies equipment and uniforms to Little Leagues and other youth baseball and softball organizations throughout the city. With those leagues dormant since mid-March, it's been a rough go.
"Hopefully these kids can go out and play some ball," store manager Andy Camen said. "That's going to be when the tide turns back in local commerce's favor. That's when everyone will breathe a sigh of relief."
Camen hasn't had many stress-free moments over the past two months. Although Elite remained open, sales plummeted. Like countless small businesses, it had to apply for a PPP loan to stay afloat.
"It's so fluid," Camen said. "Every month we have to reevaluate. It's forcing us to make some decisions we obviously don't want to make."
Even with those payments coming in, Camen and his partners had to take some extreme steps. They decided to close their location at Oracle and Orange Grove roads. The rent, utilities and insurance at that location were the company's biggest expenses. They will let the lease expire at the end of June. The shop already is holding a moving sale.
That leaves South Campbell Avenue, near the Marketplace at the Bridges complex, as Elite's lone location. The change has forced Camen and his partners to reimagine their business.
The shop that's closing served the north side of Tucson. Store manager Dale Shawler is moving to the south-side location, but he's bringing his contacts with him. Camen is hopeful Elite can continue to serve teams and leagues throughout the city.
"What we're trying to get across to our customers is, we're not going anywhere," Camen said. "We don't want to make it seem like we don't have a presence there. We're not going to be locked down at this location."
Camen is stressing mobility and technology as Elite Sporting Goods – the successor to Baum's, which closed in 2019 and where Camen used to work – navigates a new reality.
"If we need to come to you for a meeting," Camen said, "we're going to make sure we have the means to do that."
Elite also is in the process of upgrading its website to enable online sales.
Nothing would make a greater impact than the return of youth baseball and softball. The initial wave might be relatively small, but it's better than nothing. Camen's older daughter, a club softball player, is participating in a tournament in Alabama. He sees that as a positive sign.
"It does bring optimism," Camen said. "Hopefully it lasts."
Be the first to know
Get local news delivered to your inbox!