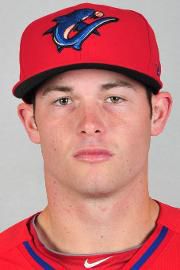 During spring training in 2017, Will Morris seemed to be knocking on the doors of Major League Baseball.
Morris was picked in the 24th round (721st overall) of the 2013 MLB draft by the Philadelphia Phillies, moved all the way up to Double A over the next few years and also served as a back-up in big-league camp.
But then he walked away from baseball completely.
Now, Morris, 26, made his way to the Old Pueblo to restart his pitching career with the Tucson Saguaros.
"In (October) 2016, me and my wife had our son and 2017 spring training rolled around and I didn't make a team," Morris said. "I decided to just stay home and be dad and do the right thing as far as being a good husband, being a good father.
"I kind of put baseball on hold and now that my son's a little older and it's a little bit easier, I can afford to do this again and try to accomplish my goal of making it to the big leagues – or Mexico or Japan or wherever I can go make some decent money playing ball."
Over the last few years, Morris played in an adult league in Lauderdale Lakes, Florida, where he lives with his family. He got the start every other Sunday, played a bit of shortstop and even hit a little, just to try to stay in shape because he knew he wasn't done with baseball.
During that time, Morris worked in the food service industry, for FedEx and in landscaping, and really started to struggle emotionally.
"It's tough waking up, saying 'I know I'm not really supposed to be doing this,'" Morris said. "There's nothing wrong with a 9-5 job, but my heart just wasn't in it and I knew that it was all temporary. It was a little depressing."
The depression continued to get worse and eventually Morris' wife couldn't stand to see the toll it took on her husband and encouraged him to give his baseball career another shot.
"Once I got the OK from her, it was a lot easier to kind of pack up and come all the way out here from Florida," Morris said. "Huge shoutout to her and her family, picking up where I'm not, as far as watching my son and being there for them … it's a huge gamble."
Once Morris started looking for teams, he called a lot of teams in the American Association. All of them already had full rosters.
But the Pecos League hadn't started yet.
So, Morris put in a call with the commissioner who then set him up with Saguaros manager Bill Rogan.
"He was ecstatic to have me," Morris said. "And my dad and brother live in Phoenix, so it's a short commute when I was in spring training and got set up with a great host family."
Even though this is his second attempt to make it to the majors, Morris doesn't think it's any harder. If anything, he's using his experience from his first go-round to help navigate his way this time.
And he's using what he learned before to help his teammates.
Leaving the game two years ago was one of the toughest decisions Morris has made, but he doesn't regret it.
"I knew that if I do the right things in life, usually karma comes around and kind of is on your side," said Morris, who had a 3.04 ERA in 89 games with the Phillies' organization from 2013-16.
"So, I'm glad I did that. I don't feel like it was the wrong decision at all, especially with the success I'm having as of late.
"I know good things are going to come my way, I just have to keep putting in the work and just keep on keeping on, I guess."
And Morris is grateful to the Tucson Saguaros for giving him a chance to try again. So far he's proving to be a strong addition to the team, posting a 3.37 ERA and 2-2 record in seven starts, while striking out 55 batters in 45ª innings.
"I'll remember this team for the rest of my life," Morris said. "Just kind of like I know I'll make it somewhere, eventually, and this is where I started it back up again."