Michael Lev's Top 25: Can anyone knock Clemson, Alabama off college football's mountaintop?
The Arizona Daily Star's Michael Lev provides his Top 25 teams heading into the new college football season. 
Does anyone stand a chance against 'Bama, Tigers?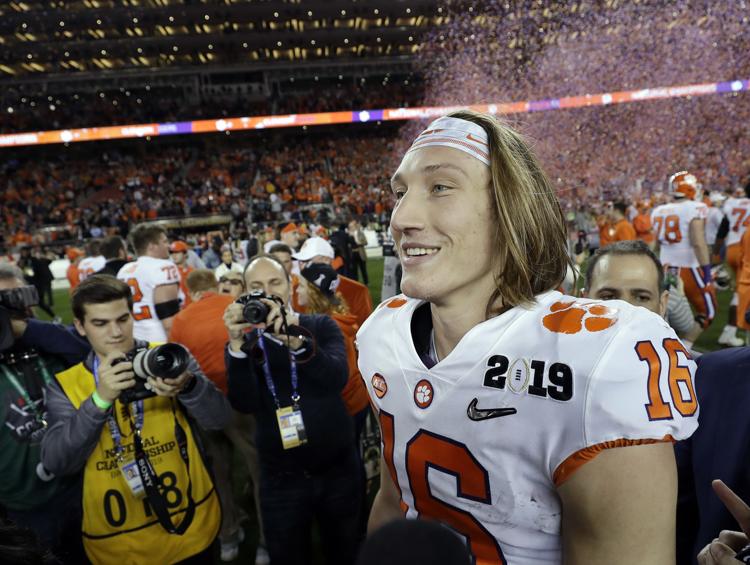 Can anyone loosen Alabama and Clemson's stranglehold on college football? It seems unlikely to happen anytime soon … but it's not impossible.
Georgia has been nipping on Bama's heels since Kirby Smart arrived in Athens. Lincoln Riley has turned Oklahoma into a Heisman Trophy production factory. And Ohio State remains formidable even after the departure of Urban Meyer.
They're all in the conversation. The hard part is breaking through against the elite of the elite.
Alabama and Clemson have alternated as national champions over the past four seasons. One or the other has been runner-up three times.
With both returning star quarterbacks and loaded rosters, it's no surprise they again rank 1-2 on Star reporter Michael Lev's preseason ballot for the Associated Press Top 25.
Below you'll find capsules on all 25 teams, including the challenges their schedules present and why they landed where they did.
1. Clemson Tigers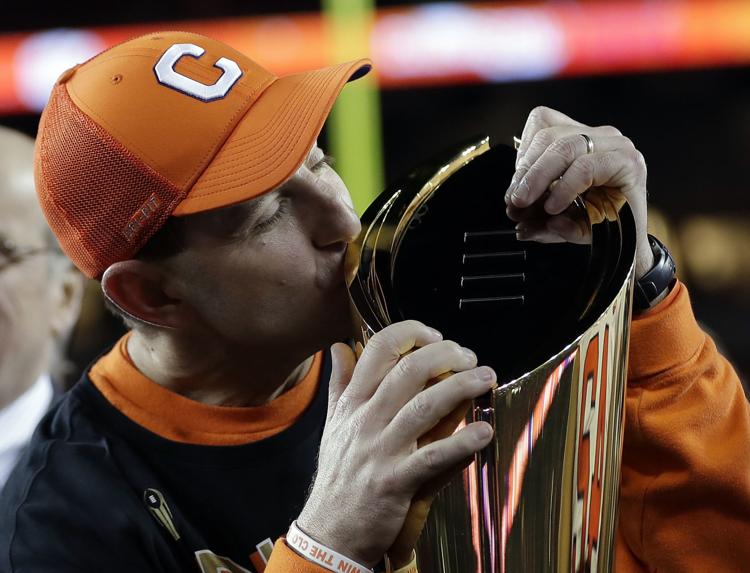 2018 record: 15-0, 8-0 ACC (won national championship)
Coach: Dabo Swinney (12th year)
Sked or alive? The ACC isn't as daunting as some other conferences, but Clemson's schedule has some potential landmines right from the get-go. After opening against Georgia Tech, Clemson hosts Texas A&M, which will be ranked and nearly upset the Tigers last year. Then comes a trip to Syracuse, the cite of Clemson's last regular-season loss (Oct. 13, 2017).
Why they're here: It's basically a tossup between Clemson and Alabama. Why the Tigers? Well, the last time they met, Clemson won easily. Future No. 1 overall pick Trevor Lawrence only should be better as a sophomore. He's surrounded by veterans with starting experience. The D-line must be rebuilt. It helps to have the sport's best defensive coordinator, Brent Venables, to oversee that project.
2. Alabama Crimson Tide
2018 record: 14-1, 8-0 SEC (lost in CFP final)
Coach: Nick Saban (13th year)
Sked or alive? It's hard to make it through the SEC gauntlet unscathed, even for the Crimson Tide. There's no one stretch that's harder than any other, but Alabama's road games will be challenging. The Tide visits South Carolina, Texas A&M, Mississippi State and Auburn. Three of the four made these rankings, and the Gamecocks nearly did.
Why they're here: If Lawrence isn't the best QB in the country, Tua Tagovailoa is. His receiving corps, led by Biletnikoff winner Jerry Jeudy, has no peer. The defense lost some key pieces to the NFL but should be fine. The only concern: The potential side effects of yet another offseason of turnover on Nick Saban's staff.
3. Georgia Bulldogs
2018 record: 11-3, 7-1 SEC
Coach: Kirby Smart (fourth year)
Sked or alive? November will test the Bulldogs' depth and mettle. They play five games, three of which are away from Athens. The stretch starts with the annual neutral-site game against Florida. Georgia visits Auburn two weeks later. Then Texas A&M comes to Sanford Stadium. If they can survive, the Bulldogs likely will face the Tide again in the SEC title game.
Why they're here: The difference between Georgia and Alabama is negligible. The Tide won last year's meeting by seven points, the previous year's by three (in overtime in the national-championship game). The Bulldogs have a top-five QB in Jake Fromm, a star tailback in D'Andre Swift and a roster full of top-shelf recruits. Beating Bama is all that's left.
4. LSU Tigers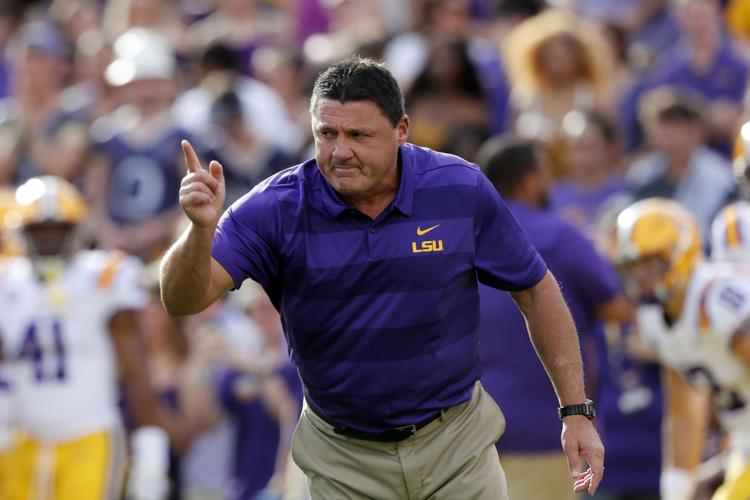 2018 record: 10-3, 5-3 SEC
Coach: Ed Orgeron (fourth year)
Sked or alive? The Tigers probably won't finish this high because their schedule is a nightmare. They visit Texas in Week 2 and face this foursome from Oct. 12-Nov. 9: Florida, Mississippi State, Auburn, Alabama. The MSU and Bama games are on the road. LSU caps it all off against Texas A&M. Last year's meeting went to seven overtimes.
Why they're here: Orgeron has LSU pointed in the right direction. The Tigers have gotten a little better each year under his watch. They finally have a legit quarterback in Joe Burrow to go along with their usual collection of NFL-caliber athletes. Their biggest challenge is simply the division in which they play. The SEC West is a bear.
5. Oklahoma Sooners
2018 record: 12-2, 8-1 Big 12 (lost in CFP semifinals)
Coach: Lincoln Riley (third year)
Sked or alive? Another top-five team facing a demanding November. It starts with Iowa State, which beat Oklahoma in Norman in 2017. Then comes a trip to Baylor, which lost by only eight the last time they met in Waco. It ends against TCU and Oklahoma State. Last year's Bedlam matchup came down to a 2-point try, which the Sooners stopped to win by one.
Why they're here: Can Riley do it again? After coaching back-to-back Heisman winners, he gets to work with former Alabama standout Jalen Hurts, who has a career TD-INT ratio of 48-12, 1,991 rushing yards and 23 TD runs. Hurts has an elite target in CeeDee Lamb. The bigger question is whether new DC Alex Grinch can patch Oklahoma's porous defense.
6. Florida Gators
2018 record: 10-3, 5-3 SEC
Coach: Dan Mullen (second year)
Sked or alive? Florida easily could be 5-0 entering October. Then comes this stretch: vs. Auburn, at LSU, at South Carolina, vs. Georgia. At least the Gators have a bye before facing the Bulldogs, who have won the past two meetings by an average score of 39-12. Florida's slate is bookended by its annual in-state battles against Miami and Florida State.
Why they're here: Mullen won 10 games in his first season in Gainesville – a six-game improvement. Florida's defense ranks among the nation's best. After a rocky midseason stretch, the unit allowed just 39 points over its final three games. A spate of off-the-field incidents this offseason is a bit worrisome.
7. Michigan Wolverines
2018 record: 10-3, 8-1 Big Ten
Coach: Jim Harbaugh (fifth year)
Sked or alive? A couple of pockets could pose problems. The first comes in September. In Week 2, Michigan hosts Army, a top-25-caliber team with an offense that's difficult to prepare for. After a bye, Michigan visits Wisconsin, which has won the past four meetings in Madison. In October, UM visits Penn State, which won 42-13 the last time they met in State College. Michigan then hosts Notre Dame.
Why they're here: The Wolverines have their share of skeptics. Harbaugh has guided his alma mater to three 10-3 finishes in four seasons but can't quite get UM over the hump (0-4 vs. Ohio State). Why might this year be different? Shea Patterson returns at QB, and he could be even better than last year (2,600 yards, 22-7 TD-INT) under new OC Josh Gattis.
8. Ohio State Buckeyes
2018 record: 13-1, 8-1 Big Ten
Coach: Ryan Day (first year)
Sked or alive? The Buckeyes might have the most manageable schedule in the top 10. Cincinnati is a quality non-conference foe, but the game is in Columbus. OSU visits Nebraska and Northwestern, two legit contenders in the Big Ten West, but neither can match the Buckeyes' talent. The hardest part is probably the finish: vs. Penn State and at Michigan.
Why they're here: Ohio State is loaded, per usual. Maybe Day and ex-Georgia QB Justin Fields will pick up where Meyer and first-round pick Dwayne Haskins left off. But that's a tough ask for a coach and quarterback who are still relatively new to this stage. So expect some slippage, even if it's only minimal.
9. Notre Dame Fighting Irish
2018 record: 12-1 (lost in CFP semifinals)
Coach: Brian Kelly (10th year)
Sked or alive? Kudos to the Fighting Irish for making it through the regular season without a loss last year. A repeat seems unlikely. Notre Dame's schedule includes road games against Georgia, Michigan and Stanford. The Bulldogs are sure to be big favorites. The Irish swept the Wolverines and Cardinal last season, but both games were in South Bend.
Why they're here: Notre Dame has won 10-plus games in three of the past four seasons and has enough talent to do it again. Ian Book upgraded the offense when he took over at QB and will work behind an experienced line. The defense has a bevy of pass rushers. Will it be enough to get back to the Playoff? Probably not.
10.Texas Longhorns
2018 record: 10-4, 7-2 Big 12
Coach: Tom Herman (third year)
Sked or alive? LSU in Week 2 and Oklahoma in mid-October in Dallas are the games that jump off the page. Less obvious but potentially tricky: A stretch of three road contests in a four-game span from Oct. 26-Nov. 23. Texas visits TCU, Iowa State and Baylor during that stretch. The Horned Frogs and Cyclones made our Top 25.
Why they're here: The Longhorns improved by three wins in Year 2 under Herman. They lost a lot on defense but return the dynamic pitch-and-catch combo of Sam Ehlinger (3,292 yards, 25-5 TD-INT) and Collin Johnson (68-985-6). Some in the analytics community are down on Texas. But if you believe in Herman and Ehlinger, the top 10 is again within reason.
11. Texas A&M Aggies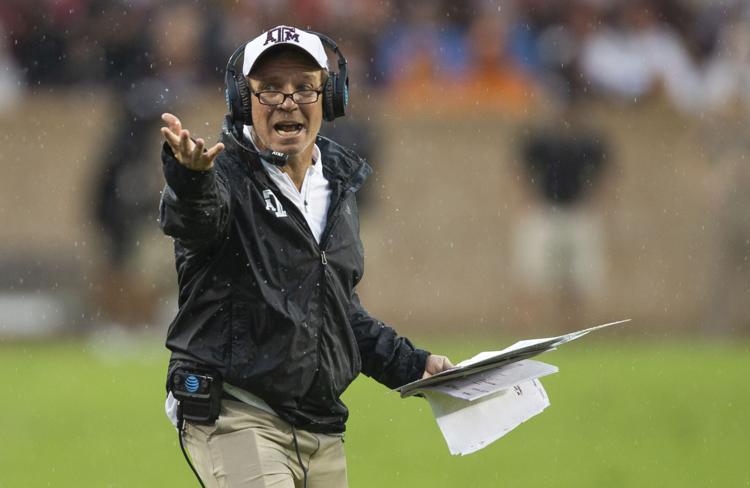 2018 record: 9-4, 5-3, SEC
Coach: Jimbo Fisher (second year)
Sked or alive? Like SEC West rival LSU, Texas A&M might be better than its final record suggests. The Aggies visit defending national champion Clemson in Week 2. They host Alabama on Oct. 12. And they finish the season with road games against Georgia and LSU. Are we sure this whole SEC thing was a good idea?
Why they're here: There's a lot to like. Kellen Mond is among the most underrated quarterbacks in the country. Most of the starting offensive line returns; the same goes for the wide receivers. The defense isn't on the same level as the SEC's elite, however. And the schedule likely will keep the Aggies out of the CFP mix.
12. Utah Utes
2018 record: 9-5, 6-3 Pac-12
Coach: Kyle Whittingham (15th year)
Sked or alive? Not all Pac-12 schedules are created equal. The Utes have only four road games, and they don't play Oregon or Stanford. But two away games potentially impede their path to another South Division championship. Utah opens Pac-12 play at USC on Sept. 20. The Utes also must visit Washington on Nov. 2.
Why they're here: Utah has the best defense on the west coast and is especially strong up front and in the secondary. The question, as always, is whether the Utes will produce enough on offense to go from good to great. They have yet another new OC in Andy Ludwig. Keeping QB Tyler Huntley healthy will be critical.
13. Oregon Ducks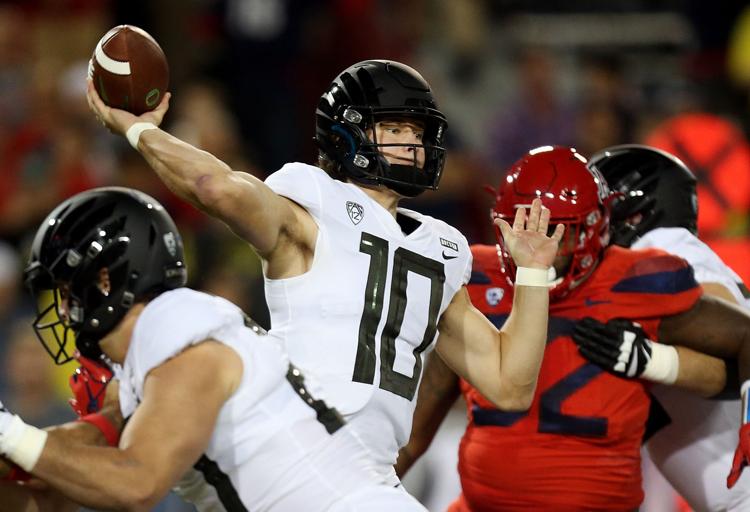 2018 record: 9-4, 5-4 Pac-12
Coach: Mario Cristobal (second year)
Sked or alive? Like the Utes, the Ducks have only four Pac-12 road games. But none is a gimme: Stanford, Washington, USC and Arizona State. Oh, and Oregon opens the season against Auburn in Arlington, Texas. Will the Tigers deal another fatal blow to the Pac-12's CFP hopes before we even hit September?
Why they're here: Star QB Justin Herbert (3,151 yards, 29-8 TD-INT) is back. So is the entire starting offensive line, including stud left tackle Penei Sewell, who missed the latter part of last season. Cristobal and his staff have recruited at a very high level. Questions remain, however, about whether they can coach up all that talent.
14. Auburn Tigers
2018 record: 8-5, 3-5 SEC
Coach: Guz Malzahn (seventh year)
Sked or alive? The Tigers weirdly play four of their first five SEC games on the road, including trips to Texas A&M, Florida and LSU – three of our top 11 teams. Auburn's final four games are at home, but two of the opponents are Georgia and Alabama. Oregon, at Jerry World, isn't exactly a pushover either.
Why they're here: The Tigers will have new faces at QB and receiver, but the offensive line has tons of experience. The strength of the team is the defensive line, led by massive tackle Derrick Brown, who has 20 TFLs over the past two seasons. The defense will keep Auburn competitive. Will it be enough to save Malzahn's job?
15. Washington Huskies
2018 record: 10-4, 7-2 Pac-12
Coach: Chris Petersen (sixth year)
Sked or alive? The schedule sets up nicely for the Huskies, who are breaking in a new QB and several new defensive starters. The first road game isn't until Sept. 21 against BYU. The only other road game against a fringe top-25 team comes two weeks later against Stanford. UW gets Oregon, Utah and Washington State at home.
Why they're here: It's entirely possible that QB Jacob Eason – the former five-star recruit who transferred from Georgia – will be better than steady but unspectacular predecessor Jake Browning. Even without Myles Gaskin, you know UW will run the ball. You also know Petersen will retool the defense. Maybe it'll take a little time to click, but the Huskies have the stuff to repeat as Pac-12 champs.
16. Penn State Nittany Lions
2018 record: 9-4, 6-3 Big Ten
Coach: James Franklin (sixth year)
Sked or alive? The Nittany Lions should start 5-0. Then things get a little bumpy. Starting Oct. 12, Penn State has four road contests in a six-game span. They include trips to Iowa, Michigan State and Ohio State. The Nittany Lions lost to the Spartans and Buckeyes at home last year, albeit by a combined five points.
Why they're here: Penn State has to break in a new QB after the departure of three-year starter Trace McSorley and projected successor Tommy Stevens. Overall, the offense is green. But the defense is stacked. Yetur Gross-Matos and Robert Windsor combined for 15.5 sacks last year. It might look a little different, but PSU remains a contender in the Big Ten East.
17. Iowa Hawkeyes
2018 record: 9-4, 5-4 Big Ten
Coach: Kirk Ferentz (21st year)
Sked or alive? Iowa has enough talent to win the Big Ten West, but the schedule might not allow it. The road slate is rough: Michigan, Northwestern, Wisconsin, Nebraska. Split those – which isn't inconceivable – and the Hawkeyes will be right there. They also face in-state rival Iowa State on the road in Week 3.
Why they're here: QB Nate Stanley returns for his senior season coming off consecutive 26-TD campaigns. But the star of the show is defensive end A.J. Epenesa, who recorded 10.5 sacks and four forced fumbles as a sophomore last season – despite coming off the bench. The Hawkeyes remain a tough out and are one of at least four viable candidates to win their division.
18. Iowa State Cyclones
2018 record: 8-5, 6-3 Big 12
Coach: Matt Campbell (fourth year)
Sked or alive? The schedule sets up nicely for the Cyclones; among Big 12 teams in or on the fringe of the Top 25, Oklahoma is the only one they face on the road. That contest is the centerpiece of Iowa State's roughest stretch: vs. Oklahoma State, at Oklahoma, vs. Texas. But the Cyclones have a bye before visiting Norman.
Why they're here: Iowa State lost two NFL players in tailback David Montgomery and receiver Hakeem Butler. But the Cyclones return every starter on both lines, plus quarterback Brock Purdy, who's coming off a promising freshman season (2,250 passing yards, 21 total touchdowns). Iowa State might not be on the Oklahoma/Texas level talent-wise, but the Cyclones aren't far off.
19. Michigan State Spartans
2018 record: 7-6, 5-4 Big Ten
Coach: Mark Dantonio (13th year)
Sked or alive? The stretch from Oct. 5-Nov. 16 will decide the Spartans' fate. It starts with a trip to Ohio State and ends with a visit to Michigan. In between: Wisconsin on the road and Penn State at home (plus Illinois – a needed breather – in East Lansing). Splitting those four games might not be enough to keep MSU in the Big Ten East race.
Why they're here: The Spartans failed to live up to preseason expectations last year. QB Brian Lewerke's banged-up shoulder surely played a role; MSU scored seven or fewer points in four of its final seven games. The offense doesn't have to be great for MSU to have a good season because the defense – with all four starters returning up front – should be excellent.
20. Nebraska Cornhuskers
2018 record: 4-8, 3-6 Big Ten
Coach: Scott Frost (second year)
Sked or alive? The Cornhuskers' schedule is extremely user-friendly. Nebraska doesn't face Michigan, Michigan State or Penn State during the regular season. The Huskers get Ohio State, Wisconsin and Iowa at home. And their league road games are all winnable: Illinois, Minnesota, Purdue, Maryland.
Why they're here: No team in our Top 25 had a worse record last season. But it's highly unlikely that Nebraska again will go 1-5 in games decided by five or fewer points. Also, if you believe in Frost, you believe in the Huskers. He quickly turned around UCF by developing McKenzie Milton into a star and has another QB with big-time upside in sophomore Adrian Martinez.
21. Wisconsin Badgers
2018 record: 8-5, 5-4 Big Ten
Coach: Paul Chryst (fifth year)
Sked or alive? The Badgers play four of their five road games over the second half of the season. That includes trips to Ohio State (Oct. 25) and Nebraska (Nov. 16). In between, Wisconsin hosts Iowa. The games against the Hawkeyes and Cornhuskers could decide the outcome in the Big Ten West.
Why they're here: Last year, the Badgers failed to win 10 or more games for the first time since 2013. But it isn't as if the program is falling apart. The formula and infrastructure remain in place. Jonathan Taylor will be aiming for a second straight 2,000-yard rushing season, and Chryst will give him every opportunity to get there.
22. Missouri Tigers
2018 record: 8-5, 4-4 SEC
Coach: Barry Odom (fourth year)
Sked or alive? It's nice to be in the East. Missouri doesn't have to face Alabama, Auburn, LSU, Mississippi State or Texas A&M this season. But the Tigers will hit a rough patch come late October: at Kentucky, at Georgia, vs. Florida, vs. Tennessee. The Wildcats went 10-3 last season, and the Vols will be better in Year 2 under Jeremy Pruitt.
Why they're here: Out goes Drew Lock, in comes Kelly Bryant, who helped lead Clemson to the College Football Playoff in 2017 before losing his job to Trevor Lawrence last season. Missouri returns a ton of starters elsewhere on offense, including 1,200-yard rusher Larry Rountree III. How a one-year postseason ban will affect the team remains to be seen.
23. Mississippi State Bulldogs
2018 record: 8-5, 4-4 SEC
Coach: Joe Moorhead (second year)
Sked or alive? It's not so nice over in the West. Mississippi State's SEC road games include trips to Auburn and Texas A&M. Its home games include contests against LSU and Alabama. They're all tucked into a brutal six-game stretch from Sept. 28-Nov. 16 that also includes visits to Tennessee and Arkansas.
Why they're here: This is a bet on new QB Tommy Stevens clicking with Moorhead, his former coordinator at Penn State. The offense will have to be better, because the defense is bound to fall off. Three Bulldog defenders – Jeffery Simmons, Montez Sweat and Johnathan Abram – were first-round picks in the 2019 NFL draft. MSU finished first in the nation in total defense last season.
24. TCU Horned Frogs
2018 record: 7-6, 4-5 Big 12
Coach: Gary Patterson (19th year)
Sked or alive? The Horned Frogs will spend much of October and November on the road. TCU plays five of its seven away games between Oct. 5 and Nov. 23, and none will be easy: Iowa State, Kansas State, Oklahoma State, Texas Tech and Oklahoma. One of the two home games is against Texas, so there's that too.
Why they're here: The lasting image many have of TCU football is the turnover-filled Cheez-It Bowl against Cal. In a lot of ways, it was representative of the 2018 Horned Frogs: mediocre on offense, stout on defense. QB questions – including a lower-body injury of unknown severity to projected starter Mike Collins that happened after the AP ballots were due – remain a concern.
25. Cincinnati Bearcats
2018 record: 11-2, 6-2 AAC
Coach: Luke Fickell (third year)
Sked or alive? We'll find out quickly if the Bearcats are contenders for a New Year's Six Bowl: They open the season by hosting UCLA and visiting Ohio State. In conference play, Cincinnati gets UCF at home but has to travel to Houston, South Florida and Memphis. The Cougars and Tigers are co-favorites in the AAC West.
Why they're here: The Bearcats are legitimate threats to end the Knights' reign atop the AAC. Cincinnati returns most of its starters from a team that notched double-digit victories for the first time since 2012 (including wins over UCLA and Virginia Tech). Desmond Ridder and Michael Warren II form one of the nation's best – and least-heralded – QB-RB combos.