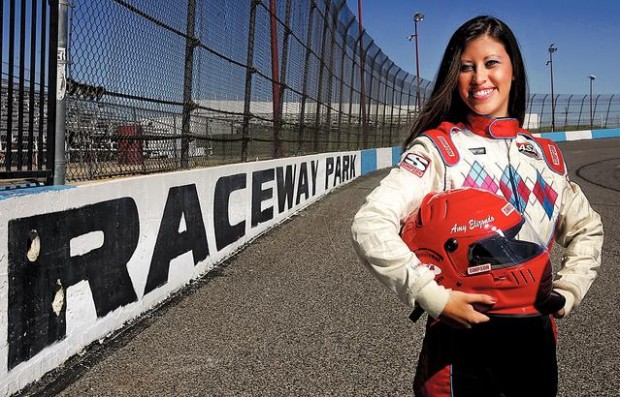 At 7, Amy Elizondo started racing.
By 13, she was licensed to drive her dad's Camaro on road courses.
Now 22 and living in Tucson, she is starting another year of college while driving at Tucson Raceway Park.
She might not be the best driver there, but she's by far the most unique. Here's why:
• She's pretty good. Elizondo, who races next at TRP on Sept. 5, is in fourth place this season racing legend cars, which are smaller, less-expensive replicas of cars from the 1930s and 1940s.
The sport is in her blood. Elizondo embraced two disparate activities as a little girl in Mesa — racing and playing the violin.
She was racing quarter-midgets — souped up go-karts — at 7. When she graduated to ASA Racing's speed-truck division at 16, she won the ProAutoSports Division Rookie of the Year award. She ran legend cars at TRP in 2006, and drove open-wheel and Formula Ford and Mazda cars the next two years.
"It's very difficult," she said. "Even now, I'm still at what you would call an amateur level. We were working on two contracts … but that's when the economy started getting a little iffy.
"Unless you can find the right team that already has the financial standing or a sponsor that can do that, it's out of your own pocket."
• She embraced school. After earning an associate degree at Mesa Community College, Elizondo spent last year as an optical sciences engineering major at the UA. She spent more than 12 hours per day at school, inspired by a friend who was an engineer at Raytheon Missile Systems.
"It had absolutely nothing to do with racing," she said. "I realized it was fun, but not what I wanted to spend my career doing."
Toward the end of the school year, she started racing again. This week, she began taking classes at the University of Phoenix, Tucson campus. The schedule — four hours, one night per week — helps her focus on racing.
"You have to have a lot of smarts," her father, Manny, said. "There are a lot of athletes that have made a lot of money and made mistakes with that money, because their education wasn't as strong as it needed to be."
• She's unique. Growing up in the sport, it wasn't always easy being female.
"I've definitely seen the good, the bad and the ugly from that aspect," she said. "Being female can be positive, and have a hint of the negative."
As she progressed up the ranks, she began to feel singled out less often.
"There are still some grown men that would look at you and go, 'Ah! I lost to a girl!' " she said.
But Elizondo knows she might be easy to market. She is half Hispanic and half American Indian, and is the first in her family to graduate from college or junior college.
"It definitely does play a role in marketing for me," she said. "Some people are completely stoked by the idea that you're female, because they can play so many roles for you."
She'll keep working toward her goal, with or without a sponsor, hoping to make it big.
"Hopefully she'll catch the right person's eye," her father said. "Someone that's looking for someone like Amy."