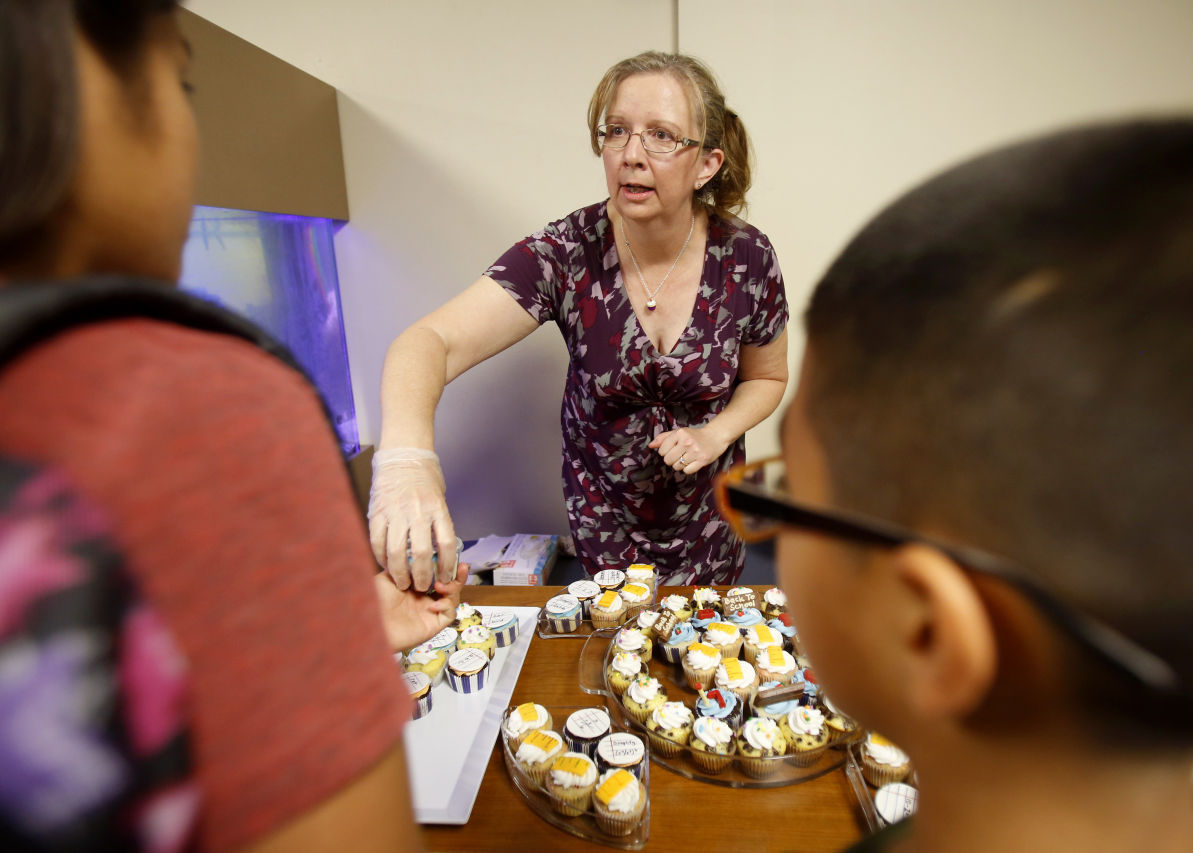 There is a beauty to staying in your lane, as Tucson Medical Center El Tour de Tucson riders will invariably discover on Saturday.
Not only when cycling, but when running a chartable organization.
As El Tour riders cross the finish line and begin their cool-down process, they'll have a pick of several cookies, because René Luedeman has not bitten off more than she can chew.
Her Cakes for Causes organization, a 501c3 charity, will provide treats at the end of El Tour for the fifth straight year.
"I tell everybody: If there's one event to attend, go work an El Tour booth," Luedeman said. "It is so hard to describe the atmosphere there, it is just so uplifting. One of our volunteers, she's kind of had a rough life, doesn't have a real good outlook. First year, she was kinda shy, but she just said, 'I'm so glad you pushed me into this.'
"She says it always restores my faith in humanity."
Luedeman's faith needed a lift after U.S. Rep. Gabrielle Giffords was shot in 2011, and Luedeman was compelled to grow her Icing on the Cake club. A former research scientist at UA, Luedeman began baking 25 years ago as a creative outlet; she now works in the culinary department at Pima Community College, teaching baking classes.
Luedeman pitched the idea to her husband Terrill, an IT specialist who helped her set up a Web site and the 501c3 application.
"He's like Ricky Ricardo: "Lucy, what are you thinking? But if that's your passion and you want to do it, I'm with it,' she said.
Their first act was baking 500 cookies for Davis-Monthan Air Force Base, and in addition to providing baked goods to groups throughout the city, the nonprofit also works with the Make-a-Wish Foundation to provide cakes for sick children.
Working on an operating annual budget of about $7,000, Cakes for Causes will deliver roughly 20,000 "sugar hugs," as Luedeman calls them, throughout the year.
"The parents run up and say, 'My child has had a feeding tube his whole life; this is the first time he'll have a cake,'" Luedeman said.
"That's my why. When we start getting frustrated, I say, 'go to your why.'"
So that's the what and the why, and here is the how, because it takes a lot to go into 20,000 baked goods for the year:
About 10,000 eggs
4,000 cups of sugar
8,000 cups of four
4,000 teaspoons of vanilla
4,000 teaspoons of baking soda
6,000 cups of chocolate chips
4,000 cups of butter
"And I know the recipe, because I just got done baking!" Luedeman said with a laugh.
She's still plugging along, inching her team forward, bite by bite.
Like everyone with a grand plan, she's realized the realities of the cause and readily admits, "I've had to change my vision, too; I thought, 'Wow, we'd grow and take over the world.'"
Volunteer bakers are always ready to turn on the oven, but the cost of goods has increased. Egg prices have gone up, Luedeman said, before adding, "Every time I get eggs on sale I'm like Gollum. My Precious!"
But the group is really cooking now — or baking, as it were — and that's what matters.
"We look back and go, 'Wow! We did it without any help,'" she said. "No seed money, we have a small budget. We pay for ingredients and insurance. The cookie jar is just a cookie jar.
"We always say we hope we find our sugar daddy."