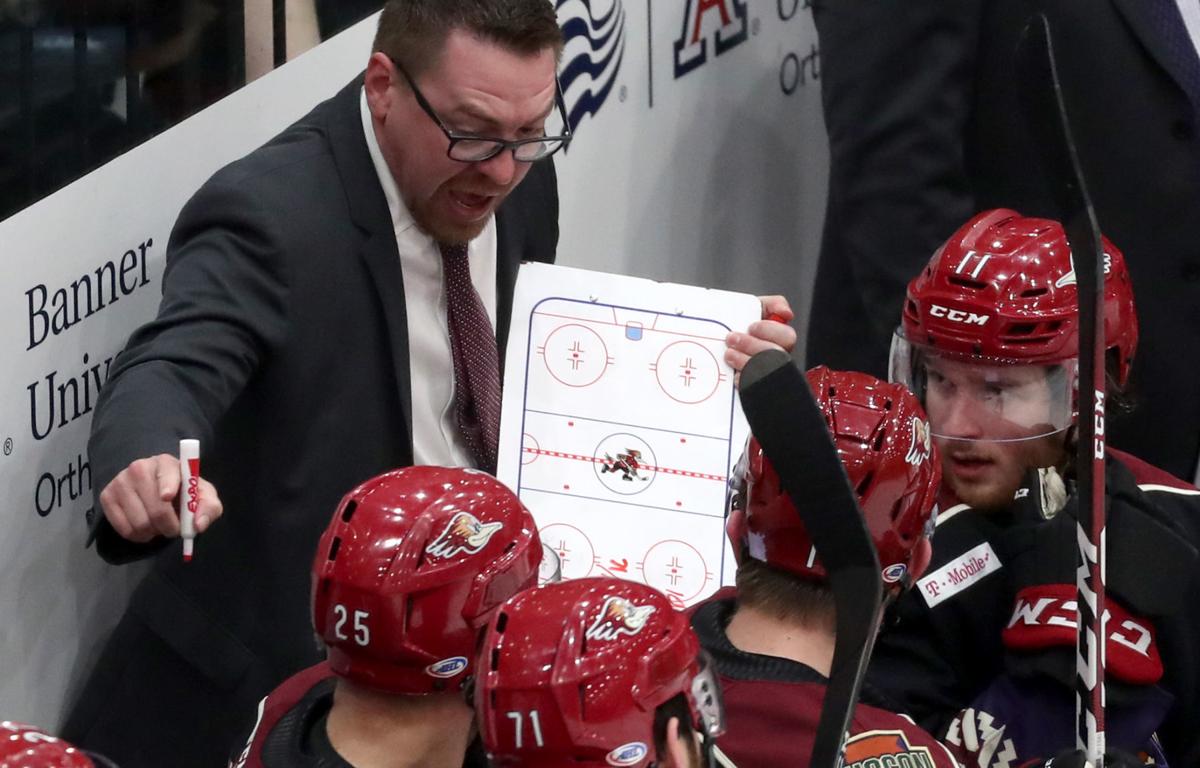 The news that Jay Varady was named a head coach for the American Hockey League's upcoming All-Star Classic spread around the Roadrunners' locker room early Sunday.
Varady's reaction, as forward Michael Bunting explained it: "We were all joking with him earlier in the day when we all found out. We were all happy. … He cracked a smile, then it right was right back to business."
It was a game day, after all, and Bunting and his teammates would expect no less from the second-year Roadrunners' head coach — laser-focused, consistently preaching about whether his team is playing to its established "identity," and rarely satisfied in digging out positives when the Roadrunners haven't been on their A-game.
Perhaps that's why Varady has earned his own first All-Star nod, about a week or so before the league announces which players — and there will almost certainly be a host of Roadrunners on that list — are to join him at the AHL showcase event Jan. 26-27 in Ontario, California.
That, and the fact that even after back-to-back losses Saturday and Sunday to Colorado, the Roadrunners (23-7-0-0) enter Tuesday's 6:05 p.m. home matchup with the San Diego Gulls (12-12-2-1) with the AHL's second-best record overall, and tops in the Pacific Division.
Varady joins Kris Knoblauch of the Hartford Wolf Pack, Chris Taylor of the Rochester Americans and Karl Taylor of the Milwaukee Admirals as AHL All-Star coaches for 2019-20. The AHL's All-Star format is not unlike that of the NHL, pitting four teams — one from each of the league's four divisions — against each other in a round-robin mini-tournament.
Varady is the second Tucson head coach to lead an AHL all-star unit in the club's four seasons in Southern Arizona.
His predecessor, Mike Van Ryn, was the Pacific Division's coach during his only season with Tucson in 2017-18.
Bunting said that it's in Varady's makeup to deflect his own success to those around him — players, assistant coaches Steve Potvin and John Slaney, organizational leadership and others.
The fourth-year Roadrunner, playing for his third AHL head coach in Varady, wasn't wrong.
"I get to coach in an All-Star game because our management, our scouts, our development team, our trainers, our equipment guys and especially our coaching staff put a ton of hours into creating a successful environment," Varady said. "It's an honor, and for me, it's more a representation of how our organization has worked so hard in the first half.
"But, for me, that's the first half. We have to be better (Tuesday)," he noted, eyes straight ahead on what's next — in this case, San Diego at Tucson Arena on New Year's Eve.
Second-year Roadrunner Hudson Fasching echoed Bunting's sentiment that Varady, with loads of junior hockey an international experience, but in only his second season as a professional head coach in North America, deserves to be recognized by the league.
But it's not because of wins and losses, he said, but rather the role Varady plays off the ice for the Tucson players.
"Being an AHL coach has got to be one of the hardest jobs around in terms of coaching," Fasching said. "You have NHL influence coming in every now and again. … There's a lot of moving pieces. You've got guys coming up from one league, guys coming down from another league, and they all have different expectations. Trying to get all those guys together and blend, it's got to be tough."
Fasching and Bunting agreed that Varady's method of support away from the ice has been critical as the current roster came together. That includes a combination of younger, early-20-somethings — some barely cutting their teeth both in hockey and establishing themselves on their own as adults – and more mature veteran players with literal worldwide experience.
"It's not always an easy job trying to manage a lot of guys – a lot of egos," Fasching said. "Obviously we try to keep those aside, but he does a great job keeping us in line and getting the best out of us."
Added Bunting: "Sometimes coaches aren't the easiest to approach, but Jay has an open-door policy. … If you're a first-year guy or you've been here for 10 years, he approaches you the same and he's not afraid to tell you what's going wrong, and not afraid to give you a pat on the back when you're doing something great."
Varady said he and his staff, namely Slaney and Potvin, take seriously the rapport they've built with players here in Tucson.
"I think it's about building relationships. We ask a lot of them. We're demanding," Varady said. "If you're going to be demanding, you need to build a relationship with them and they need to know you're doing things for the right reasons."