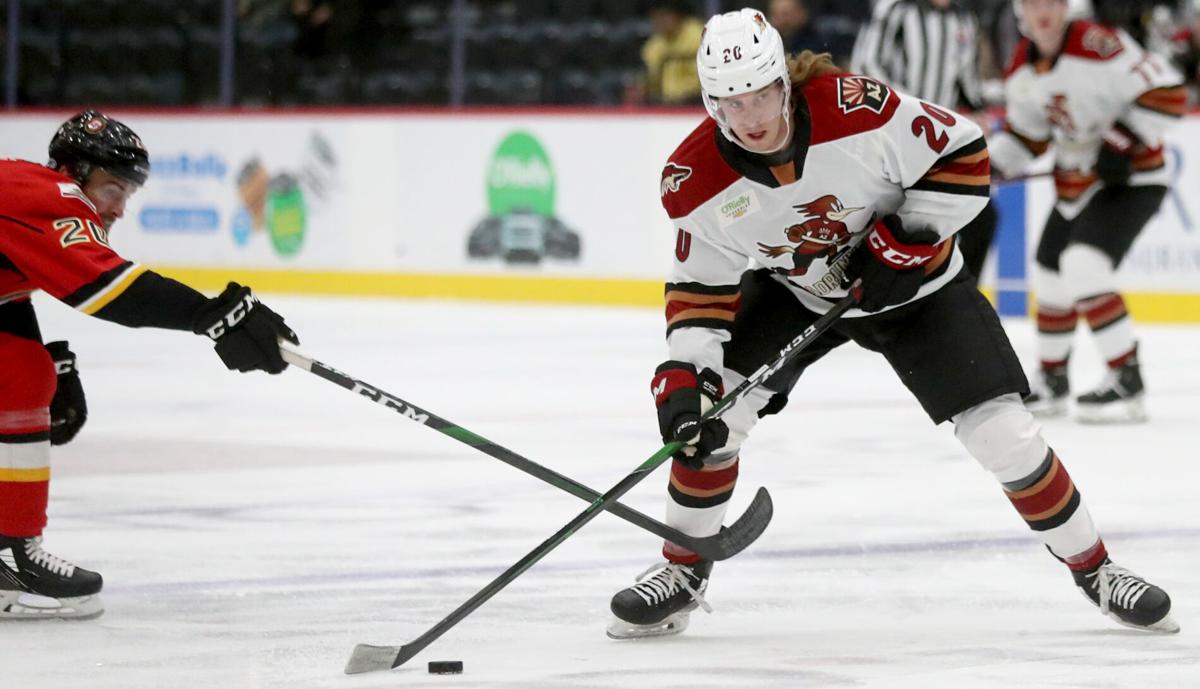 Logan Nelson's official stat line from the Tucson Roadrunners' 2-1 home win over the Stockton Heat on Tuesday night seems fairly straightforward.
No goals. No assists. No points. No penalty minutes. An unaltered plus-minus rating of zero.
But beyond the box score, the 6-foot-1-inch, 209-pound forward's debut in a Roadrunners jersey carried greater weight for a player eight years, 10 cities, and — at that point — 399 games into his professional hockey career.
Tuesday marked Nelson's first career American Hockey League appearance and his 400th professional hockey game overall. A second time out Wednesday against Stockton marked No. 401.
"That's a lot of nights playing hockey. It's pretty special to have my 400th come in this league," he said Tuesday, after the Roadrunners dispatched the first-place Heat for the third time this season — a feat in itself considering no other AHL club has defeated the Heat more than once this season. "It's really special. You don't take stuff like this for granted. Tonight, it's something I'll carry with me the rest of my life.
"And it's cool that we got two points to show for it," he added.
More than 90% of Nelson's pro appearances have come via the ECHL, considered the pro hockey equivalent of Double-A baseball. Nelson's playing career has spanned from Moline, Illinois, to Wichita, Kansas; Rapid City, South Dakota; Norfolk, Virginia; and Orlando; Fort Wayne, Indiana; Indianapolis; and Atlanta.
And then back to Rapid City, where he playing was when the Roadrunners summoned him for help this week.
Nelson has held his own over two games with the Roadrunners, where he's teamed with players who have recently returned from NHL call-ups. Forwards Mike Carcone and Blake Speers have played at the highest level already this season.
Fellow Roadrunners Ivan Prosvetov, Victor Soderstrom, Hudson Fasching and Jan Jenik have seen more significant time in the NHL.
"You know, when Carcs and Speers got in the game up in Phoenix, I was watching that game from Rapid City," he said.
"It goes a long way that all of a sudden you're playing with those guys," he added. "You just want to be a sponge and soak up all the knowledge and learn as much as you can while you're up here. … Because you never know how long it's going to last."
In many respects, Nelson is forthcoming about where he's at in his own career. Despite being selected in the fifth round of the 2012 NHL draft by the Buffalo Sabres, Nelson, now 28, isn't so much an NHL prospect as a guy filling a need while other guys live their NHL dreams.
That doesn't seem to have slowed him down yet, though. Despite having plenty of ECHL success prior to last season, Nelson found himself in the Southern Professional Hockey League, a 12-team Single-A-equivalent circuit primarily located in the Midwest and Southeast. He then led the SPHL with 49 points in 39 games playing for the Birmingham Bulls.
"I'm a (veteran), and ECHL teams can only carry four," he said, noting that some teams didn't play last season due to the coronavirus pandemic. "The team that I was with, they dropped out kind of last minute, so it's pretty tough to find a place to play. But I know I wanted to stay in the game, so that was my way of doing that."
This season, he picked right back up where he left off. Nelson was tops on the ECHL assists (25) and points (35) at the time of his Tucson call-up. His Roadrunners linemate, Stephen Baylis, has been a top-15 ECHL scorer this season, too, with 27 points so far over 30 appearances.
Nelson's taste of the AHL will be a brief one — for now, at least.
The team released Nelson, Baylis, forward Max Coatta and defenseman Quinn Wichers from their AHL tryout contracts Thursday, the day after Tucson's 5-2 loss to the Heat. That move effectively allows the four to return to Rapid City for games this weekend. But considering the movement between the Coyotes and Roadrunners related both to injuries and COVID-19 protocols, it wouldn't be surprising to see Nelson & Co. back in Tucson at some point later this season.
"It's a very humbling experience," said the native of Rogers, Minnesota. "For me to go from (the SPHL to the ECHL), and then to this league in two years — that's something I worked hard for, and (it) feels good."