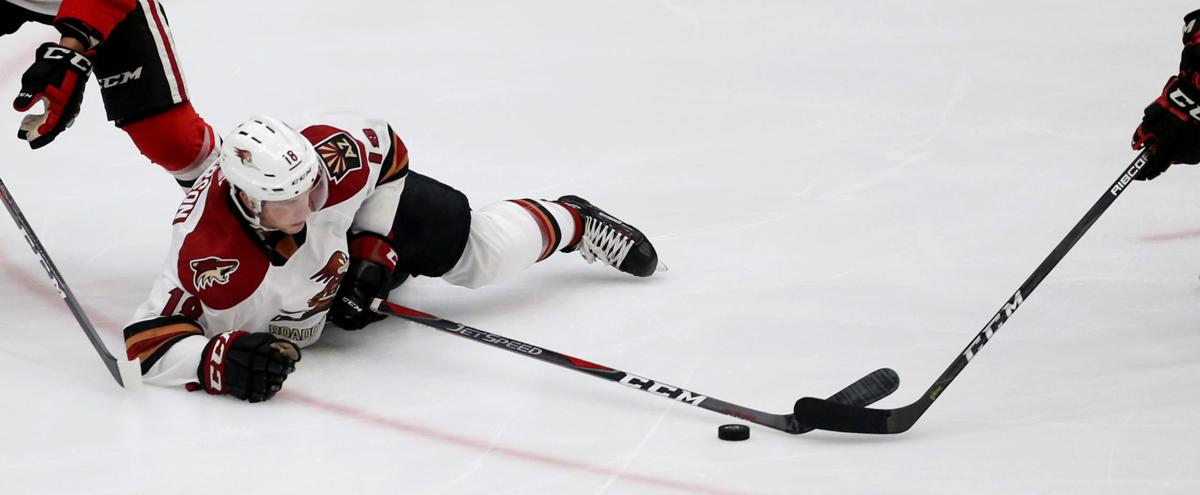 A mad-dash start to the season is hardly abnormal across the American Hockey League. Even still, it just might be the cure to a disappointingly long offseason for the Tucson Roadrunners.
Barely a few days after players and coaches reestablished themselves on the ground in Southern Arizona, and after only two practices together on their home ice this week, the Roadrunners jumped on a flight Wednesday evening aimed toward Cedar Park, Texas.
Tucson will open the 2019-20 season Friday night against the Texas Stars, then will travel to San Antonio, where they'll take on the Rampage on Sunday afternoon. They'll play three consecutive games on the road before their Oct. 18 home opener.
Looking back at last season is part of the job description for Tucson coach Jay Varady. But so is, he noted earlier this offseason, not dwelling on the way last year ended. The Roadrunners finished one goal, and thus a single point in the standings, away from an AHL playoff berth.
"It's exciting to get started, for me," Varady said. "These are older, talented players. … We have a culture and a way we do business around here, and for us it's everybody understanding how we're going to do that and growing together."
This year's unit is a mix of young and energetic newcomers, key returning contributors — including do-everything forward Michael Bunting and 2018-19 leading scorer Lane Pederson — and a host of wily veterans who may be new to Tucson, but not in the slightest to the AHL or even NHL.
"We've got a great group of guys here, and a great staff top to bottom. I'm excited … and the weather doesn't hurt, either," said Aaron Ness, a newcomer who led all AHL defensemen in points last season while playing for the Hershey Bears.
"It's been a lot of fun, and it's been a good adjustment so far."
Other veteran acquisitions include forwards Beau Bennett, a first-round NHL draft pick in 2010 with 200 NHL games under his belt; and Andy Miele. Miele, recipient of the 2011 Hobey Baker Award as the top NCAA men's hockey player while playing for Miami (Ohio), rejoins the Coyotes organization that originally inked him to an entry-level contract when his college career was complete.
Among the younger crowd of newcomers, Nate Schnarr and Kevin Hancock bring a welcome explosiveness after each topped 100 points at Ontario Hockey League's major junior level a year ago. Schnarr's total included 32 goals, while Hancock lit the lamp 51 times.
And while many of the returning players are young — that includes the 22-year-old Pederson and 24-year-old Bunting, and fellow forwards Hudson Fasching (24), Tyler Steenbregen (21) and Nick Merkley (22), among others — they have an extra year of pro hockey experience. The result: the kind of depth arguably not yet seen during the organization's first three years in the desert.
"I think we've got a lot of team speed. … We're going to be a good squad top to bottom. Great goaltending, a good set of (defenders), we kind of have a little bit of everything," Ness said.
"I think the mindset is defend first, and then let's go push toward the offense. … It's going to be a great recipe."
Chaput named captain; Bunting, Miele, Russo will be alternates
Forward Michael Chaput, an AHL and NHL veteran who was acquired midseason last year and produced a point per game during his time with Tucson, was announced as the Roadrunners' team captain.
Bunting, Miele and defenseman Robbie Russo are alternates and will rotate wearing the "A" on their Tucson sweaters. Bunting and Russo served as alternate captains last year, while Miele has been an alternate at multiple AHL stops, including the Portland Pirates from 2012-14 and Lehigh Valley Phantoms in 2016-17.
Roster in flux for opening weekend
The Roadrunners' roster was in flux as they prepared to head to Texas. Adin Hill, a stalwart in net each of the past three years for the Roadrunners, was summoned to Glendale midweek; he'll back up Coyotes goalie Darcy Kuemper.
Tucson could benefit from the presence of goalie Anti Raanta, a one-time Vezina Trophy candidate. Raanta, who was expected to battle Kuemper for the Coyotes' No. 1 goaltending spot this year, dealt with a lower body injury during training camp. The Coyotes sent him to Tucson for a conditioning assignment.
The Coyotes also called up Kyle Capobianco from Tucson, while assigning NHL veteran Ilya Lyubushkin to Tucson's blueline. Capobianco was an AHL all-star for Tucson last season, and earned an NHL call-up before injuring his right knee in just his second game with the Coyotes.
Be the first to know
Get local news delivered to your inbox!