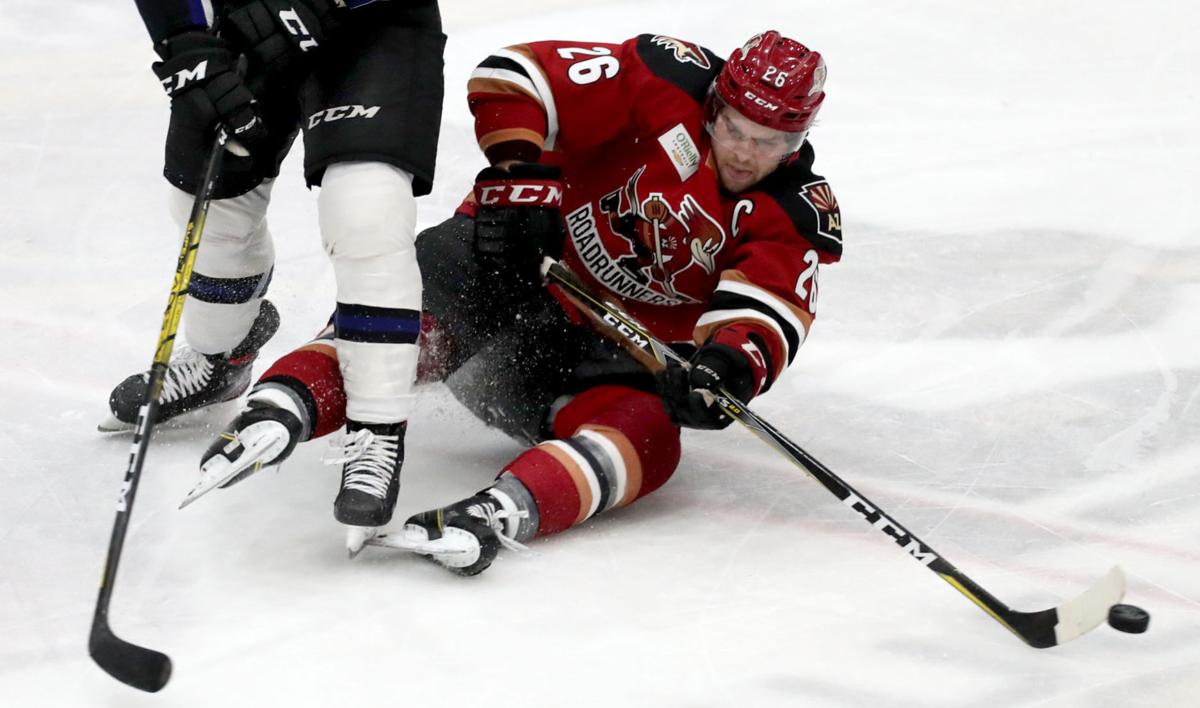 It wasn't that long ago that the American Hockey League's Tucson Roadrunners and NHL's Arizona Coyotes held the best combined record of any AHL/NHL affiliate tandem.
The duo's 68.2 combined win percentage on Nov. 20 — roughly a quarter of the way through the respective schedules of both the AHL and NHL — was better than any of the other 31 affiliate tandems across North America.
Things certainly have changed.
Entering the Roadrunners' Tuesday night matchup against the surging Colorado Eagles — the 7:05 p.m. faceoff marks game four of Tucson's seven-game road trip — the Coyotes and Roadrunners combined record has fallen to 10th, via a .593 win percentage. That trails divisional opposition like the NHL's Colorado Avalanche and AHL's Eagles (third overall at .643) and the NHL's Calgary Flames and AHL's Stockton Heat (ninth at .596). The best combo: The NHL's Washington Capitals and AHL's Hershey Bears, who have combined for a .679 clip.
With 31 affiliations stretching coast-to-coast and into Canada, 10th overall on its own hardly signals crisis mode. That's certainly the case for the Roadrunners, who re-gained first place in the AHL's Pacific Division Saturday by way of a 5-1 win at the Ontario Reign. For the Coyotes, all is not lost either, as Arizona is every bit in the hunt for a Stanley Cup playoff berth.
Even still, how the clubs have gotten to this point — specifically in recent weeks — says plenty.
Using win percentage as the barometer, Tucson's sixth consecutive defeat — this one 5-3 at the San Diego Gulls last Wednesday — did temporarily take the Roadrunners out of first place in their division for the first time since the first week of November.
Over the last full month of play, the Roadrunners are 4-8-0-1 in their last 13 outings, and now have the pleasure of trading paint with Stockton and potentially Colorado — a club the Roadrunners are 3-4-0-1 against so far this season — as the divisional foes roar down the season's backstretch.
"It was nice to get rewarded," Tucson coach Jay Varady said Monday via phone from Loveland, Colorado. "When you come up short for whatever reason, it's frustrating."
As for the Coyotes: according to Craig Morgan of the Athletic, Arizona's 4-2 loss at the Boston Bruins Saturday resulted in the NHL club on the outside looking in at the playoff picture for first time since Nov. 10. Over same last full month, entering a 5 p.m. Monday road tilt against the Montreal Canadians, the Coyotes are 2-7-3 over their last 12 games.
"We come out, we strap our boots on … we practice hard (Sunday), and we go into Montreal. That's all we can do," Tocchet said on video, accessed via ArizonaCoyotes.com, immediately following Saturday's defeat in Boston. "Hopefully we get some healthy bodies back, and we'll go from there.
"You can't be down about it," Tocchet said Sunday from Montreal. "We're in the thick of the race, and we've got to put some wins together."
The Coyotes have 25 games remaining to figure things out. The Roadrunners have 23 to go. The biggest possible date looming for both teams, however, doesn't involve a game. If the Coyotes decide to make hay leading up to the NHL's Feb. 24 trade deadline — as either buyers or sellers — it's entirely possible some faces familiar to the Tucson Arena faithful could be included in such deals.
Roadrunners' All-Star defenseman Kyle Capobianco is one of the players to see significant service time with both the Roadrunners and Coyotes this season. That list includes forward Michael Chaput, defensemen Aaron Ness and goaltenders Adin Hill and Ivan Prosvetov, among others. To Capobianco, no team in either league can win in April or May without figuring out how to navigate a few road blocks along the way.
"I think any team that has success later on the year, has to face some adversity throughout the regular season," he said, specifically noting that for the Roadrunners, "I think that (Saturday) win just showed our character as a team and shows that down this last 25-game stretch, we are capable of staying competitive."
Varady said that for his team, at least, it doesn't matter how much of the season is left, or how many losses may have piled up, or where Tucson sits in the standings. The approach, Varady said, is the same now as it was on opening day in October.
"Same mindset," he said. "Nothing's changed. Every point matters the same. It's so cliché, but it's so true."
Same mindset or not, Capobianco noted that the Roadrunners are quite certain one win Saturday will have little bearing on what might take place Tuesday and Wednesday. That's when they face the Eagles for the ninth and 10th times out of 12 matchups this season.
"Any time you play Colorado, especially at home in their building here, you're going to get their best effort. They feed off their crowd, so they're going to be coming pretty hard," Capobianco said.