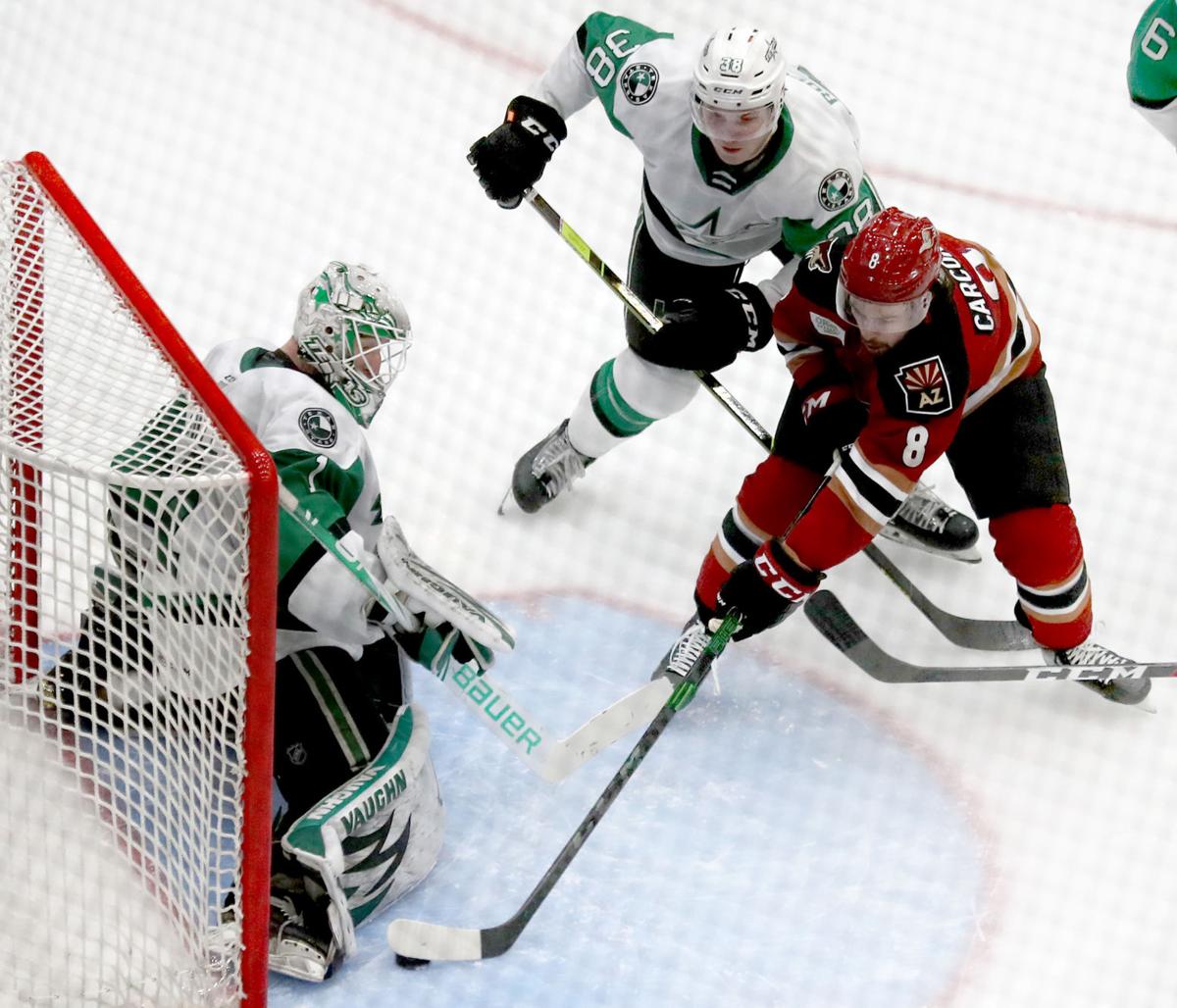 As the Tucson Roadrunners traded jabs in a high-scoring affair with the San Diego Gulls Friday night, they did it wearing special desert sand, cardinal red and purple trimmed jerseys adorned with a special emblem on the front: an outline of the state of Arizona, and the years 2016 and 2021 bookending a Roadrunners logo in the center.
Those jerseys, coupled with tributes from past players and coaches and replays of big moments in team history flashing across the Tucson Arena video board, marked the team's fifth season in Southern Arizona.
It's not a stretch to think that five years from now, when perhaps the Roadrunners celebrate their 10th anniversary in Tucson, forward Michael Carcone's effort from that same Friday game will likely be one of the highlights shown.
Carcone's four goals set a new franchise mark for a player in a single game. The next night, he dropped in two more, pushing his season total of 10 into the top 10 across the American Hockey League this season.
Carcone was named the CCM/AHL Player of the Week on Monday. This is the fifth time a Roadrunner has earned the honor; he joins Michael Bunting earlier this season, Conor Garland in October 2018, Dylan Strome once each in October and November 2017, and Christian Fischer in January 2017.
Tucson is the only AHL team to have two players of the week so far this season.
For all his success, it's unlikely Carcone returns next season. Carcone is on loan from the Nashville Predators, who are without an AHL affiliate this season after the Milwaukee Admirals franchise elected to skip the pandemic-impacted season.
Most of Nashville's AHL-ready players were sent to play with the Chicago Wolves, the everyday affiliate of the Carolina Hurricanes. Carcone was one of a couple they sent elsewhere: He and fellow forward Josh Wilkins were sent to Tucson instead.
"For me personally, I just think with the situation I'm in, just coming in not being invited to an NHL camp and not being put on Chicago's roster, I think that just adds a little fuel to the fire that you can play at this level and show them what they're missing out on," Carcone, 24, told the Star back in February.
In December, Carcone was traded from the Ottawa Senators — he spent the 2019-20 season with their AHL affiliate in the Belleville, Ontario — to Nashville.
He will be a restricted free agent at the end of this season.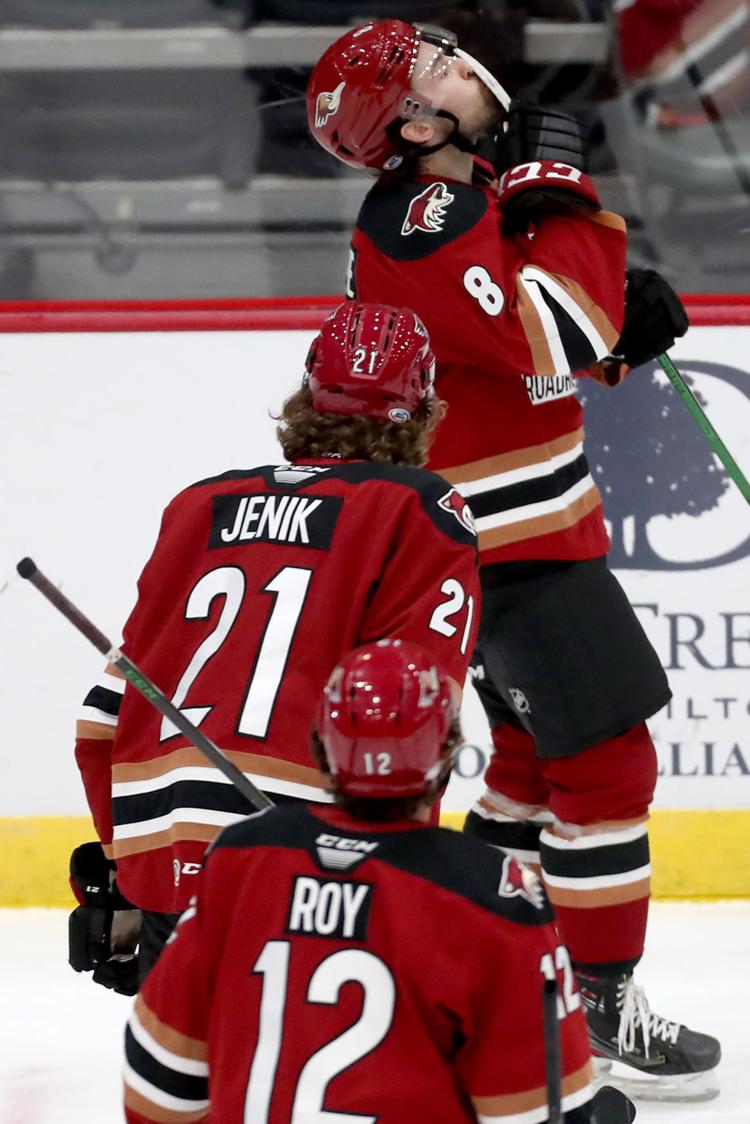 Carcone joined the Roadrunners just days before the season was to start. Carcone was initially nervous coming to a team, and another NHL franchise, that wasn't affiliated with.
But that feeling went away quickly, he added.
"Everyone's been great. I personally just felt like part of the Arizona Coyotes and Tucson Roadrunners," he said in February. "It's been pretty smooth sailing."
Carcone's breakout couldn't have come at a bigger time for the Roadrunners, who, prior to this weekend, were mired in a stretch where they'd scored only 11 goals over their previous six games. Tucson had 10 in two games against the Gulls.
Carcone's 10 goals have come in 23 games with Tucson. His AHL career-high of 20 goals came in 68 games split between the Utica Comets and Toronto Marlies in 2018-19.
Carcone's other goal totals in three other AHL seasons of at least 59 games: 5, 13, 14, and 15.
"He's a shooter. He's a goal-scorer," said linemate Kevin Roy, who assisted on all four Carcone goals Saturday and both Sunday. "I was able to find him a few times there. You know it's not an easy thing in this league to find the back of the net. He did a great job and had a great weekend."
Scouts for the Predators attended last weekend's games. When asked Saturday about his future with Nashville and whether this weekend's output is reason for the Predators to give him a real look, Carcone expressed a veteran's perspective.
"You know, it's something I don't really focus on. Maybe if I was younger, I'd focus on it," he said. "I think I've been around long enough now that you can't control what happens. You just play your game.
"The Tucson Roadrunners wanted me here, and that's who I'm playing for right now. That's what I'm focusing on."