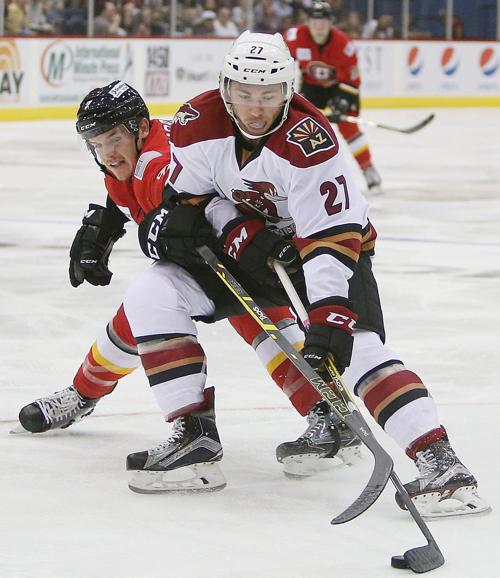 Fairytales aren't perfect, and they usually are not forever, but they sure are nice while they last.
The fairytale story for the Tucson Roadrunners hockey team is off to a nice start.
After a sold-out home opener – where more than 6,000 Tucsonans saw the just-assembled squad recover from an early three-goal deficit to gain victory — these new Roadrunners found themselves in first place of their American Hockey League Pacific Division and entire Western Conference.
They pulled off another dramatic come-from-behind feat in their second home game, which drew a very respectable 3,000 fans on an NFL-heavy Sunday afternoon.
The Roadrunners came from behind yet again in Game 3 of their homestand, forcing the first overtime game for the franchise at the Tucson Arena. No, they didn't win that one, but in keeping with their fairytale start, even that OT loss resulted in an additional point to further bolster the young team's standings.
Oh, and there's more: Kyle Wood was named the AHL rookie of the month, and young goaltender Adin Hill has looked spectacular at times in net. At other times he's looked like a talented but inconsistent young goaltender. That's all part of the deal in the AHL: he might very well get to the NHL, but not quite yet. Give him and the other youngsters a break — they are just recently hatched in the pro hockey world.
The vibe from the team and arena are so good that at times I am swept away in a surreal dream while calling games for radio in the press box. Is the AHL actually here in Tucson? Are fans really taking to this squad so quickly? Are they actually winning games this early?
Yes, yes, yes. All the answers are almost all positive – so far.
I spoke with the all-business AHL Commissioner David Andrews during his visit for the Tucson home debut weekend, and he was not surprised at the franchise's good start. He knows Tucson is ready and will succeed. Gone are the years of frustration, waiting, and wondering about when Tucson will become a pro hockey town.
Well, the time is now, of course.
Likewise, AHL Communications VP Jason Chaimovitch was in Tucson to witness firsthand the Tucson Arena readiness, and was impressed with the city and its fans. They know hockey here. They are ready. So let the initial hand-wringing stop, at least for a little while. The new Tucson Roadrunners are doing just fine, at the gate and on the ice – right now.
General manager Doug Soetart and head coach Mark Lamb aren't icing the championship champagne just yet. They have been around pro hockey for so long that they probably don't get the glasses ready for toasting until after the actual year-end celebration parade has concluded. This is a long season, this is just the start and the real challenges for the Roadrunners are ahead of them all.
There was no way for the Roadrunners to know exactly what they had with this roster of Springfield Falcon holdovers, AHL veterans and new talent. Certainly Lamb sighed with some relief when the parent Coyotes sent down some veteran defensemen to Tucson — nothing settles down a club like defensemen with lots of NHL experience. But could they have even anticipated such a positive start for their squad? Um, any hockey man who publicly expects this kind of start from a new franchise, in a new city, is lying through their smiling teeth.
This team is so new that everything they do is a first. First home win, first home loss, first OT win, first power-play goal, first bare-knuckle drag down fight.
And, amazingly, first place.
Enjoy the look from way up here at the top, Roadrunners fans. There's no guarantee that it will last, or even come again later this season.
But fairytales can come true. I was there to see it begin, right down there on the Tucson Arena ice.
Hockey journalist and filmmaker Timothy Gassen explores the Arizona hockey scene and beyond in his weekly column. Send your Arizona hockey story ideas to AZpuckMan@gmail and follow AZpuckMan on Facebook and Twitter.