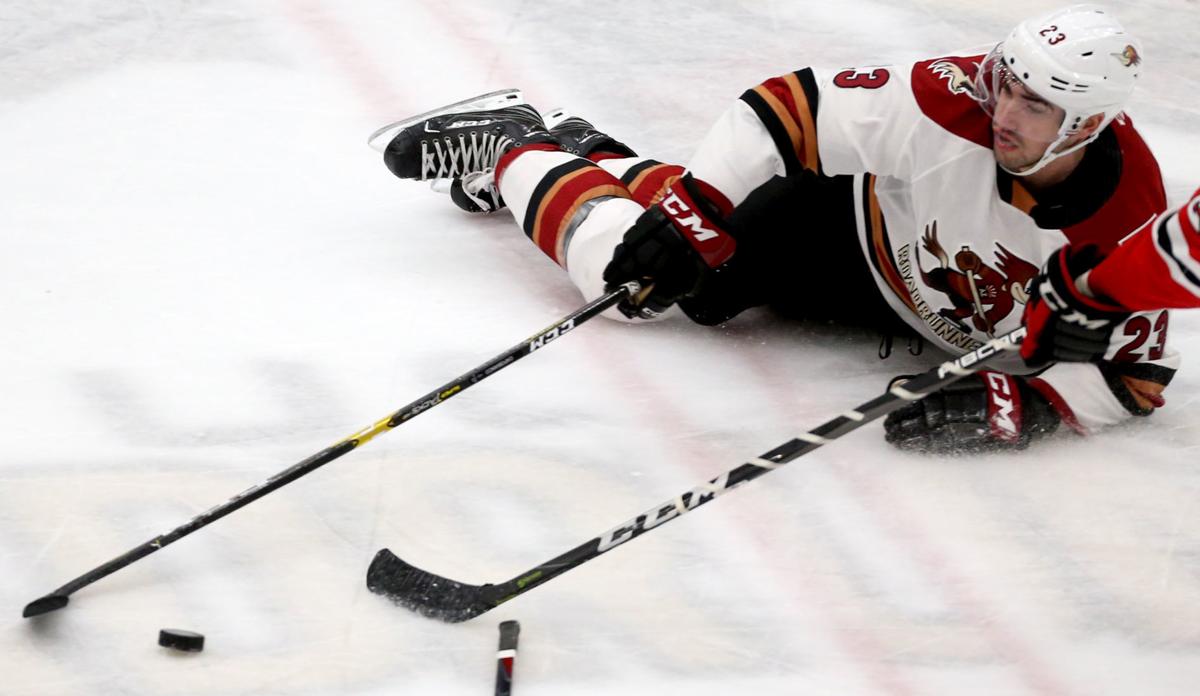 One of these days, it just might be the last time Kyle Capobianco hears what's become an all-too-familiar phrase uttered in some form by his Tucson Roadrunners coaches.
"Yeah, coaches will touch on it sometimes. When I get called up, they say something like 'OK, this is the last time I ever want to see you here,'" the third-year American Hockey League defenseman explains, with a laugh. "So that's nice of them to say, I guess."
To be sure, Capobianco isn't shy about his enjoyment of playing in Tucson. He's been here long enough that it feels like home — he's just outside the Roadrunners' top five in career games played, and already fourth in career points — and has close family home-based in Arizona.
But the idea of playing full-time at the NHL level? With call-ups on five different occasions already this season — not to mention a couple last season, too — of course the idea of being a regular in Glendale, presumably with the Coyotes, is clearly the ultimate endgame.
"That's the goal, of course — to make the jump as soon as possible," he said. "Whenever I can, I'll be ready."
It was one of those call-ups last season, however, that resulted in a significant wrinkle being put into whatever timeline may have existed for both the player and the organization.
Barely a full calendar year ago, after leaving Tucson for the 2019 AHL All-Star Classic last January — Capobianco eventually make it three All-Star nods in a row this past month, too – the 6-foot-1, 196-pound lefty finished his All-Star duties and was almost immediately drawn up to the big club. In his second game dressed — a not atypical February home matchup against the Columbus Blue Jackets — Capobianco had seen about 16 minutes of ice time when a third-period collision sent him into the boards and down the ice.
A torn ACL, in his right knee. Not necessarily an uncommon injury, to be sure, but Capobianco said he wasn't sure what to expect since it can affect every athlete differently.
Of course, in this case as in so many others, his season was finished. Months and months of rehab awaited.
"For what Capo did last year, he dominated the (AHL). And it was just such an unfortunate injury," said Roadrunners' assistant coach John Slaney.
Slaney works specifically with Tucson's defensive units, and has known Capobianco since his days on Canada's major junior hockey circuit, playing for the Sudbury Wolves of the Ontario Hockey League.
Slaney said a big part of the swift-skating Capobianco's recovery and return has been regaining the confidence that's been such a huge part of his on-ice persona.
"For him to just be confident in that injury and that part of the leg, to know what he could and could not do — it's been a slow process," Slaney said, adding that he's wanted to seen Capobianco "take some of the risk away from his leg and play a simple game."
Capobianco has done just that, the coach added, noting that "from what he did at the beginning of the (season) to what he's doing now, has been at a totally different."
Capobianco himself said the difference between 10 months after injury and the one-year mark has been the most jarring.
"It's night and day. I knew talking to guys who have been through it, how much they said they felt the difference once they hit the year," he said, referencing Coyotes regulars like Jacob Chychrun and former Roadrunner Nick Merkley — Capobianco's one-time Tucson roommate who battled back from multiple ACL injuries of his own while part of the Coyotes/Roadrunners organization. "You feel so much more confident.
"It really is out of sight, out of mind. … Yeah, I'm back at 100%."
Capobianco, a slow offensive start this season as he got his sea legs back under him, has been among the AHL's top-scoring blueliners for months now.
With first place in the AHL's Pacific Division again on the line heading into the Roadrunners' (30-15-1-1) Saturday night road tilt with the Stockton Heat (26-12-3-3), Capobianco's 26 points (six goals and 20 assists) in 31 appearances has him second in the AHL among points per game by a defenseman.
While he said it would be unnatural not to think about the injury at times, "when you're in the moment, in the heat of a game, it's not coming into your mind. You're thinking "it's a 3-2 game, we've got to score, or let's get back defense."
Capobianco said that during the recovery process, he found out that his athletic prowess could extend to other avenues beyond hockey.
"It's kind of funny. I used to be a terrible swimmer. But not being able to walk, the only movement was in the pool," he said, adding that he's also been able to add strength in the upper body since the injury, too. "You're on crutches for three months almost, and really can't use your legs. So you have to start relying on your arms more. And as athletes, we just want to work out, get better. So you find peace in the gym like that."
Be the first to know
Get local news delivered to your inbox!