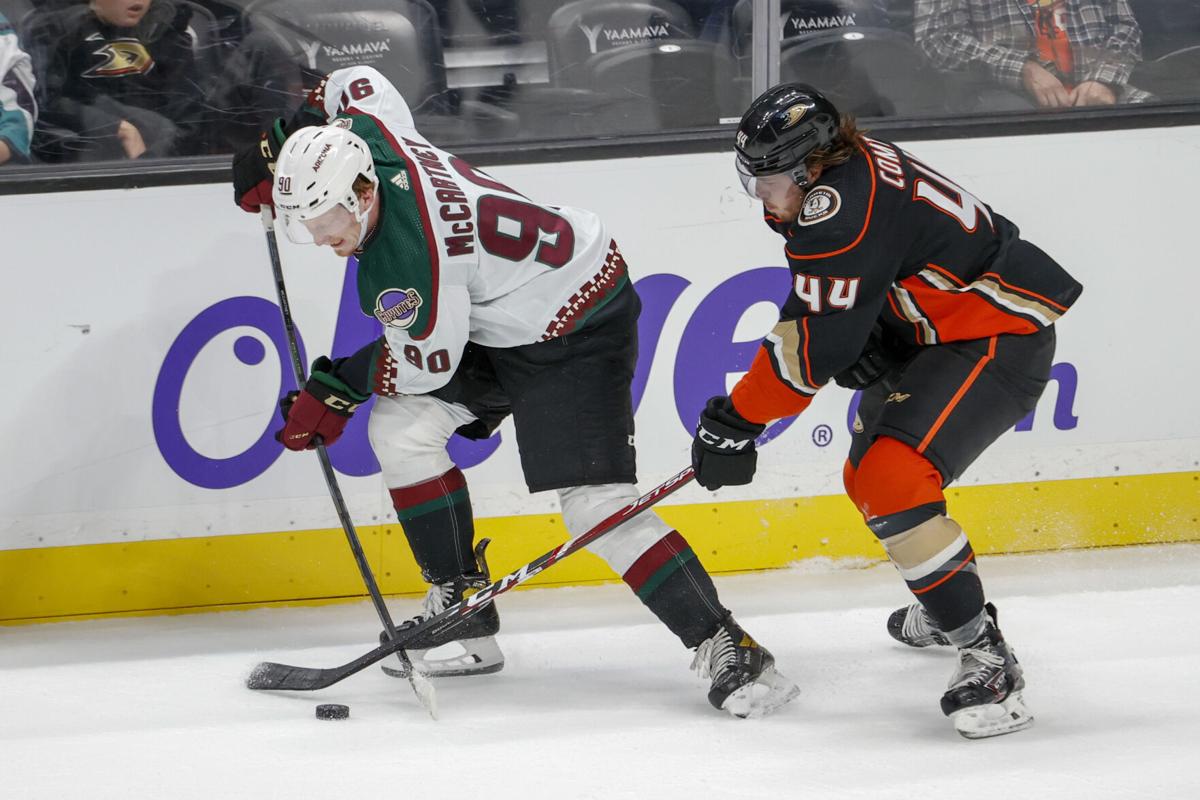 So sorry, Ben McCartney. Your Tucson Roadrunners really must play a team other than the Texas Stars this weekend.
(But don't worry; you'll see them again in March.)
In the meantime, Tucson's 20-year-old rookie will try his hand at picking up a goal or two against a different opponent for a change Friday and Saturday, when the San Diego Gulls visit Tucson Arena for a pair of 7 p.m. matchups with the host Roadrunners.
Signed to his first pro contract at age 19 back in May, the 6-foot, 183-pound forward is already having an impact in Southern Arizona.
The sample size is certainly small. But that's what makes McCartney's magic against the team Tucson split a pair of matchups with last weekend stand out.
In addition to scoring a hat trick in Saturday's 4-0 home-opening win over the Stars, McCartney notched a goal and an assist against the same Texas squad in his pro debut last May. That came during his brief four-game stint with the Roadrunners after the conclusion of what would be his last season of junior hockey.
All in all, McCartney has five points (four goals, one assist) against the Stars in four games played, while carding eight total points in six career American Hockey League games.
"I guess the puck's just been bouncing my way when I go against them," McCartney said Saturday night after he became the second skater to tally a hat trick so far this young AHL season. "I was just lucky to get a few bounces my way, and great passes also."
Added Tucson head coach Jay Varady: "Obviously, we saw what he can bring on Saturday night. So I think that's going to be the challenge for him — night in, night out, bringing that energy."
McCartney's spring tryout — he scored at least a point in three of those four games he played for Tucson down the stretch of the pandemic-condensed 2020-21 campaign — clearly turned heads within the Arizona Coyotes organization.
Less than a year after he was selected by Arizona in the seventh round of the 2020 NHL draft, and just days after the aforementioned AHL debut — McCartney was inked to a three-year entry-level deal with the NHL club. This came after he served as an alternate captain for the WHL's Brandon Wheat Kings, pitching in 13 goals and 37 points in 24 games last year. McCartney's 37 points ranked second overall in the WHL, and his 24 assists tied for third.
"It's unreal. (Signing) is definitely a lot of weight off the shoulders," he said in May of the Coyotes' quick work in getting him locked down. "It's a dream come true. It's something I've wanted to work for my whole life. But I'm still not satisfied yet. I've still got some things to work on. It's definitely a huge stepping stone in my career, but there's a lot more work to be done."
McCartney's relatively quick contract was the Coyotes' only player movement for nearly two months. Coyotes general manager Bill Armstrong locked McCartney up, then turned his attention to wheeling and dealing some of the franchise's most notable names for a stockpile of early-round picks in the upcoming drafts.
And although McCartney showed signs of brilliance for the Coyotes during the team's rookie tournament appearance this offseason — his three goals in three games tied for the team lead with Coyotes' 2021 first-round draft pick Dylan Guenther — Armstrong was clear that McCartney needed to develop a bit in Southern Arizona.
"Ben had a great junior career and played well for the Roadrunners last season," Armstrong said in a team-issued release. "We look forward to watching him continue to develop next year in Tucson."
McCartney said that while it's his goal to make the NHL as soon as possible, he must find his place in Tucson first.
"I can't take it for granted. I've got to come there ready to go," he said last spring of the likelihood his pro career would continue in Tucson after its fast start back in May. "This was a really important summer for me to get bigger, stronger, faster. And they told me that that's what they wanted me to improve on."