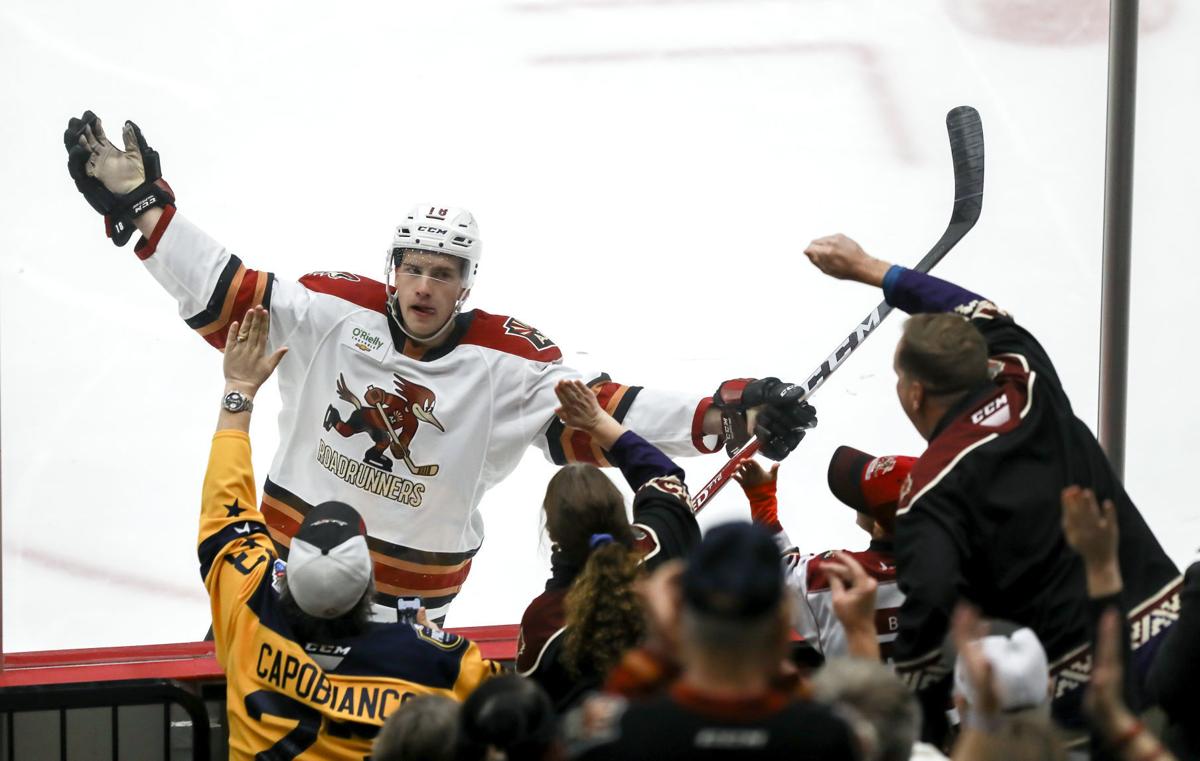 What transpires across a couple of time zones, 2,500 flight miles and two entire leagues on a mid-week November night may not mean all that much come April and May.
But if the stars align a certain way Wednesday evening, North America's professional hockey universe might just be centered on that familiar 130-or-so-mile stretch of highway connecting Tucson and Glendale.
The Tucson Roadrunners (11-4-0-0) — first place in the American Hockey League's Pacific Division — wrap up a three-game Northern California road trip Wednesday at 8 p.m. against the San Jose Barracuda (5-8-0-1). A couple hours earlier, the NHL's Washington Capitals visit the New York Rangers.
So what's the connection?
Heading into Wednesday, the Capitals and their AHL brethren, the Hershey Bears, sport the best combined win percentage (.682) of any of the 31 NHL/AHL pairings. But should Washington fall Wednesday during a visit to New York's Madison Square Garden, and the Roadrunners pick up an AHL-high 12th win at San Jose's SAP Center, the Roadrunners and their parent club, the Arizona Coyotes, would ascend to the top combined spot through roughly the quarter-point of the 2018-19 season.
The Coyotes and Roadrunners would have a combined win percentage of .684, surpassing Washington/Hershey, while staying ahead of the Rangers and Hartford Wolf Pack, Boston and Providence (both Bruins), and the Nashville Predators and Milwaukee Admirals.
The Coyotes are 6-3-1 in the month of November, posting back-to-back shutouts from goaltenders Darcy Kuemper and Antti Raanta. The Roadrunners, for their part, are the only AHL team with two five-game win streaks this season. Tucson's Lane Pederson (10 goals, seven assists) and Michael Bunting (two goals, 12 assists) are both among the AHL's top 20 in points.
That pecking order among NHL/AHL combos could change within hours, of course. But the Roadrunners and Coyotes are proving, so far, that success at the NHL level doesn't necessarily pre-determine an empty cupboard down on the farm.
Hill, the man in black, is lightening up
Roadrunners' fans have become accustomed to seeing Adin Hill, Tucson's career leader in games played and wins for a goaltender, in all-black goalie leg pads, glove and blocker and a relatively dark, red and black painted helmet.
Earlier this month, Hill debuted a new set — with white as the base color this go-round. His new white and red mask should debut any day now.
"The (black pads) were actually the first set of pads I ever ordered a new set a few times in the exact same color," he said of the black-with-red-trim CCM leather that's accompanied him most of the last couple of seasons. "I probably went through five sets of the black gear. You go through a couple year."
The new set, white with red trim, is "the exact same model, just a different color scheme, and I made a couple subtle changes most people wouldn't know or see the difference. I put a little break in the pad — a little more bend in it. … And they switched to this new type of strap system maybe three, four years ago, so I'm trying it out now."
For fans hoping for a sneak peak at the new lighter-design helmet, Hill has posted some pictures on Instagram (@AdinHill).
Hill works with helmet guru Dave Fried of Calgary on each new paint job. This time, he asked to make sure it incorporated "Coyotes," but otherwise gave him free reign. The only other mandate from Hill: Keep "MM30" on the back, a tribute to his late goalie coach, Mike Mangiago.
Hill said there isn't much he needs to do to get helmets and pads ready.
"I love stiff pads. If you notice my pads are more straight up and down than most goalies, so I love them right out of the box," he said. "The biggest thing to getting used to is the glove. … No two gloves are made the same."
AHL chief Andrews visits Tucson again
David Andrews, on the job as the AHL's president and CEO since 1994, said he doesn't get to all 31 AHL cities every year.
But he has been to Tucson Arena in back-to-back seasons now after being in the building for a pair of late-October Roadrunners' wins over the Iowa Wild.
"It's usually a business trip. This wasn't entirely that. I did some other things in Phoenix," Andrews said, adding that he enjoys getting to the Southwest when he can and was excited to get back to Southern Arizona for the second time since January.
On the nights Andrews was on hand last month, the Tucson Arena attendance numbers were average, if not underwhelming. The weekend attendance numbers were 3,094 Friday and 3,355 Saturday.
Andrews said lighter crowds across the league are not abnormal for October. And Tucson drew a season-high 6,100-plus in its most recent home game, a 7-6 win Nov. 9 over Stockton.
"October is a tough month. There's a lot going on. You've got the World Series, football is going on," he said, adding that on that trip to Tucson, "what's more important is the fans have really been engaged. They're having a good time, and the hockey is good, too."