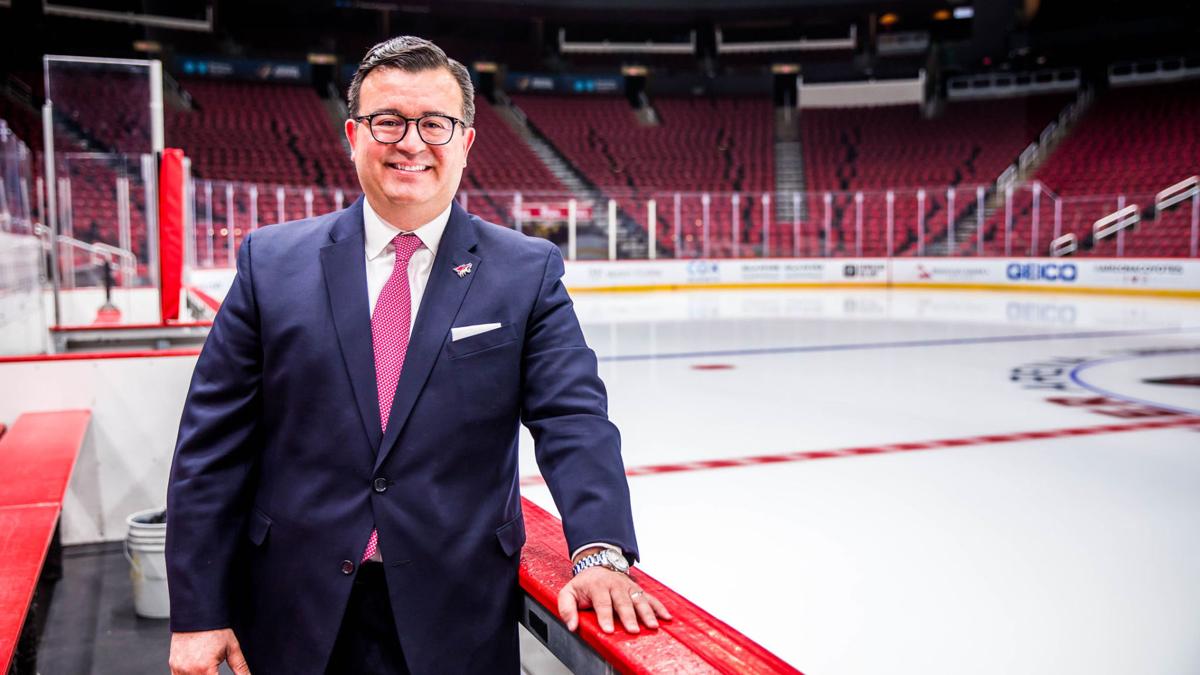 Six weeks after taking part in the Tucson Roadrunners' Hispanic Heritage Month drive-thru community day celebration, Arizona Coyotes President and CEO Xavier Gutierrez spoke to an international audience, expanding on his goals and efforts to attract non-traditional fans.
Gutierrez spoke to a virtual audience as part of a special series by the Arizona Town Hall, a nonprofit organization that educates, connects and empowers people to resolve societal issues through consensus.
The 2020 Arizona and Mexico Town Halls have focused on connecting and strengthening economic and cultural relationships between Arizona and Sonora.
"Sports and Global Relations — How Ice Hockey Connects Us" drew participants from Phoenix, Tucson and parts of Mexico, eager to hear about Gutierrez's recent efforts to reach new fans, including those from across the border.
Gutierrez, the NHL's first-ever Hispanic president and CEO, was born in Guadalajara, Mexico, and moved to the United States when he was 5. During his visit to Tucson last month, Gutierrez told the Star that the Roadrunners and their NHL-affiliate Coyotes are looking to attract the "fan-in-waiting," saying that the Latino community is ready to be a part of the teams' fan base.
Gutierrez echoed that sentiment during the Town Hall, saying that adding diverse voices to the mix is the right choice for a number of reasons.
"It is the right thing to do to bring diverse voices to the table. It is what makes society better and what makes our community richer," Gutierrez said. "But also, it is the right business decision. When you can take the great aspects of diverse voices and representation from all these communities and say to them, 'You're the growth market.'"
In America, hockey's untapped markets include young people, women, and multicultural and non-traditional fans, Gutierrez said.
And what's one surefire way to reach people from those groups? Through their kids.
The Coyotes' Kachinas program for girls is a huge part of the organization and one of the most successful and competitive programs in the country, according to Gutierrez, but there is still work to be done.
"Youth hockey is very, very big for us. It is something that quite frankly we do very well, but we need to do better particularly when it comes to reaching out to nontraditional communities, and that's been a key focus of ours," Gutierrez said. "It reflects our society to create opportunities for young people of different backgrounds, different ethnicities and certainly different genders to get involved in the sport."
Arizona is the No. 1 growth youth hockey market for girls in the United States and No. 3 when it comes to boys.
"It's important on us to foster that, to support that and to ensure that we're engaged with these young people," Gutierrez said. "They may not become NHL players, they may not become Olympians, but they can be part of our pack for life."
Gutierrez said he's committed to making sure that participants in the Coyotes' youth hockey programs are diverse and look like the community they live in. In order to do that, the organization has to be flexible with its engagement.
"(Engagement) is a key component of what I want us to be. I want us to be present, I want us to be constant, I want us to be a part of the fabric of this community across the board, not just on the sports side, but in the nonprofit world and in our civic leadership," he said.
Another way to reach those untapped fan bases is through community involvement. In Phoenix, the Coyotes opened their arena doors during election season, allowing it to be used as a voting location.
"It's a holistic approach. From youth hockey to fan engagement, it's really going to where the people are rather than making them come to us," Gutierrez said. "It's not always going to be on the ice."
The Coyotes organization has been partnering recently with Chicanos Por La Causa to visit their community centers and host stick ball clinics to let families know who they are and what they're about.
But Gutierrez's goals to bring in new fans and reach the community lie far beyond Phoenix and even Tucson. His vision includes cooperation with Sonora and he's hopeful to help bring an NHL game or even series to Mexico.
"I've been in this role for less than 6 months and it's been in the middle of a pandemic and we're trying to get back onto the ice ... so it is part of our plan. Obviously we haven't put anything into motion as of yet, but it is key," Gutierrez said. "This sort of cross-border (involvement) and not just with Mexico, is important to us as an organization and as a community."
Several NHL teams — the Vegas Golden Knights, Dallas Stars, Los Angeles Kings, Anaheim Ducks and the Coyotes — have significant proximity and connectivity to Mexico. Gutierrez thinks that's reason enough for Mexico to become involved in the sport, Gutierrez said.
And while 2020 is quickly drawing to an end, Gutierrez is still hopeful that a 2020-21 NHL season will happen, albeit a shortened one.
He also believes that in Arizona, a limited number of fans will be able to attend those games, and he's hoping that the franchise's engagement efforts to reach new fans in the offseason will pay off.
"We want to make sure that we're seen as having an open door ... but also welcoming of ideas, partnerships and efforts that we may or may not be aware of," Gutierrez said. "One of the things that I told my team members when I joined was that we are going to be constant and present in the lives of people in this community."