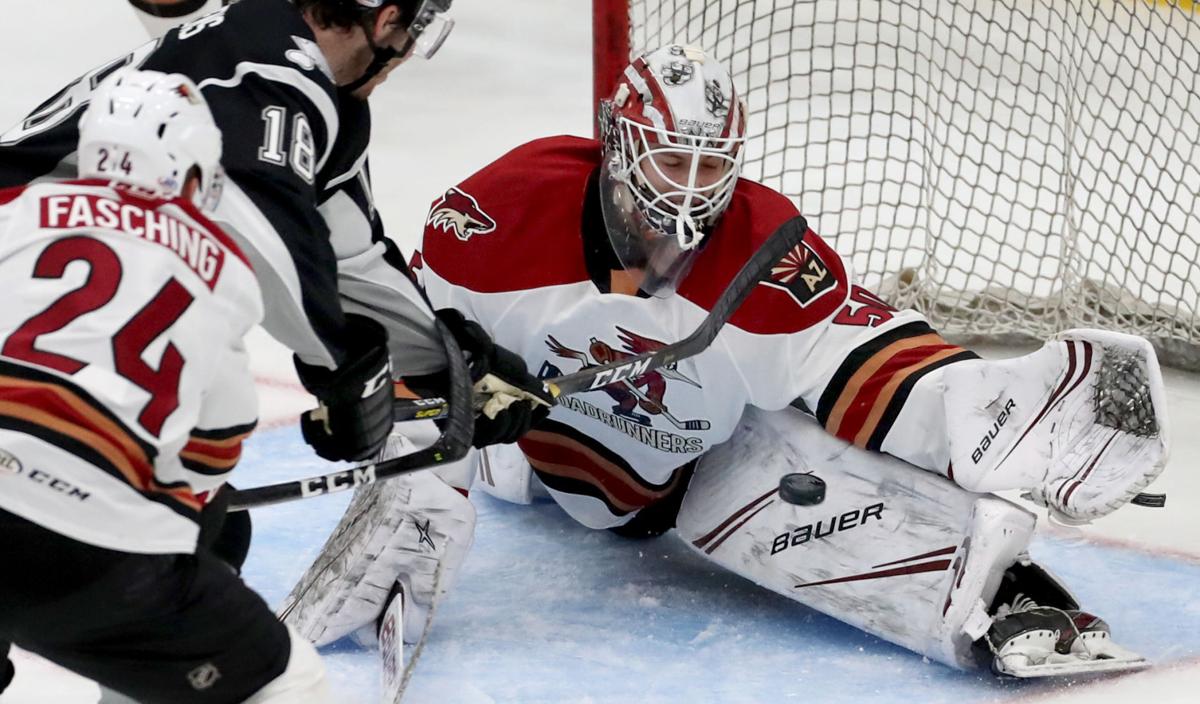 During the Tucson Roadrunners' first season in Southern Arizona, goaltender Adin Hill appeared in 40 of the team's 68 games.
Hill appearing in 58.8% of games back in 2016-17 is still, five seasons later, the most action any Tucson goaltender has seen in a single season.
With Hill now seemingly full-time with the NHL's Arizona Coyotes, Ivan Prosvetov — who played in 27 of Tucson's 58 games last year in his first pro season — is fully entrenched as the Roadrunners' No. 1 in goal. The 6-foot-5-inch Russian is considered a legitimate NHL prospect, and his athleticism was on full display this past week as he stopped a pair of breakaways Monday in acrobatic fashion.
Prosvetov won't reach Hill's 40-game mark this season, but that's really only by circumstance. The delayed start to the AHL season and a canceled game from the opening weekend means Tucson is slated to play just 39 games this year as opposed to the usual 68.
Prosvetov needs to appear in 23 games to beat Hill's mark of 58.85.
"We want to see him in net as much as possible," Tucson head coach Steve Potvin said. "Every day he wants to get better, so we're going to be right there with him and try to support him with that."
Prosvetov's 36 saves helped Tucson to a 2-1 overtime victory over the San Jose Barracuda in Sunday afternoon's season opener.
The next night, Prosvetov stopped 33 of 36 shots in a 5-3 win. He earned "second-star" honors both games, and sports an early-season 1.98 goals-against average and .945 save percentage.
"It looks like he had a great summer. He stood on his head both games for us," Tucson forward Michael Bunting said on the Roadrunners' radio broadcast.
It's fully expected Prosvetov will be in net again Friday and Sunday, when the Roadrunners (2-0-0-0) travel take on the Ontario Reign (0-3-0-0) in Southern California.
Looking at the Roadrunners' schedule, it wouldn't be an impossibility if Prosvetov started at least eight of Tucson's first 10 outings. While Tucson's opening weekend included back-to-back games, this weekend includes a day off in between matchups. Prosvetov will likely be in goal for at least two of three next week, when the Roadrunners return home to face San Jose again. The following week? Look for him to play at least two — if not all three — on the road at Colorado.
There are key factors at play in determining how much Prosvetov plays, of course. He'll need to stay healthy, for one, as will the organization's NHL goaltenders. The Coyotes' Darcy Kuemper, Antti Raanta and Hill are considered by many to be one of the top NHL goaltending assemblages again this season. Raanta has a history of injury setbacks, and Kuemper hasn't gone unscathed either. Prosvetov spent a small bit of time last year at the NHL level for that very reason, though he didn't see any action. He also was the Coyotes' emergency goalie in the postseason.
Hill signed a one-way contract with the Coyotes this offseason, meaning that other than a short conditioning stint, any effort to send him to Tucson means he'll have to be clear NHL waivers. A goaltending prospect like Hill would almost certainly be snatched up by another team in that scenario, so it's a likely he'll be with the Coyotes virtually all season.
Prosvetov, who turns 22 on March 5, isn't immune to playing virtually every day. Two seasons ago, he played in 50 of 68 games for the Saginaw Spirit of the OHL, one of Canada's Major Junior leagues.
Also a factor: his backups. The Roadrunners have Connor LaCouvee and Chris Nell on the roster, but both have limited AHL experience.
Potvin said that facing 34 and 37 shots in the first two games weren't what the Roadrunners' coaching staff had in mind for Prosvetov. They'll be monitoring that, and his overall workload, as the season progresses.
"Coming out (of the first two games) with four points, you can't be disappointed. But there's obviously a lot of shots on net, Potvin said. "We want to give him every opportunity to have success. We have to keep an eye on it.
"But he is one of our best prospects and our best players. And sometimes your best players, they look for responsibility," Potvin added. "The better you get, the stronger you are, the more responsibility you get. So we'll definitely keep an eye on it, but I know that he's up for the challenge and he wants to play every game that he can."