The Tucson Roadrunners hadn't won a hockey game in 334 days. Their season opener — originally scheduled for Friday night — was then delayed another two days.
So playing an extra one minute, 17 seconds Sunday was no problem.
The Roadrunners (1-0-0-0) defeated the San Jose Barracuda 2-1 on the stick of defenseman Cam Dineen's overtime game-winner in the American Hockey League season opener for both teams.
The Tucson players flowed over their bench to celebrate on the ice, but the scene certainly added to the unusual nature of Sunday's matchup.
As if the constant, almost soothing, hum of artificial crowd noise inside the spectator-less Tucson Arena didn't create a unique enough backdrop for the Roadrunners' first official game in nearly 11 months, Tucson being the designated "away" team for a matchup in its own home building just added to the atypical experience.
"We're just happy to get it done, and hopefully some fans can start filing in here in the next couple of weeks. That would be great," said Dineen, who, in overtime, picked up the loose puck near center ice during the three-on-three skate, drove down the left side and buried it, unassisted, past San Jose goaltender Alexei Melnichuk.
Added first-year Tucson head coach Steve Potvin: "It's a great way to start. You definitely want to start with a win. I think a lot of us had goosebumps before entering the ice.
"Unfortunately we missed the fans, but just being around the game and having an opportunity to compete really got us excited."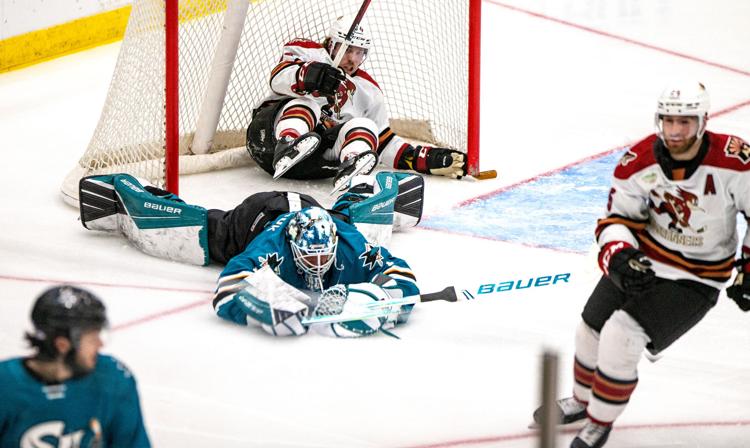 San Jose is the designated home team for Monday's 7 p.m. rematch in Tucson Arena, too.
While COVID-19 restrictions on professional and college sporting events in Santa Clara County area were lifted in recent days, it was determined last month the Barracuda would begin the season away from their home facility, even though the schedule has them as the "home" team.
For the Roadrunners, playing the part of the visitors meant wearing their designated "road-white" uniforms, as well as using the visitors' bench (that's opposed to Tucson's traditional seating arrangements coming on the south side of the ice sheet).
The Barracuda were also given the home treatment of coming out to the ice before each period last, with the arena music blaring (naturally, a cover of the aptly-named 1977 Heart rock anthem "Barracuda").
Video board graphics were also aligned San Jose's way, while the goal horn even took sides. For Tucson's goals, the building stayed relatively silent — Tucson Arena public address announcer David Lieb announcing the score straight and monotoned.
When John Leonard scored San Jose's only goal came seven minutes into the third period, the goal horn blared, and Lieb's voice peaked as it normally would for the usual home team.
Even the Roadrunners' mascot dressed the part; Dusty wore a teal shark onesie, paying homage to the Barracuda's NHL affiliate.
So, when Dineen scored in overtime: no cheering crowd, no goal horn. But a win for Tucson, nonetheless.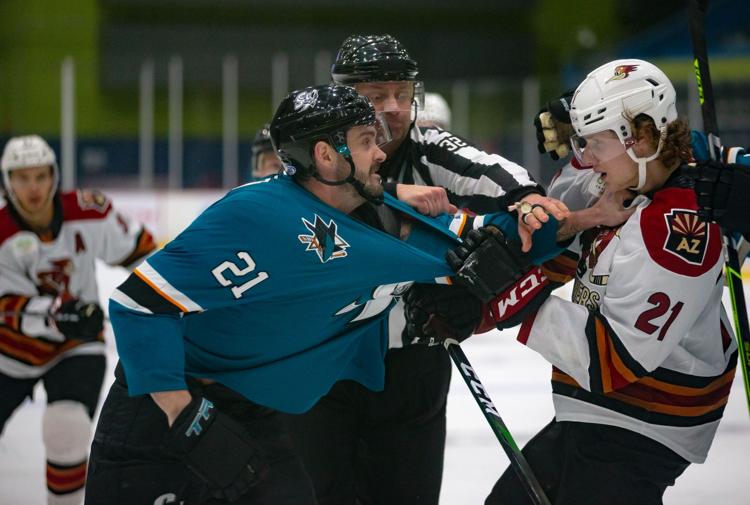 Potvin, not even three weeks into his new gig after the past three seasons as a Tucson assistant coach, picked up his first career win going up against San Jose's Roy Sommer – the AHL's all-time leader in games coached and career wins, with 773.
Sommer spent part of last season with the NHL's Sharks, but returned to the AHL this offseason.
"I have a tremendous amount of respect for him. While I was playing as a 21-year-old, I lined up against him as a coach," Potvin said of facing an AHL legend in his first go-round.
"It's been a long, long time, I guess, between now and then. His career has been obviously a real good one. He's somebody I've definitely respected over the years."
Potvin said he was pleased to see Dineen, a five-goal scorer from the blueline last year, and forward Tyler Steenbergen pick up the goals for Tucson. Steenbergen, like Dineen in his third year with the Roadrunners, scored eight goals last season.
He broke a scoreless tie Sunday inside two minutes to go in the second period.
"There's no doubt in my mind that we can play four lines and have contributions from a lot of different players," Potvin said. "I know (Steenbergen and Dineen) are ready to take another step in their careers."
For Monday's rematch, Potvin said he'd rather not have to rely on another 36-save outing from second-year goaltender Ivan Prosvetov.
"When your goalie's going like that … it just allows you time to get into the game," Potvin said. "But that's definitely not a tactic we want to use often.
"At times your goalie's going to have to be the best player, and tonight (Prosvetov) definitely was."
---
---
Photos: Tucson Roadrunners win season opener against San Jose Barracuda
Roadrunners Vs Barracuda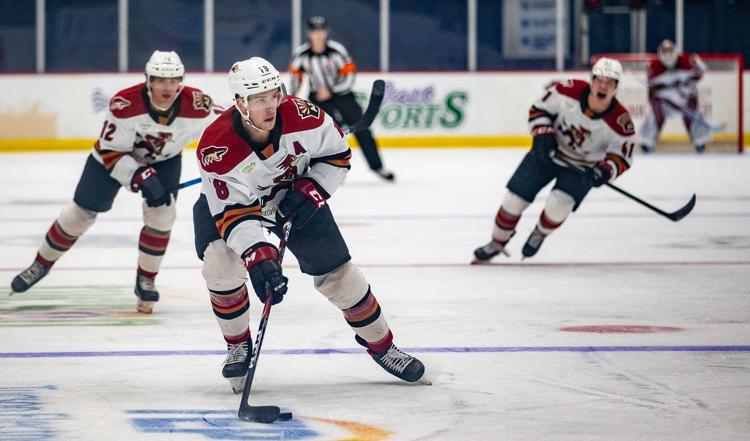 Roadrunners Vs Barracuda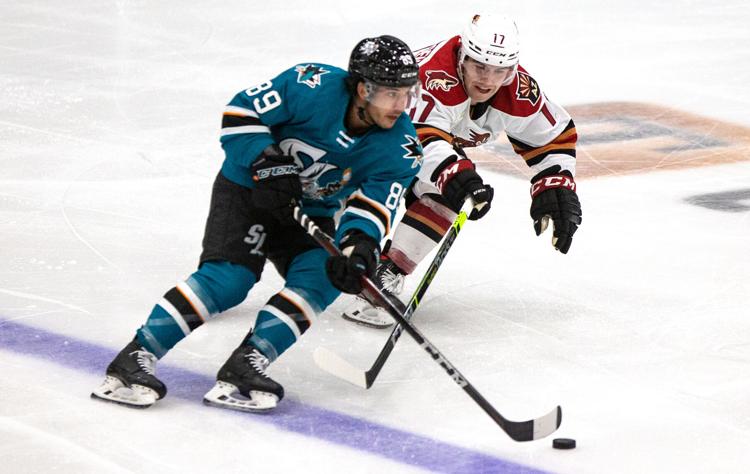 Roadrunners Vs Barracuda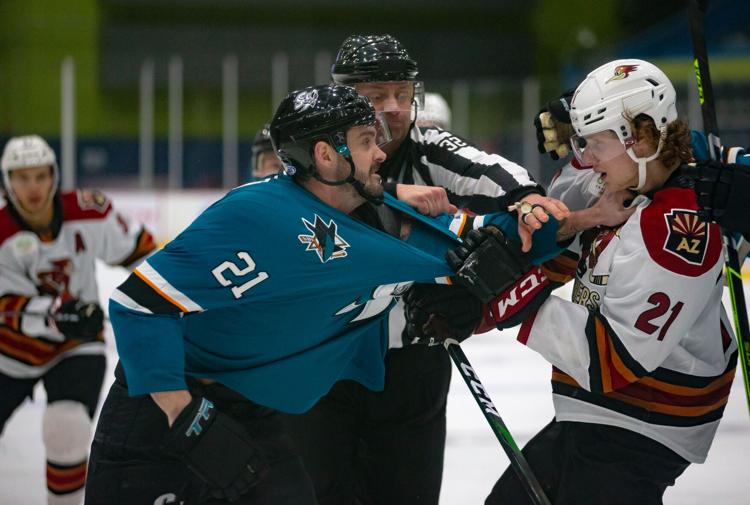 Roadrunners Vs Barracuda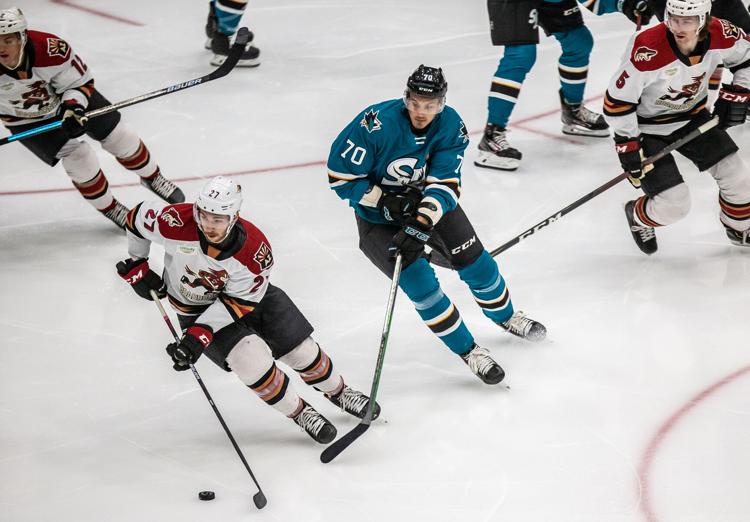 Roadrunners Vs Barracuda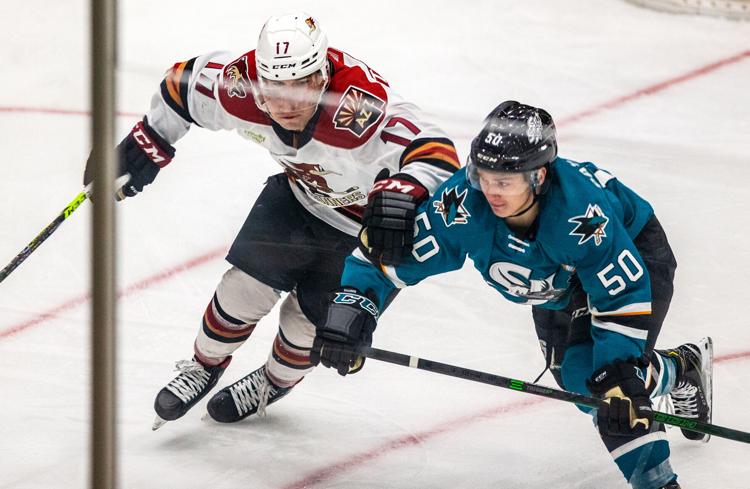 Roadrunners Vs Barracuda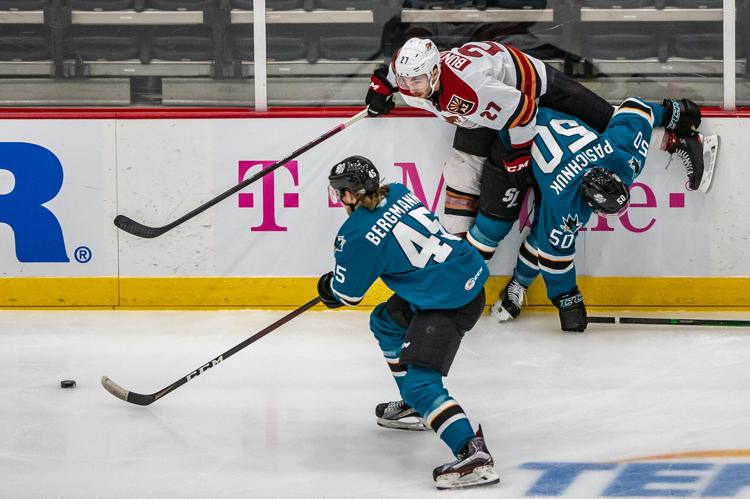 Roadrunners Vs Barracuda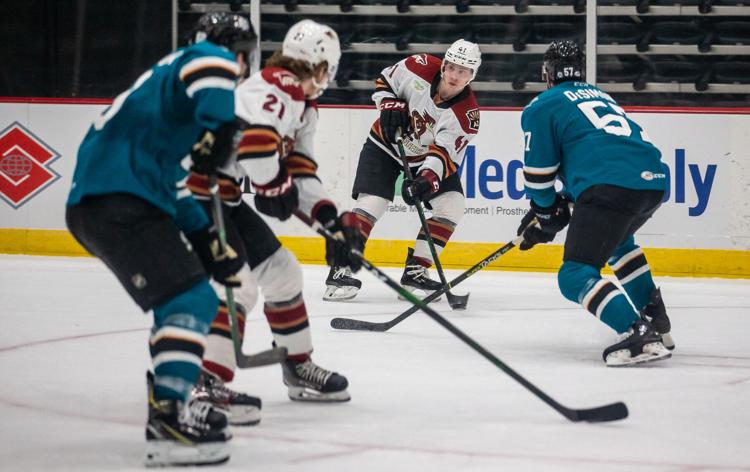 Roadrunners Vs Barracuda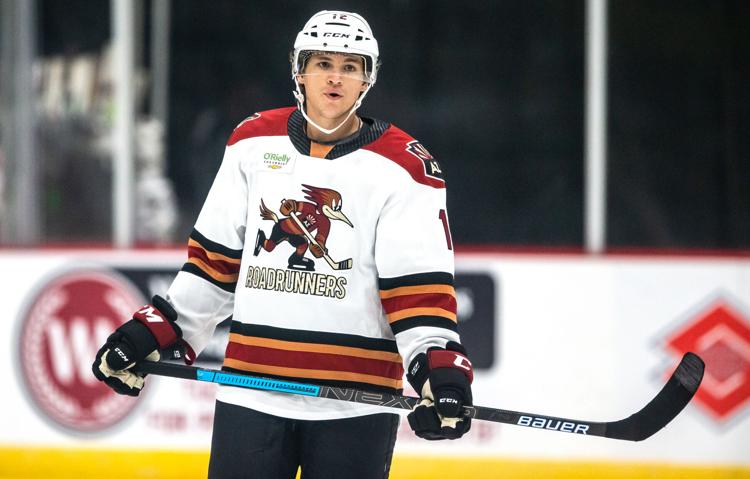 Roadrunners Vs Barracuda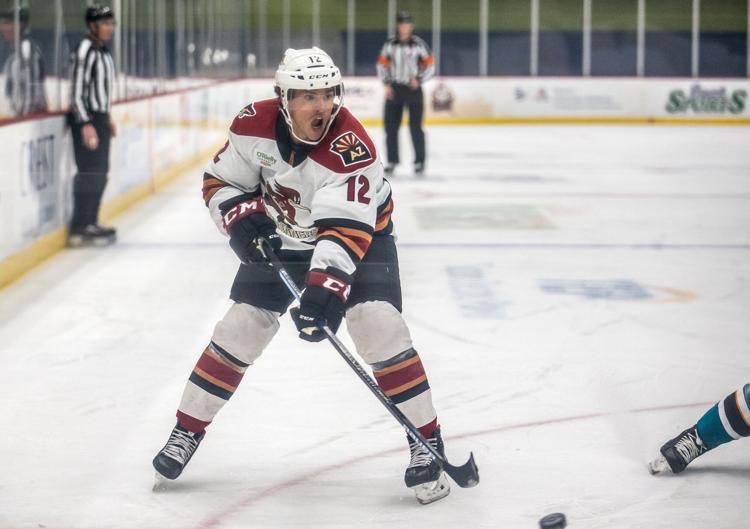 Roadrunners Vs Barracuda
Roadrunners Vs Barracuda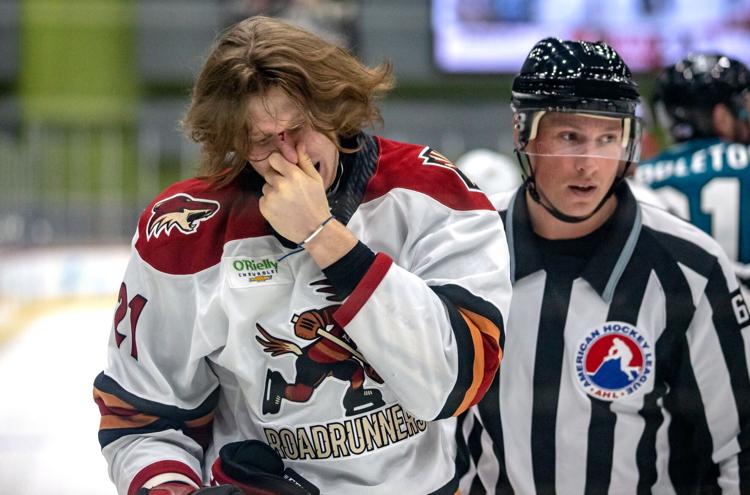 Roadrunners Vs Barracuda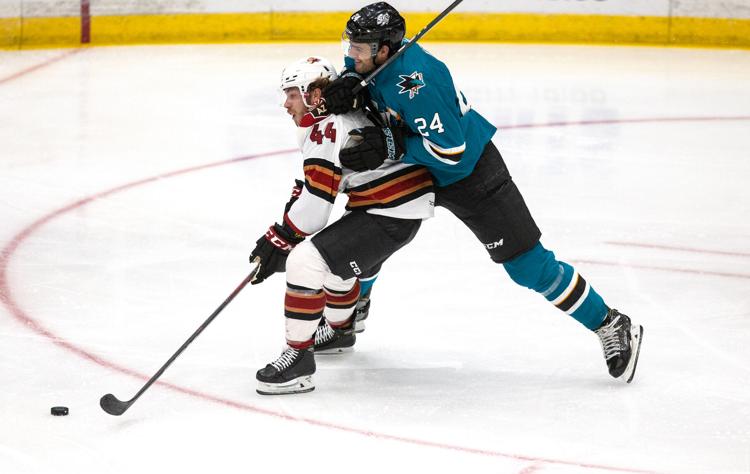 Roadrunners Vs Barracuda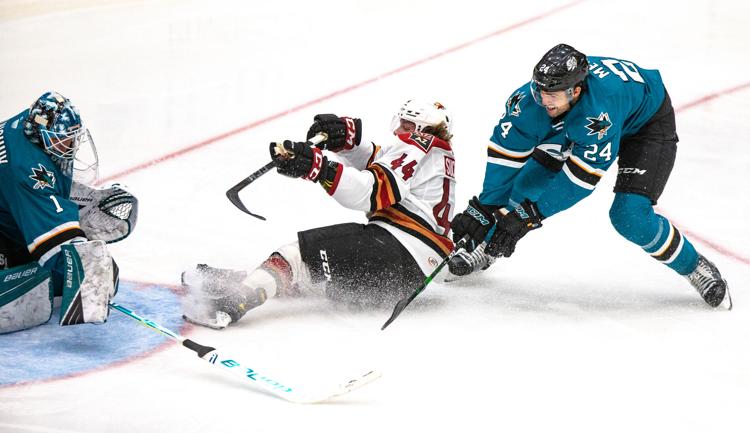 Roadrunners Vs Barracuda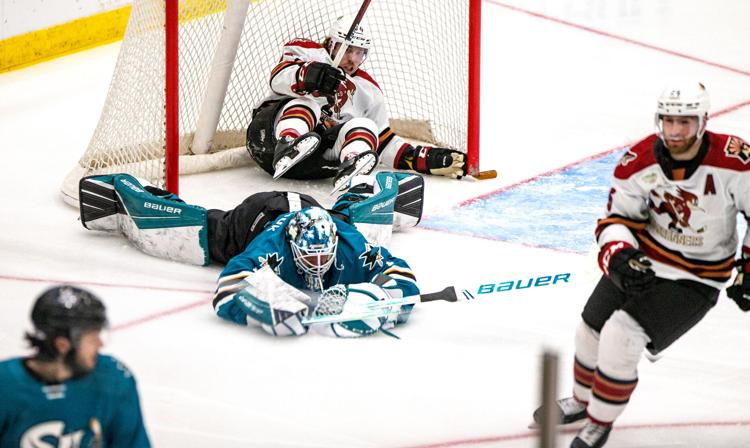 Roadrunners Vs Barracuda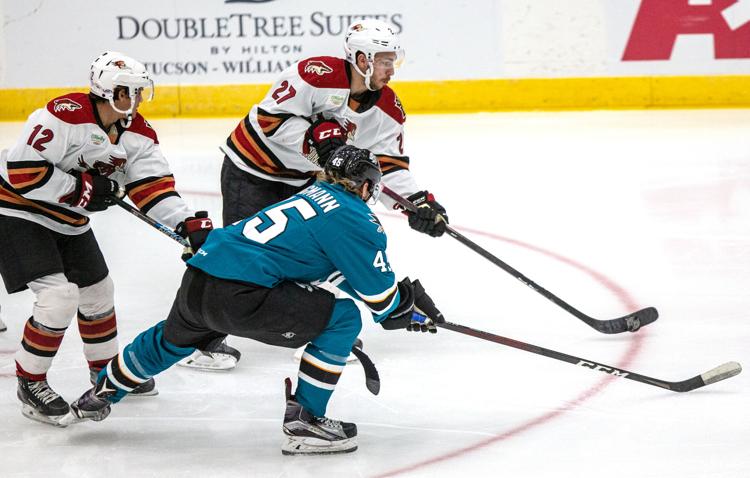 Roadrunners Vs Barracuda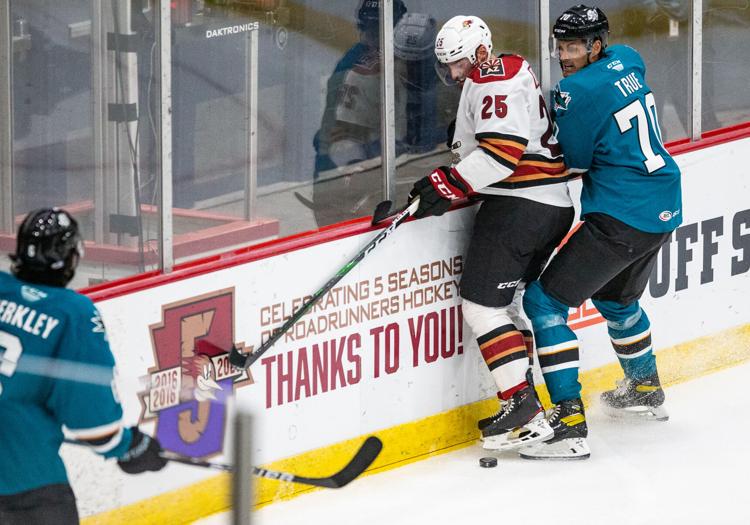 Roadrunners Vs Barracuda