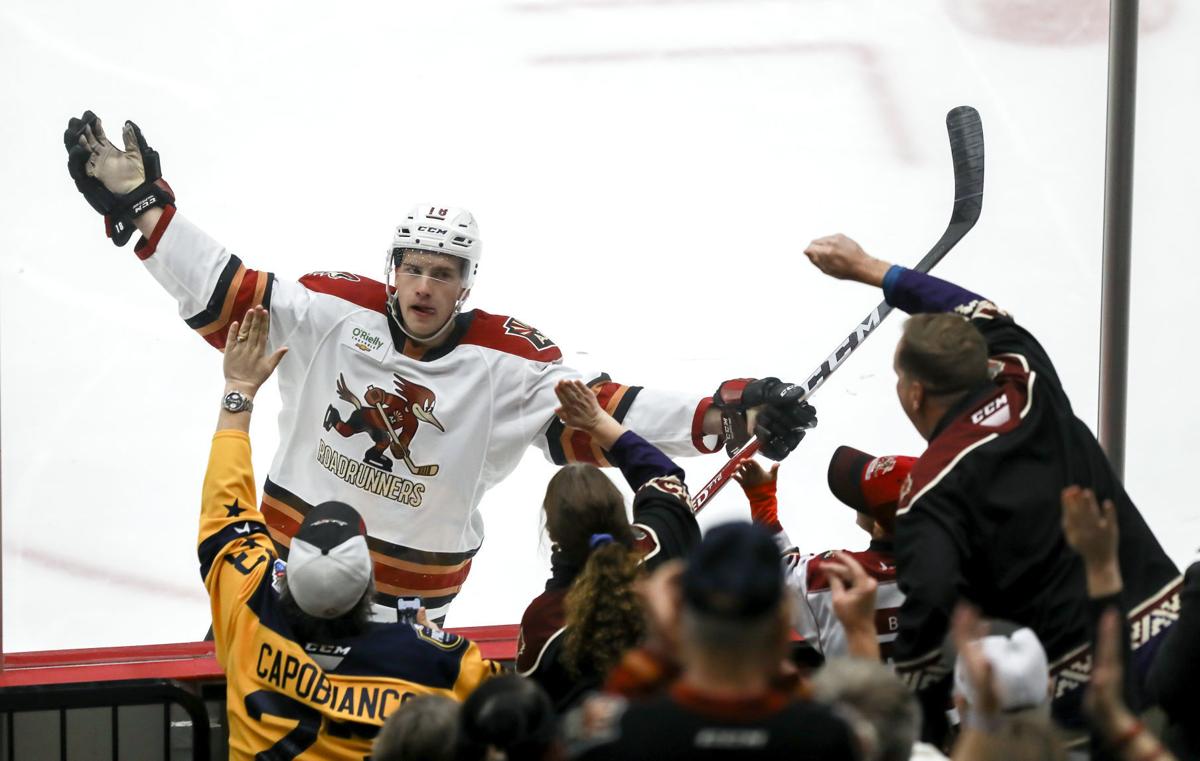 Forward Blake Speers has only been with the Tucson Roadrunners for about two weeks, but that doesn't mean he doesn't already have an opinion on the makeup of his new team's roster.
"This team is unbelievable. They've got a lot of prospects in this organization — a lot of guys who look to be pretty much NHL-ready," said Speers, acquired last month in the blockbuster deal that also brought Taylor Hall, the 2018 NHL most valuable player, to the Arizona Coyotes. "It's fun to be here, and I hope we can make a long run out this year."
The American Hockey League will announce rosters as early as this weekend for its 2020 All-Star Classic, which takes place Jan. 26-27 in Ontario, California. Speers took a team-first approach when asked if he could predict who from the Roadrunners might get All-Star nods.
"There's about six guys I could name off," he said, understandably, if not unexpectedly, choosing not to play the name game.
Lane Pederson, who had his breakout year last season in finishing as the Roadrunners' leader in goals and points only to charge out of the gates in the same fashion in 2019-20, wasn't ready to name names either.
"Everyone's success this year is just the body of work of what a good team game we've had through the first few months of the season," said Pederson, whose team-high 16 goals are certainly cause for his own consideration.
A committee of the league's coaches ultimately choose the All-Star rosters, and that group could have as hard a time as Speers and Pederson at whittling down the candidates to just a couple of Tucson players.
As the Roadrunners (24-7-0-0) turning their attention to Friday and Saturday 7:05 p.m. home outings against the San Jose Barracuda (10-17-0-2), Speers isn't wrong: It's conceivable to see any of a half dozen or more Tucson players chosen.
There most assuredly won't be that many — not with the current All-Star setup, which mimics how the NHL runs its own All-Star weekend. Rather than a prototypical game pitting one conference against the other, the AHL, like the NHL, pits four teams of 12 players apiece against each other in a 3-on-3 round-robin mini-tournament.
A team exists for each of the AHL's four divisions — Atlantic, North, Central and Pacific. The two-day event also includes a skills competition, with both days' festivities televised on NHL Network.
With 12 spots available on the Pacific Division roster, and each of the division's seven teams guaranteed at least one player, it's likely the Roadrunners will get two, but no more than three, selections. A year ago, when San Jose entered the All-Star Classic atop the Pacific and among the league's best overall teams, three Barracuda players were among the initial selections. Tucson's in a similar spot this year — first in the division, and mere percentage points away from the league's best overall record.
Which Roadrunners have the inside track?
Pederson just may have the best odds of any Roadrunner. The forward is tied for fifth in the AHL entering weekend play in goals (16), and fourth in points (32 in 31 games).
Michael Bunting played in his first All-Star game a year ago. His 11 points in his last six games has him also tied, alongside Pederson, for fourth in points. The forward is also second in the AHL in assists (27).
Kyle Capobianco is currently on a call-up to the Arizona Coyotes, but his three-point night Tuesday in a 7-4 home win over the San Diego Gulls elevated him to within 1/100th of a point off the league lead in points-per-game by a defenseman. Capobianco, a 2018 AHL All-Star, and forward Conor Garland were initially selected to the 2019 Pacific Division squad, but both were on recall by the Coyotes at the time of the AHL event, leading to Bunting filling in. Would the developmental league name him an All-Star for a third consecutive season?
Brayden Burke earned his own first NHL recall early last month. The forward's 10 power play goals and five game winners both lead the AHL, and his 15 total goals are seventh overall.
Dysin Mayo
might be a more unconventional choice on the surface, considering the defenseman doesn't have the scoring prowess of others. But he is on pace to blow by his own career highs in goals, assists and points, and among 800-or-so current players on AHL rosters, Mayo leads the AHL in plus-minus at plus-24. The next closest, league-wide: plus-19.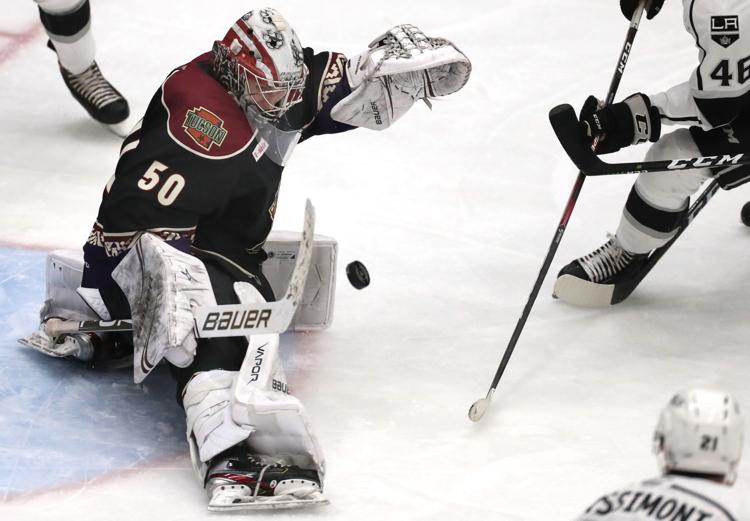 Ivan Prosvetov may both be longshots, but they wouldn't be out of the realm of possibility, either. Prosvetov has been among the league's best in goals against average (2.38) and save percentage (.931). But he and Hill, who is also currently on recall to the Coyotes, might both have it held against them that other goalies have simply seen more action. Hill made a dozen appearances before heading to Glendale after a lower body injury to Coyotes' goaltender Darcy Kuemper, himself named an NHL All-Star this year. Prosvetov has since started five straight entering Friday, bringing his total to 13 appearances on the season.
It's already a certainty the Roadrunners will be represented behind the bench, as the league announced earlier this week that Jay Varady would be the Pacific Division's head coach, by way of the Roadrunners' holding the division's top overall record at the end of action Dec. 31.
"It's an honor, and for me, it's more a representation of how our organization has worked so hard in the first half," Varady said of his own selection.