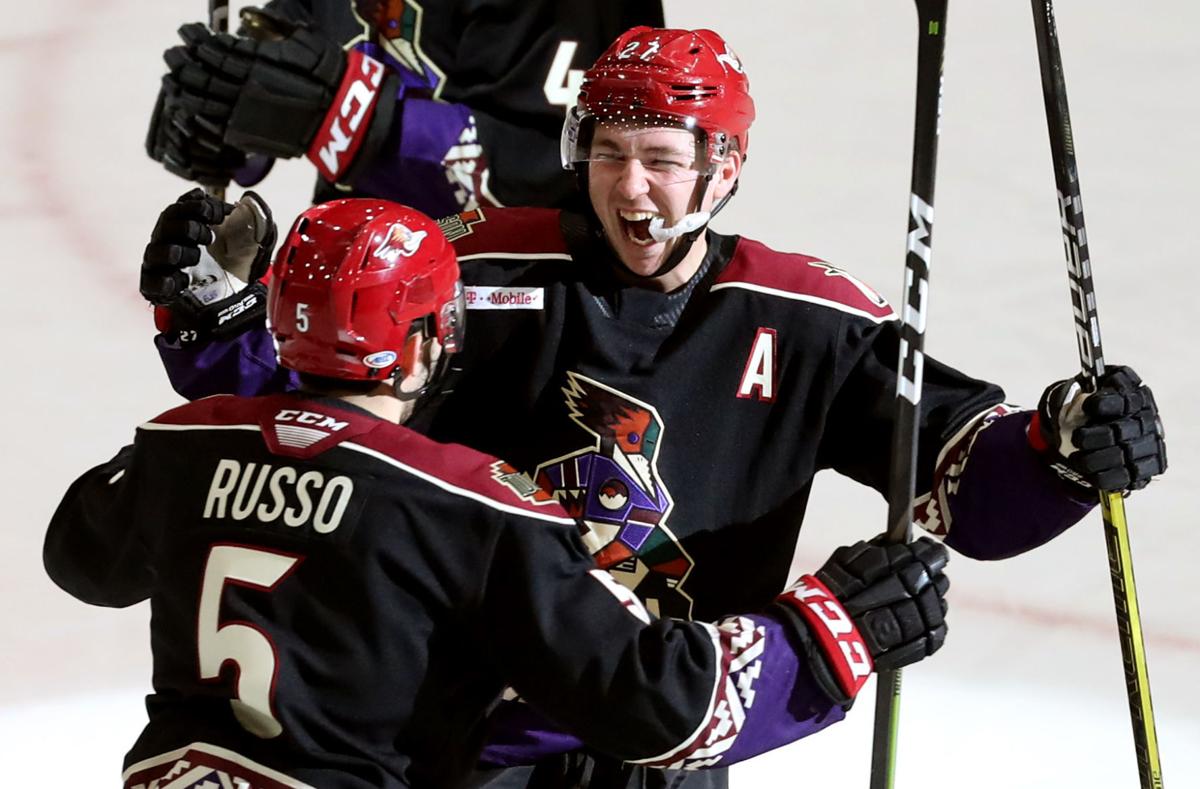 The Arizona Coyotes had just lost 4-2 on the road to the Anaheim Ducks, the NHL club's third consecutive defeat, and coach Rick Tocchet wasn't one to mince words.
"Buckle up," Tocchet told assembled media, postgame Wednesday night. "It's not going to get easier."
Such is the way that things work at the NHL level. Races tighten following the all-star break. The outcome each night becomes tougher to predict. Every point matters.
The American Hockey League is the same — and Tocchet's words could have easily been said about the Coyotes' AHL affiliate, the Tucson Roadrunners (28-11-1-0).
The Roadrunners' unofficial second half begins Friday at 7:05 p.m. when the Colorado Eagles (22-14-3-1) visit Tucson Arena for a pair of Pacific Division matchups. And no, things don't look like they're going to get any easier.
"We're starting to come down to crunch time," Roadrunners coach Jay Varady said this week. "Everyone is battling for something. Nobody has an 'X' next to their name," Varady added, referencing the mark that shows up in the standings when a team has clinched a playoff berth.
While the Coyotes dropped from first in their division to fifth in a span of about two weeks, the Roadrunners have managed to stick at the top of the AHL's Pacific Division.
But all hasn't been perfect in Southern Arizona. After dropping both of their final two pre-all-star break games, at home no less, to the Bakersfield Condors last weekend, the Roadrunners are 5-5-1-0 in their last 11 games after posting nearly an .800 clip through the season's first 30 or so outings. And if seeing the Milwaukee Admirals pass the Roadrunners for the top record in the AHL in the past week wasn't enough, Tucson can clearly see the Stockton Heat (third overall barely trailing Tucson in both the division and overall standings) and Colorado in its rearview mirror.
The AHL's Pacific Division features three of the league's top nine overall records, and five of the top 18, while only four of Tucson's remaining 28 regular-season matchups are against non-division opponents. The Roadrunners will live out of their suitcases the next two-plus weeks following this weekend's series. They'll play seven games over 13 days as part of their annual "Gem Show Road Trip." That's when the Tucson Convention Center facilities are unavailable for hockey due to the annual Gem and Mineral Show festivities across much of Southern Arizona.
"Of course we still have a lot to play for … But things can change like that," Tucson forward Michael Bunting said, while snapping his finger. "And that has happened before."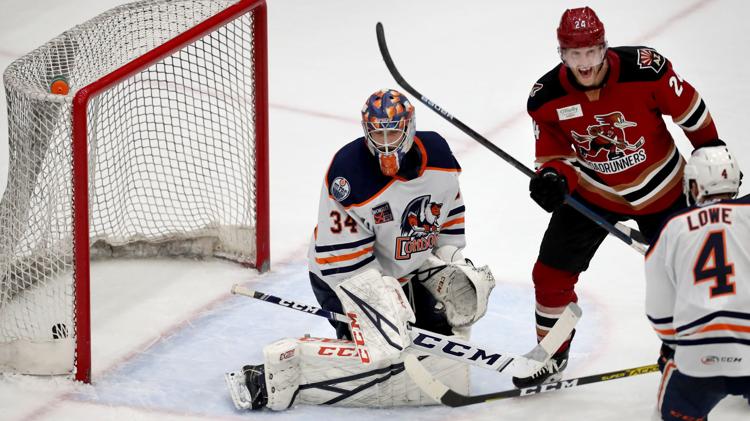 Bunting, who with a league-high 32 assists this season very well could have been an all-star this past week, said the break — especially coming after back-to-back home losses — turned out to be a welcome respite. Varady, defenseman Kyle Capobianco and forward Brayden Burke represented the team at last weekend's AHL's All-Star Classic in Ontario, California.
"It's good to get your mind away from hockey — and to physically get away, too," Bunting said. "You get rest, get your mind out of it, spend some time with your friends and family. Everybody needs that.
"We came back (Thursday), had a great practice. We went hard for 45 (minutes). I think it was one of our best practices, too. We're recharged and ready to go."
Capobianco, who this week made his third consecutive AHL All-Star appearance, said he's not worried about the gauntlet that likely awaits the Roadrunners. A year ago, Capobianco was called up to the Coyotes almost immediately after the AHL All-Star event. Two games into that NHL recall, he suffered a season-ending knee injury.
"This is the most exciting time. This is the time that I missed last year. It's the time you're just kicking yourself," he said. "Every game means something. Especially beating teams that you've got rivalries with, it's going to make it taste even better."
Be the first to know
Get local news delivered to your inbox!