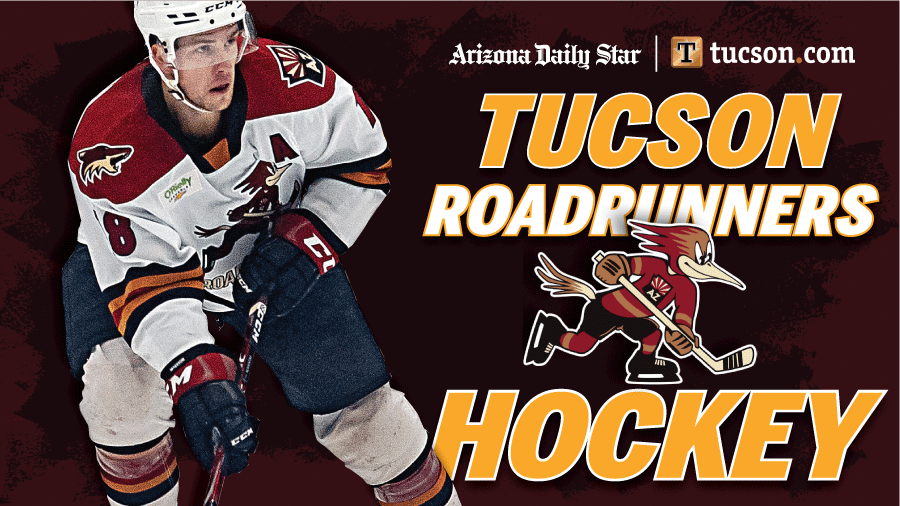 A career-high 51 saves from goaltender Hunter Miska set the tone for the Colorado Eagles in a 4-2 win Thursday over Miska's former club, the Tucson Roadrunners.
Miska, who more or less shared No. 1 goaltending duties for the Roadrunners with fellow netminder Adin Hill from 2017-19, turned away 15 of 16 Tucson attempts in the first period, all 15 in the second, and 21 of 22 in the third to lock down the fourth victory for the Eagles (12-9-2-1) in their last five games.
"At times we get snakebitten," Roadrunners coach Steve Potvin said. "We had some one-on-zero opportunities against Miska tonight and he made the saves. Our power play's got to convert on one of the opportunities that we had. They scored one and we didn't on the special teams."
The Roadrunners (10-15-2-0) ultimately fell for the ninth time in their last 13 outings. But two of those were in overtime, and all nine have come by either one or two goals.
"Our guys have a lot of moxie. They're playing well, they're playing together," Potvin said. "We've been known to score in bunches, so I'm hoping tomorrow is our night that we score in bunches and we come out with the victory."
Forward Barrett Hayton, who scored one of Tucson's two goals Thursday, said the Roadrunners are "pretty close," but there are "couple ways to look at it," he noted.
"Personally I feel like we've been playing some really good hockey. I know it's kind of hard to weigh it too heavily, but if you see our shots every game, we're been outshooting a lot of teams, and really opportunity-wise we've been out-chancing teams," Hayton said. "I think that says we're close, but at the same time it says … we've just go to take that (next) step."
Thursday's scoring came off the sticks of some of the Coyotes' top NHL prospects. In addition to Hayton's third goal of the year in the game's final minute to close the gap, defenseman Victor Sodorstrom scored his second of the season about eight minutes into the first period to give Tucson a 1-0 lead.
The Eagles would score three straight, though — Nick Henry in the first, Jayson Megna in the second and Shane Bowers late in the third — before Hayton's late effort. Colorado's Sheldon Dries would add an empty net goal with virtually no time on the clock to close the game out.
"They played some solid minutes tonight," Potvin said of Hayton and Sodorstrom, both of whom started the season in the NHL with the Coyotes before heading to Tucson to round out their games a bit in the American Hockey League. "It's certainly nice to see them on the score sheet.
"It's part of their process to play some hard minutes, both in the offensive zone and the D-zone," he added.
The Roadrunners have nine games left on their 2021 schedule. The next two come Friday at 7 p.m. and Sunday at 1 p.m. — both in Tucson Arena against the same Colorado squad. The Eagles now hold a 3-0-1-0 advantage over Tucson so far this season.