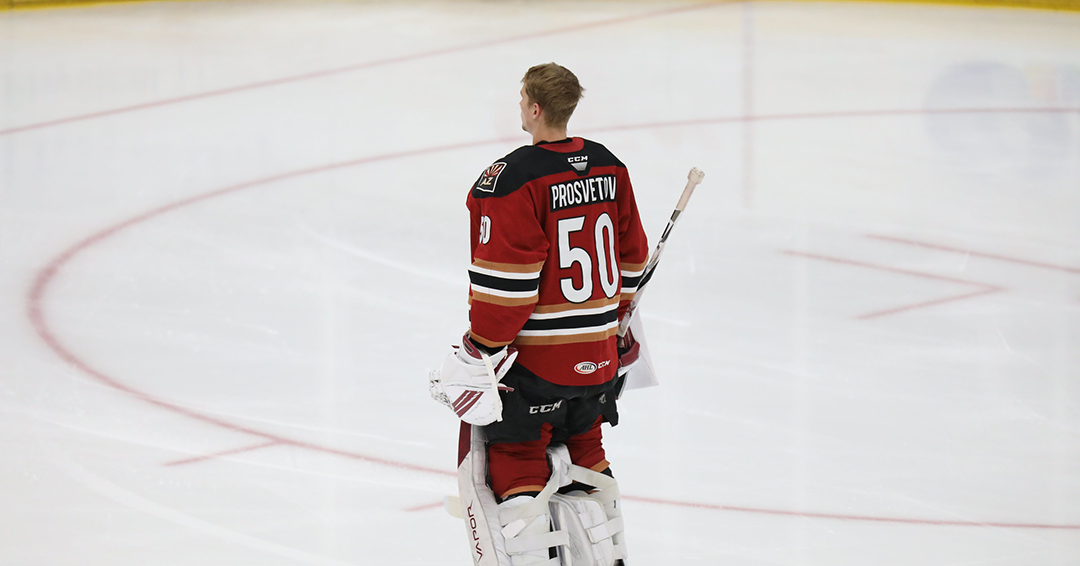 It's been nearly five weeks since the Tucson Roadrunners last won back-to-back games. Reaching that feat will have to wait at least another week after the Roadrunners 4-2 loss to the San Diego Gulls at Tucson Arena — a game in which Tucson led 2-0 thanks to a pair of second-period power-play goals, but ultimately ceded down the stretch.
"It's frustrating. Yeah it's really frustrating," Tucson forward Lane Pederson said. "Good teams find a way to shut that down, and either build upon that lead or secure it."
The Gulls (10-10-0-0) have been the team the Roadrunners (7-9-0-0) have arguably played their best hockey against this season, earning a 4-1 win nine days ago in Southern California before a 6-2 walloping Saturday. Including Sunday's setback, those are Tucson's only two wins in their last 10 games.
The Roadrunners looked well on their way to a third win over the Gulls in nine days, and their first back-to-back victories since Feb. 14, after Michael Bunting's sixth goal of the year. With the assists from Barrett Hayton and Kyle Capobianco, Bunting opened the scoring on the man advantage 3:17 into the second.
Roughly six minutes later, a heady defensive play from Lane Pederson helped Bunting earn his second of the night, also on the power play.
As San Diego's penalty-kill unit picked up the puck near center ice and broke toward the Tucson end on a two-on-one, Pederson turned on the jets and tracked down the play. Spinning around to get his body in front of the would-be shot attempt, the puck ended up deflecting to Hayton, who fired a pass halfway up the ice to Kevin Roy; Roy then delicately pushed the puck to Bunting for the tap-in.
Pederson, who like Bunting has cemented himself for weeks now among the American Hockey League's top five or ten point producers, didn't officially get credited with an assist, but was key to starting the rush with his play in front of goaltender Ivan Prosvetov.
"I think at that time in that stage of the game, it's just a desperation play. I just hustled back and tried to make a read and get my body in front of it," Pederson said. "The way it worked out, yeah, it worked out pretty good." "You see guys doing that all up and down through our lineup all night. You're seeing more of that."
Said Tucson coach Steve Potvin of Pederson's two-way development: "I think we all see the offensive ability in him, and it's definitely nice for him to be able to take that next step within our system and really be a shutdown type of player.
"Those types of plays, when you work that hard, and you break up offensive plays for the opposition, you always usually get rewarded for it – a scoring chance, a goal, a penalty or something. And he definitely got rewarded right away," he added.
If Bunting's two goals weren't initially on track to be the headline of Sundays' outing for Tucson, Prosvetov's return, for the first 38 minutes or so, certainly looked like it might overtake it.
Prosvetov, who started six consecutive games to begin the Roadrunners' 2021 schedule, was back in Tucson after being reassigned from the Arizona Coyotes earlier in the day. It's presumed the intention was to get the NHL prospect more live game action.
And Prosvetov certainly saw plenty of that.
When the Roadrunners were up 1-0 in the second, Prosvetov was at his best. Near the middle of the period, for all but 11 seconds of a full two-minute span of five-on-five action, the Gulls kept the puck in the Tucson zone — and they kept firing, one after another at Prosvetov. Not all were on net, so he only carded three official saves during the sequence, but Prosvetov won that battle, so to speak, when San Diego's Hunter Drew was whistled for goaltender interference.
The ensuing power play led to Tucson's second goal, and the 2-0 lead.
I thought Ivan made some great saves, and honestly he kept us in the game when it was 2-0. He kept us in there. There's no doubt about it," Potvin said of Prosvetov's return, despite the eventual outcome. "I don't think it's because of rust or anything like that. I thought he made some big saves early on that could have went south on us, really."
But extended times in Tucson's zone and heavy traffic in front of Prosvetov ended up being a problem the remainder of the night. Prosvetov, in just his second professional season, looked every bit the wily and vocal veteran. He was fiery at times when Tucson's defense failed to clear the zone, and also when jawing at the referee for not whistling the puck as covered up and dead before it squirted through for San Diego's second goal.
Prosvetov stopped the first 22 San Diego shots on goal, but he finished 34 of the 38 in his eighth start of the year for Tucson. It was his first since March 3; that's when he was recalled to the NHL, and has been shuttling between backing up former teammate Adin Hill and the Coyotes' taxi squad until Sunday's assignment.
All four of San Diego's goals came in the game's last 22 minutes. Sam Carrick scored for the Gulls with just outside a minute to play in the second period, and then again three minutes in to the third. Carrick certainly earned the game's "first star" nod after he took an errant puck in the face in the first period on a clearing attempt by Pederson. Carrick, slow to get up after hitting the ice, was followed into the locker room at that point by a member of the San Diego training staff. He'd return, of course, to cue the comeback.
Josh Mahura (7:34 into the third period) and Benoit-Olivier Groulx (with 3:00 to play) rounded out the scoring.
San Diego goaltender Olle Eriksson Ek turned away 27 of 29 Tucson shots — few bigger than on a breakaway by Roadrunners forward Mike Carcone a minute into the second period. Carcone broke free at center ice, taking the leading pass from Bunting into the Gulls' zone. He went high on Eriksson Ek's left side on the attempt, but the try was gloved to keep the game scoreless.
For Tucson, Hayton carded his first multi-point game of the season, while Bunting (3rd with 18 points) , and Pederson (T-4th with 17 points) remain in the league's top 10 in points following Sunday's action. Roy's 15 points is 11th league-wide after his assist on Bunting's second goal.
Next up for the Roadrunners after losing three of four games over six days this week — the tightest such stretch they'll face all season: back to Southern California. They'll face the Ontario Reign, who won twice in Tucson this week by a combined score of 11-3, Friday at 6 p.m. in El Segundo, California, before getting the Gulls yet again Saturday at 7 p.m. in Irvine, California.
If a pair of postponements matchups with the San Jose Barracuda don't eventually find new dates, next Saturday's game against San Diego will be the Roadrunners' 18th of the season, marking the midway point of their 2021 schedule.