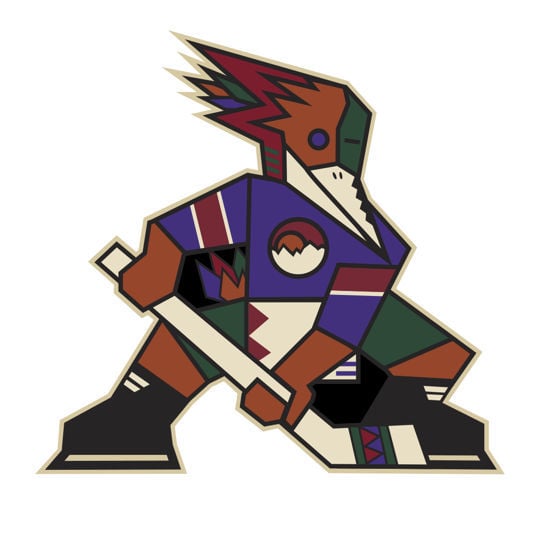 Win or lose Friday night — the first of five straight road contests for the Tucson Roadrunners — and the fourth-year American Hockey League organization will have completed the first half of its schedule with league's top overall record.
But 2019-20 isn't the first time the Roadrunners have opened the season strong. An argument certainly exists that few if any of the 30 other AHL clubs have been cumulatively better than Tucson during the first halves of the four seasons the Roadrunners have been in Southern Arizona.
While Pacific Division teams play a slightly-truncated 68-team schedule — the rest of the league plays 76 games — the Roadrunners have shown remarkable consistency at the start of each season since moving west from Springfield, Massachusetts in 2016:
But despite reaching the second round of the Calder Cup playoffs in 2017-18, by way of winning the Pacific Division crown and finishing with the Western Conference's top mark, the Roadrunners — short sample size or not — have floundered two out of three of those years come the second half.
And they've done it in a big way.
In their inaugural year in Tucson, the Roadrunners won just five of their next 20 games after the halfway point. And last season, it was just four of 20. Sure, Tucson fought its way back into playoff contention, but a loss on the last day of the season sent the Roadrunners to an early summer vacation.
So what's to stop the Roadrunners, who end the first half Friday and start the second half Saturday — both games at 7:05 p.m. at the Colorado Eagles (18-10-3-1) — from yet another second-half letdown this year?
For one, head coach Jay Varady tries not to find causation out of correlation.
"If we start looking at things that happen three years ago and start to try to correlate them to what's happening right now, sure, maybe there's some lessons learned from things we've done in the past," Varady said. "But in terms of how we go about our business, it's really about living in the moment.
Michael Bunting, who along with goaltender Adin Hill and defenseman Dysin Mayo are the only players to see action for at least part of all four Tucson seasons, said there's a different aura around this year's team — much like the 2018 playoff squad.
"A lot of guys in our locker room really believe we're a good enough team to go for a long push. Pretty much everyone thinks that," said Bunting, whose recent streak of 14 points in his last eight games has propelled him into a tie for fifth in points, league-wide, and first overall with 30 assists.
"When we do lose games, nobody's really that worried. We just try keep each other up, and keep each other going. And when we're winning, and we're really high, we don't get too high. Teams will get too cocky. That hasn't been us."
Brayden Burke, breaking out in his own way this season and now tied for seventh in the league with 16 goals in his second season, said the difference between this year's team and last year's — a group that had to balance a rush of first-year players, and significant losses to injury and NHL call-ups — is palpable.
"I was a young guy last year last year, and I know we had a lot of younger guys who were pushed into roles maybe they weren't ready for," Burke said. "I really like our team this year. Not many teams I've played on that I can say we have four lines that can go up against any other team's best line and create that kind of offense."
Jeremy Gregoire, acquired via trade last season just as the Roadrunners started to turn that early-second-half collapse into a late-season surge, said, it's "the way we're winning" that makes this year different.
"We don't get comfortable with winning. We like winning, but we know what we need to do to do it the right way," he said, heeding that Varady and the coaching staff don't always end up satisfied with the two points a win corrals — not if the club plays sloppy or undisciplined.
Bunting admitted the Roadrunners have a tough test this weekend when they face a red-hot Colorado team that hasn't lost in regulation in 11 games, or since falling 2-1 to the Roadrunners Dec. 4 at Tucson Arena. But he said the best thing about this year's group is that it doesn't overcorrect after losses — though there haven't been many to begin with.
"You're not going to go 68-0. Obviously not," Bunting said. "So if we lose a game, we don't freak out."
Varady and Bunting agree the first half this season, in particular, seems to have flown by. But neither said they're ready to pontificate too far toward the end of the second half yet, either.
"It happened quick. Here we are," Varady said. "I don't look far ahead on a calendar or schedule or anything. It's just 'here we go today.' I think if you have that attitude, you'll all of a sudden be halfway through the season and not even know it."
Added Bunting: "You know what? Time does fly when you're having fun."