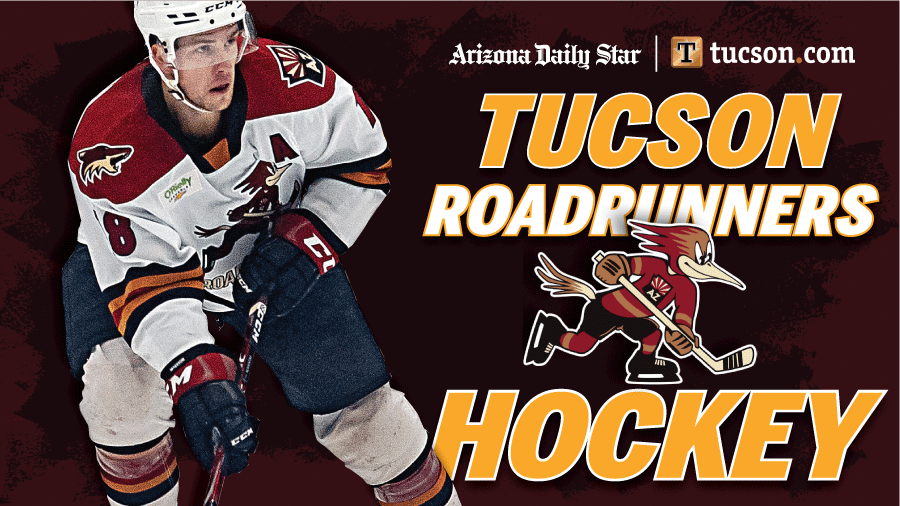 It may not have been the perfect 60-minute performance Tucson Roadrunners head coach Jay Varady said he wanted our of his entire team coming in. But he'll take the win – especially with veteran forward Hudson Fasching playing as complete an offensive game as he's had in his seven-year professional career.
Fasching carded his second hat trick as a Roadrunner over the past four seasons, set a career high with five total points and added a career-best plus-five rating to pace Tucson to a 6-4 win over the San Diego Gulls on Saturday in Tucson Arena.
"Sometimes things just click. You know, things are just going your way. You get the bounces. Tonight was just one of those nights," said Fasching, whose five-point night – three goals and two assists – is now tied for the Roadrunners' single-game record. "We played a lot better as a team tonight, too."
The Roadrunners' first goal on the night was up for debate until after the game was over, but was eventually awarded to the 6-foot-3, 205-pound power forward. While screening San Diego goaltender Olle Eriksson Ek, Fasching deflected a JJ Moser slapshot to open the scoring 8:26 into the game. Moser and Mike Carcone were credited with assists on the goal.
"It was a little piece. It definitely wasn't a lot. I felt bad taking it from Mo," Fasching said of how much wood he managed to get on the puck. "It's always awkward on those. You're like 'I'm sorry man, I tipped that in.'"
Fasching would score again four minutes later, his second of the night, while Cameron Hebig would then put Tucson up 3-0 over the game's first 15 minutes. Tyson Empey and Fasching had the assists on Hebig's first goal of the season.
After San Diego clawed back to tie it at three apiece on goals from Brendan Guhle, Mason McTavish and Danny O'Reagan, Fasching cycled behind the San Diego goal before feeding rookie Ben McCartney in the slot to put Tucson up 4-3 midway through the second period. Fasching would add his third goal and fourth point on the night late in the middle frame, with Jan Jenik and Hudson Elynuik earning the assists.
After San Diego's Hunter Drew scored just 42 seconds later to bring a 5-4 game into the second intermission, Tucson clamped down. San Diego wouldn't score again, with Tucson's Jan Jenik adding his second goal of the year for the final insurance tally. Jenik's unassisted goal came midway through the third period.
"I liked our compete tonight. I think the thing that got us on a little bit of a mess tonight was our discipline," Varady said of the Roadrunners' performance overall. "We found herself in a three-on-five (penalty) kill again. Something you do back to back nights, we'd like to clean that up. But more importantly, we did like our compete. When you have that work ethic and that going,. we get a result like we did tonight."
While Varady wasn't in Tucson last season while serving as an assistant coach with the NHL's Arizona Coyotes, Fasching is one current Roadrunner he did see on a regular basis. Fasching skated in just seven total games last season – five with the Coyotes, and two with the Roadrunners – while spending most of the 2020-21 season on the Coyotes' taxi squad.
"It's something we talked about actually. We had a couple of conversations where he's like, 'Hey, let me just get my game legs under me get used to things moving around me,'" Varady said. "But we did also talk about how much he's worked on (his skill development) during the taxi squad situations."
Varady said Fasching's performance was a sign of his team's leadership simply stepping up after back-to-back losses.
"I think it was a situation where our group leaders weren't happy with what happened the day before," Varady said. "They came here tonight, and they're ready to play. They did a great job."
Added Fasching: "It's good for us as a team to kind of learn through these ups and downs. I mean, I think part of it is being a young team that we kind of ride these ebbs and flows."
Fasching now leads Tucson with seven points in six games. His four goals are tied with McCartney to lead Tucson, with the duo tied for 10th league-wide.
The Roadrunners (3-3-0-0) and Gulls (1-4-0-0), American Hockey League Pacific Division rivals who compete each year for the "Interstate 8 Border Rivalry Trophy," split a two-game set this weekend in Southern Arizona. The Roadrunners are a square 11-11 against San Diego over the geographical rivals' last 22 regular-season matchups, dating back to midway through the 2018-19 season.
Tucson next heads to Las Vegas for Friday and Saturday 7 p.m. starts against the Henderson Silver Knights, before returning home Nov. 12 to face the Ontario Reign at Tucson Arena.