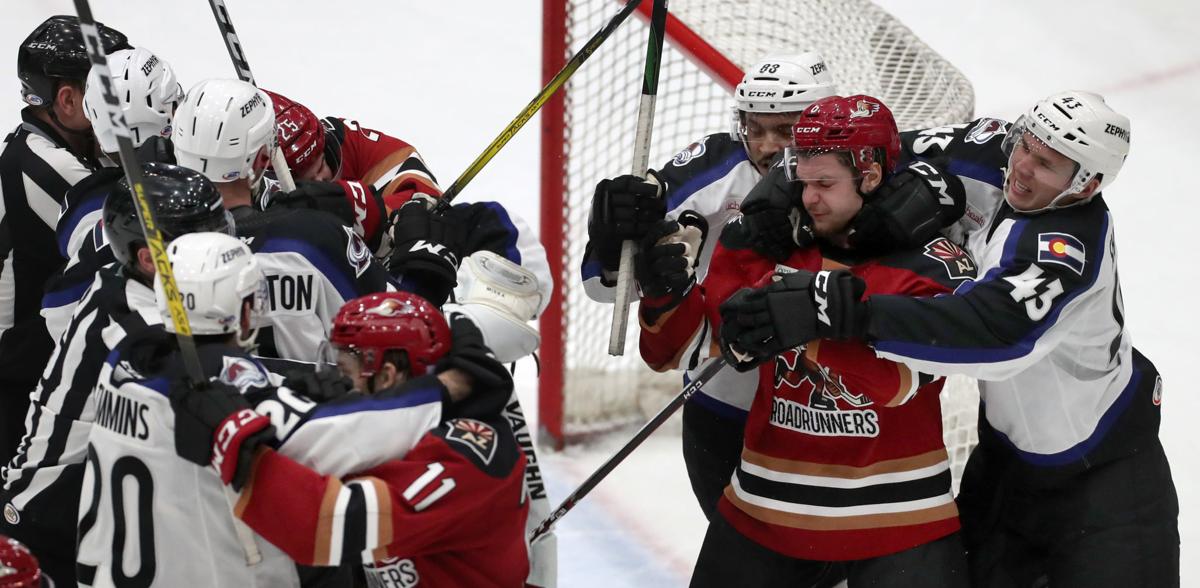 Kelly Klima may not be in the lineup every night for the Tucson Roadrunners, but the American Hockey League's Pacific Division contenders know they have a secret weapon in their pocket when they need a little extra firepower.
That weapon is Klima's blistering slapshot — noted by a number of his Tucson teammates as possibly the hardest among the players on this year's roster.
"Oh, Kelly Klima… Oh yeah. That's it. That shot," Tucson forward Michael Bunting said — the lightbulb going off in his own head and that of teammate Kyle Capobianco, among others, when asked who can ratchet it up on this year's Tucson club. "It can get a little high, but it's a bomb."
Klima, who has split time with the ECHL's Rapid City Rush and the Roadrunners this year, is finding that when he is in Tucson's lineup, it's been in opportune spots. His last two outings — Jan. 25 against the Bakersfield Condors and Jan. 31 against the Colorado Eagles, both at Tucson Arena — Klima drew in to the top-line right wing spot, alongside Roadrunners' leading scorer Brayden Burke at left wing, and alternate captain Andy Miele in the middle. He found ways to contribute in both outings, blasting a crossbar-clanging marker against the Condors and managing to get under the skin of his Colorado opponents a week later.
Klima has five goals in 17 games played for Tucson this season, and four in three games for Rapid City, including one outing with a hat trick. The Roadrunners (28-13-1-1) play Friday night at the San Diego Gulls (20-16-4-2).
"There's a lot of guys who can shoot the puck on our team," said Klima, who said he was last clocked about five years ago – topping 96 miles per hour on the radar gun when he was 17. "For them to say that, that's an honor."
The hardest shot in the league — and, for that matter, ever recorded in an official capacity at either the NHL or AHL level — came just two weeks ago. Martin Frk of the Ontario Reign hit 109.2 miles per hour during the skills competition portion of the AHL All-Star Classic, an event held on the Reign's home ice in Ontario, California.
While Klima cited Jordan Gross and Robbie Russo, both defensemen, as sporting lasers themselves among his Tucson teammates, he thinks forward Lane Pederson's shot has some zip behind it, too.
For a long time, defensemen were thought to be hockey's prototypical hard shooters. Frk surpassed Boston Bruins' blueliner Zdeno Chara's record set of 108.8 mph set at the 2012 NHL All-Star Skills competition. Montreal Canadiens defenseman topped 106 mph on three occasions. Historically, names like Al MacInnis and Al Iafrate, both defensemen as well, combined for 10 hardest shot crowns at the NHL level.
But Klima said it's not unusual these days to see forwards in the mix. He's a winger, as is Frk, who said during an on-ice TV interview after setting the mark in Ontario that he breaks upward of 40 sticks a season.
"I think it's very normal for a forward to shoot like that. Our job is to score, right?," Klima said, adding that he tends to go through "maybe 15" broken sticks each campaign. "Especially with the technology in the sticks … And there's so much talent. Guys like (Alexander) Ovechkin, (Steven) Stamkos. There's so many more guys that can shoot hard (today)."