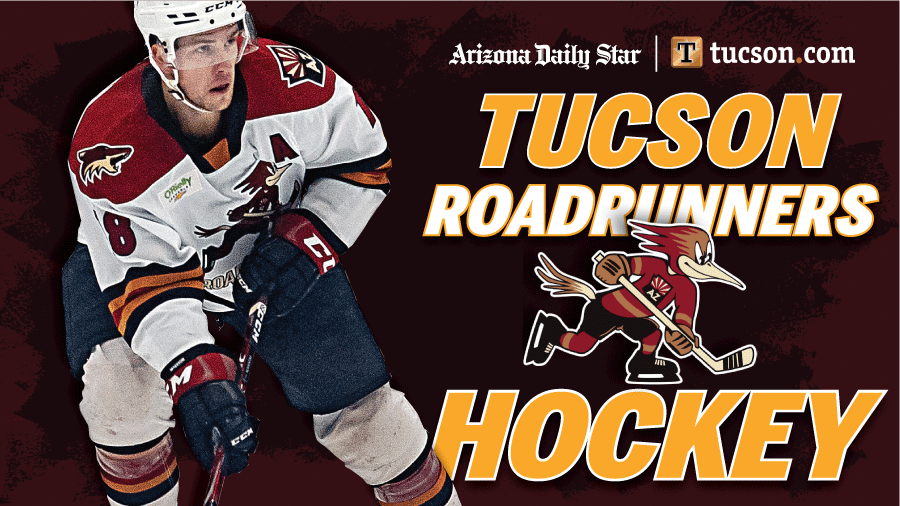 Rookie forward Jan Jenik struck first for the Tucson Roadrunners Friday night, scoring another goal three minutes into the game as part of his torrid late-season stretch.
A full 60 minutes later, Martin Frk and the visiting Ontario Reign laughed last. Ontario's 3-2 overtime win over Tucson came in the penultimate regular-season game at Tucson Arena.
Friday's result solidified where these two squads will end up in the American Hockey League's Pacific Division playoffs. Ahead of Tuesday's pair of play-in games in the division's modified 2021 postseason mini-tournament, the Reign, who now own a 5-1-1-1 record against Tucson this season, will be seeded sixth, with the Roadrunners seventh.
After the Roadrunners (13-19-3-0) and Reign (16-19-4-0) close out their regular seasons Sunday at 2 p.m. in Tucson, they'll both head west for Tuesday's postseason openers in Irvine, California.
Tucson will play at 1 p.m. against the division's fourth seed, with Ontario scheduled for a 7:30 p.m. faceoff against the fifth seed. Who each team will play is up in the air still, however, with the San Jose Barracuda and Colorado Eagles in a virtual deadlock for the fourth and fifth spots.
But if Tucson and Ontario both win Tuesday, they'll play off against each other Wednesday night in Irvine.
Tucson coach Steve Potvin said he wasn't displeased with his team's effort in "playing a 60-minute hockey game" and then some, in reference to his team's actual 64-plus minutes of action Friday. But he added that Tucson has to "to find a way to get that result – that next goal that we're looking for, or at least take it into a shootout."
Jenik's fifth goal in his last four professional games — he had two in his last game with the Roadrunners on May 1, followed by one in each of his first two NHL career appearances last weekend for the Arizona Coyotes — gave the Roadrunners a lead they'd carry into the first intermission. But three goals in 3:11 of play in the second period turned a 1-0 game into a 2-2 tie.
Samuel Fagemo's shorthanded goal for Ontario tied the game at one apiece 4:16 into the period, and Arthur Kaliyev gave the Reign a 2-1 lead just two minutes later.
Barely 59 seconds after that, Tucson's Fredrik Gauthier redirected a Victor Sodorstrom pass into the Ontario net for his second goal of the season, tying the game again. That score would stick until Frk beat Roadrunners goaltender Chris Nell from point-blank range with just 46 seconds left on the clock in the three-on-three extra session.
Gauthier, a veteran of 176 AHL appearances and another 170 in the NHL, acknowledged the contributions of Tucson's rookies, including Jenik and Sodorstrom, whose assist on Gauthier's goal gives him four points in his last four games with Tucson.
Ben McCartney also carded an assist on Gauthier's goal, his third point in three games with Tucson. McCartney, 19, joined the Roadrunners' roster last week after his season with the Brandon Wheat Kings of the WHL major-junior circuit concluded.
"I think when you're young, you've got a lot to learn," Gauthier said. "But they're great players. They're picking it up pretty fast."
Jenik, making his case as the hottest Roadrunners' offensive weapon of late, is "trying to play a more 200-foot, NHL-style game," Potvin said.
"He's underneath pucks, and he's responsible defensively — stopping and starting," Potvin said. "Honestly I'm happy with his development so far.
Nell made his sixth start of the season for Tucson, starting strong by stopping the first 17 shots he faced, before finishing a more-than-respectable 31 of 34. Ontario's Matthew Villalta turned away 25 of 27 for the Reign.
"I give credit to Neller also," Potvin said. "He played an outstanding game and gave us an opportunity – a great chance to win the game."
Sunday's regular-season finle will mark the sixth Roadrunners' game broadcast locally on KWBA-TV, known as The CW Tucson.
Adrian Denny will be on the call for the simulcast, which is also available on 1450-AM. Alex Kinkopf of ArizonaCoyotes.com will provide color commentary.