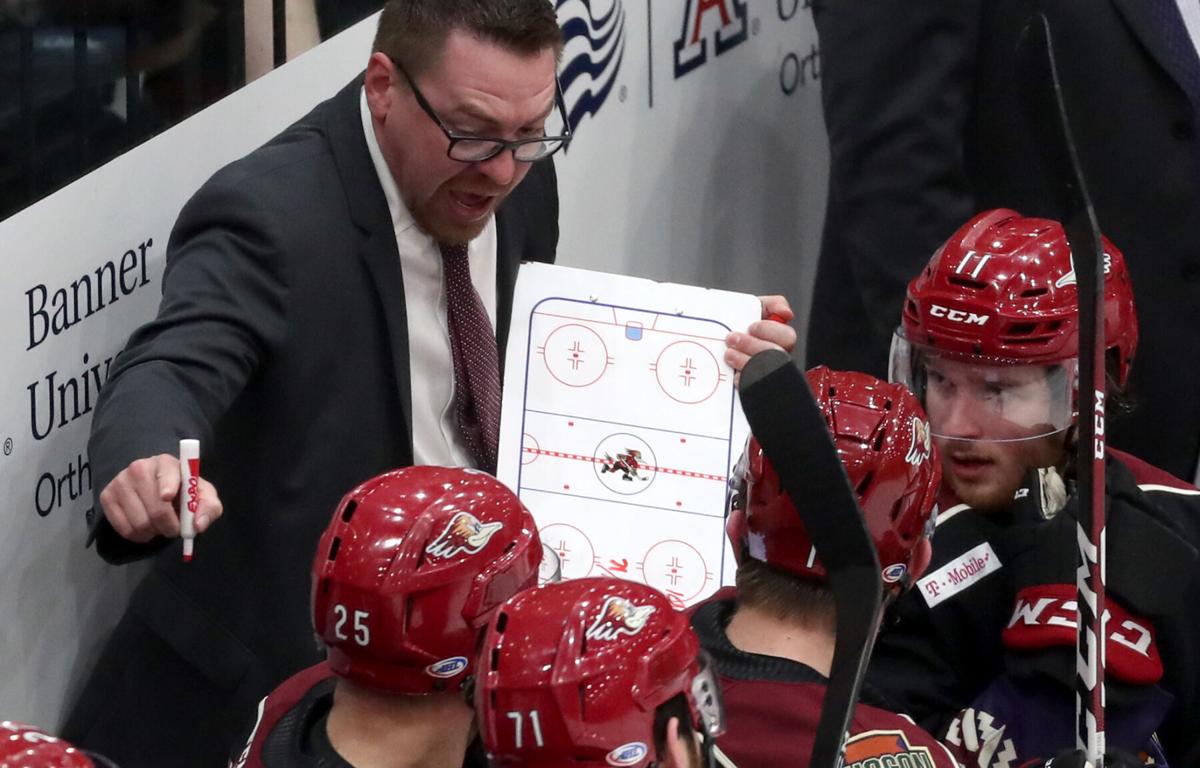 After cutting his NHL teeth this past season as an assistant coach, the pilot of the Tucson Roadrunners' most recent championship run is returning to Southern Arizona for another go of it.
Jay Varady, the local American Hockey League club's head coach for the 2018-19 and pandemic-halted 2019-20 seasons, will be back behind the Roadrunners' bench inside Tucson Arena this coming season, the team announced Wednesday morning.
Varady, who guided Tucson to a 70-45-6-5 record and the 2020 AHL Pacific Division crown, is the only of four head coaches in the Roadrunners' five-season history to lead the club for multiple seasons. The 2021-22 campaign will be his third overall as Tucson embarks on its sixth season since moving west from Springfield, Massachusetts, prior to the 2016-17 season.
"I am very excited to be back in the City of Tucson and working with our great players and staff," Varady said in a team-released statement. "We will be committed to winning hockey games and developing Coyotes prospects and I'm looking forward to having our tremendous fans back in (the Tucson Convention Center) to provide us with an incredible home ice advantage."
While Varady has overseen the AHL-to-NHL progression of a number of players in the Coyotes' system, he received his own NHL call-up in January when he was named an assistant coach on former Coyotes' boss Rick Tocchet's staff in Glendale.
The Coyotes ultimately missed the NHL Playoffs, and Tocchet wasn't retained. Arizona general manager Bill Armstrong named André Tourigny to his first NHL head coaching gig last week, and followed that up by handing the keys to the Roadrunners' bus back to Varady once again.
"Over the past three years, Jay has done a tremendous job developing our prospects and we are thrilled to have him back as our head coach in Tucson," Armstrong said in the release.
What Varady's reappointment means for once-and-possibly-again assistant coaches Steve Potvin and John Slaney remains to be seen. Both have been with the Roadrunners the last four seasons, with Potvin shifting into the head coach's role for the abbreviated 2020 campaign after Varady was brought up to the Coyotes' NHL bench in January.
The Roadrunners struggled to a 13-20-3 record, placing Tucson last in the seven-team Pacific Division after a 36-game 2021 schedule. The 2021-22 AHL season is expected to open in mid-October.
Varady isn't the first high-level coach of late to make a return trip to Tucson. Fact is, he's not even the first to do so this week.
Over the weekend, the University of Arizona hired former Wildcat baseball standout Chip Hale as the program's next head coach. Hale starred on the Wildcats' 1986 national championship team before a pro playing career made way to decades as a pro coach or manager. In addition to a stint managing the big-league Arizona Diamondbacks, Hale's upcoming gig will be his second tour as a head coach or manager in Tucson; from 2004-2006, he managed the Tucson Sidewinders, then the Diamondbacks' Triple-A affiliate, who played out of what is now Kino Veterans Memorial Stadium.
In Varady's case, his return to Southern Arizona comes after just a lone season away.
Prior to his initial run in Tucson, Varady's last head coaching strop came in Canada's major junior circuit with the Ontario Hockey League's Kingston Frontenacs. In his lone season in Kingston, Varady's Frontenacs squared off with the Ottawa 67's, coached by Tourigny, eight times. Varady's team finished 6-2 with a pair of overtime wins over Tourigny's Ottawa squad.