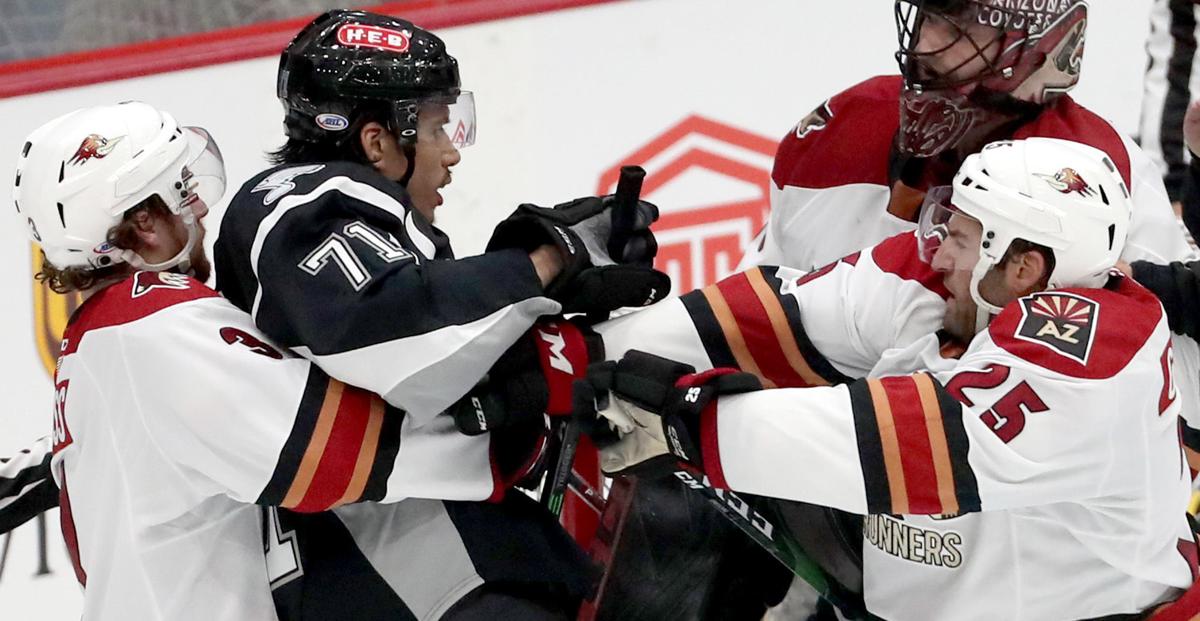 Jay Varady isn't the only individual in the Tucson Roadrunners' locker room who believes that the team currently owning the American Hockey League's second-best record might just be at its best in 5-on-5 situations.
That's funny, because the Roadrunners go on the man advantage a lot — more than any other American Hockey League team.
Not that the Roadrunners' coach — or his players — are complaining about that one bit. How could they, when the results of those situations have played such a key role in Tucson entering this week's games tied for a league-high 15 wins?
"If you play a disciplined game … you play competitive, you increase puck possession in the offensive zone, you create opportunities to draw penalties," said Varady, whose Roadrunners (15-4-0-0) face the San Diego Gulls (7-8-0-0) Saturday in Southern California. "That's something we talk about a lot. (Saturday against Ontario), we got some really good looks and we got some great (power play) goals in some key moments."
Through 19 games, including Wednesday's 8-3 blowout win at Bakersfield, the Roadrunners have been on the power play a league-high 5.13 times per game. That's nearly two more 5-on-4 or 5-on-3 advantages per game than the Milwaukee Admirals (3.28 power play situations per matchup). Milwaukee and Tucson are the AHL's only 15-win teams.
Those extra power plays are a big deal, although not surprising, said forward Jeremy Gregoire, a fifth-year AHL veteran acquired last year during a late season trade with (of all teams) Milwaukee. A penalty kill specialist himself for Tucson, Gregoire takes pride in being comprehensive in his own understanding of how to get the most out of the litany of special teams situations.
"We have the puck a lot, so teams are chasing us. And we're fast, so they're taking penalties against us," he said. "It's not a secret that if you chase the game, you're going to get penalties, and we usually have the puck a lot more than (other teams)."
Brayden Burke said it isn't only the power play that's helped Tucson win games.
"We're (19) games into the season. I think we've won from the power play clicking, the penalty kill winning us games, and from 5-on-5. So it's been an array of different ways to win hockey games — and that's a good sign," Burke said.
"If you're pulling out hockey games in different ways, and finding ways to do things differently and still get wins, that just speaks to what we have in that dressing room."
But there's no mistaking how valuable the power play has been — let alone Burke's breakout turn in his second full professional season. All six of his goals this season have come on the man advantage — he leads the league there, too — and in Saturday's 3-2 come-from-behind win over Ontario at Tucson Arena, he carded assists on both of that night's power play goals.
Burke's 19 points in 19 games put him alongside teammate Lane Pederson (20 points) among the AHL's top 15 point scorers.
Tucson's power play unit has been the AHL's busiest, though it's not the most effective. But it's not far off. Entering this week, Tucson's 20.8% power play success rate was seventh in the league, and its 1.11 power play goals per game was third. Tucson had faced the first and second place teams in that category — the San Antonio Rampage at 1.19 per game and Stockton Heat at 1.17 — a combined seven times already this season.
Considering the frequency of those matchups, perhaps it's not a coincidence that Tucson has also struggled at times when on the penalty kill. The Roadrunners aren't necessarily committing more penalties than the league average; they're near the league median at four-or-so penalty kill situations per game. But Tucson has killed just 76.7% of those scenarios entering the week — fourth-worst among the 31 AHL teams. The league high: defending Calder Cup champion Charlotte, at 94.3% while facing the second-highest penalty kill situations per game (more than five a night).
"Our numbers aren't great on the PK, but I think we're playing better than it shows," Gregoire said.
Gregoire's personal contributions might be part of why that could be true, considering his three shorthanded goals are tops in the AHL.
"You need a lot of hockey sense to play on the PK – reading the situation, knowing where the puck is going to go," he said. "It's not a fluke that I get so many breakaways and that I cut so many plays. I have good hockey sense, and I like to use it."
Gregoire did circle back as to why his teammates and coaches might be so dead-set on being a good 5-on-5 team, even when the power play is clicking and the penalty kill unit, if not overly successful so far, is at least advantageous enough to get some goals back.
"Come playoffs, we're not going to have as many power plays or as many PKs," he said, eluding to a looser, more free-flowing game referees and linesmen might be one to call come April's postseason slate. "If we want to win then, we need to be just as good 5-on-5."