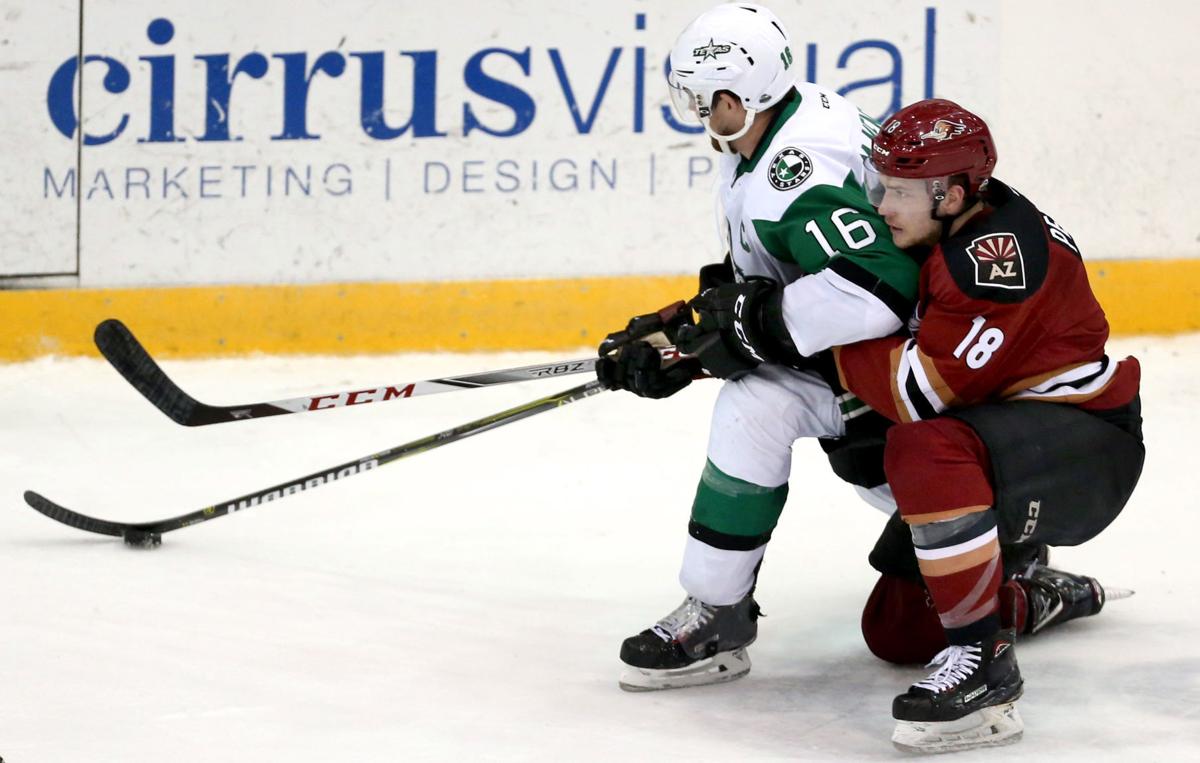 As the kids say these days, sometimes maybe you really do just have to shoot your shot.
Lane Pederson of the Tucson Roadrunners admits that for "my whole life, I've been more of pass-first guy, probably passing up opportunities where I should be shooting it."
Through the first 120 games of Pederson's professional hockey career, the 6-foot, 190-pound forward carded a plenty-respectable 27 goals for the Roadrunners. The caveat, however: Not once did he score more than once in a single outing.
Since? Ten goals in his last 13 games, including a pair of hat tricks, a couple of game-winners, and a newfound confidence that his coaches and teammates can't help but notice as they prepare for the first of 34 home games on their 2019-20 American Hockey League schedule this weekend. That begins Friday night, when the Roadrunners take to the Tucson Arena ice for the first time this season against the visiting San Antonio Rampage.
To be fair, that confidence began to find its footing a bit before the last 13 games, notes teammate Tyler Steenbergen.
"He turned a switch at Christmastime last year. I know he didn't have a ton of confidence before that," Steenbergen said, unafraid to speak frankly of one of his best friends; the two are roommates, too, sharing a northwest-side apartment.
A full contingent of Roadrunners all live within earshot of one another.
"But he came back after Christmas a new guy. And even the start he's had this year, it's been pretty incredible to watch."
That start, this year, includes one of those aforementioned hat tricks — the centerpiece of Tucson's 8-2 road win over Ontario last weekend. Nobody in Roadrunners' team history — albeit only three-plus seasons of hockey in Southern Arizona — had ever carded more than one three-goal game, and now Pederson has two in the hockey equivalent of about a month of play.
"He's right," Pederson said of Steenbergen's assessment. "I think confidence is key. I don't know what it was, but the puck just started going in the net."
Pederson recognizes that the Roadrunners relatively significant roster fluctuation last year — one that saw injuries at the NHL level result in numerous AHL call-ups throughout the season — directly led to him earning more time in strong offensive scenarios, and more opportunities to, well, shoot that shot.
"Playing more minutes — more meaningful minutes in an offensive role, where I was getting more of a chance to produce on a nightly basis — was a big part of it," he said.
Added Tucson head coach Jay Varady: "He's got a dynamic shot. He's got a dynamic release. He's able to get pucks to the net from unique situations. Maybe it's a little bit of luck, a little bit of who his linemates are, but good players find that place."
Pederson agrees the linemate thing just might just be part of it. Over much of that dozen or so games, it's been Pederson on the right, AHL All-Star Michael Bunting to the left, and newly-minted Tucson captain Michael Chaput in the center spot.
The trio spent significant time playing alongside each other during NHL training camp and during Arizona Coyotes' preseason games.
"That chemistry we were able to build in Glendale, and then bringing it down here, has only helped us so far (this season)," said the undrafted Pederson, who the Coyotes still saw something in and signed to a rookie free agent deal back in 2016.
Playing the last two years in Tucson on rosters that included streaky scorers like former Roadrunners' standouts Dylan Strome and Conor Garland, and before than at the major junior level where teammates like Steenbergen recorded 50-goal, 100-point seasons year after year, Pederson was never expected to be "the" guy, in terms of goal scorers.
"I think he's always had it in him," notes Steenbergen, whose friendship with Pederson began when the two were teammates with the Swift Current Broncos of the Western Hockey League.
Steenbergen said that how Pederson carries himself off the ice is just as telling as how he plays the game – and how his game has evolved.
"He's a pro in every way," Steenbergen said. "He's always one the last guys off the ice … but he's one of the first guys here, too.
"He's probably the most-liked guy on the team," Steenbergen added. "He cracks jokes, helps guys around the room. He takes the time out of his day to talk to everyone – no matter who they are. It's great to witness that."
Pederson said he appreciates the sentiment, but deflected the praise back to the locker room dynamic the Roadrunners have this season.
"That's really nice of Tyler to say. He's one of my best friends – on the team and away from hockey," Pederson said. "But we really do have such a tight-knit group of guys. We get along so well. It's not cliquey – and it can be in a lot of places. But not here."
While Pederson plays every bit the part of the clean, buttoned-up, nice guy off the ice, Bunting, his linemate, heeds a playful warning. In addition to Pederson's four goals in three games sitting tied for third across the 31-team AHL landscape, he's also in the top 20 in penalty minutes so far.
"Pedey has a rough side out there, too," said Bunting, known himself to antagonize opponents when he has the chance. "He's a great guy, great to be around, but when he gets on the ice he puts his game face on. He gets the job done."