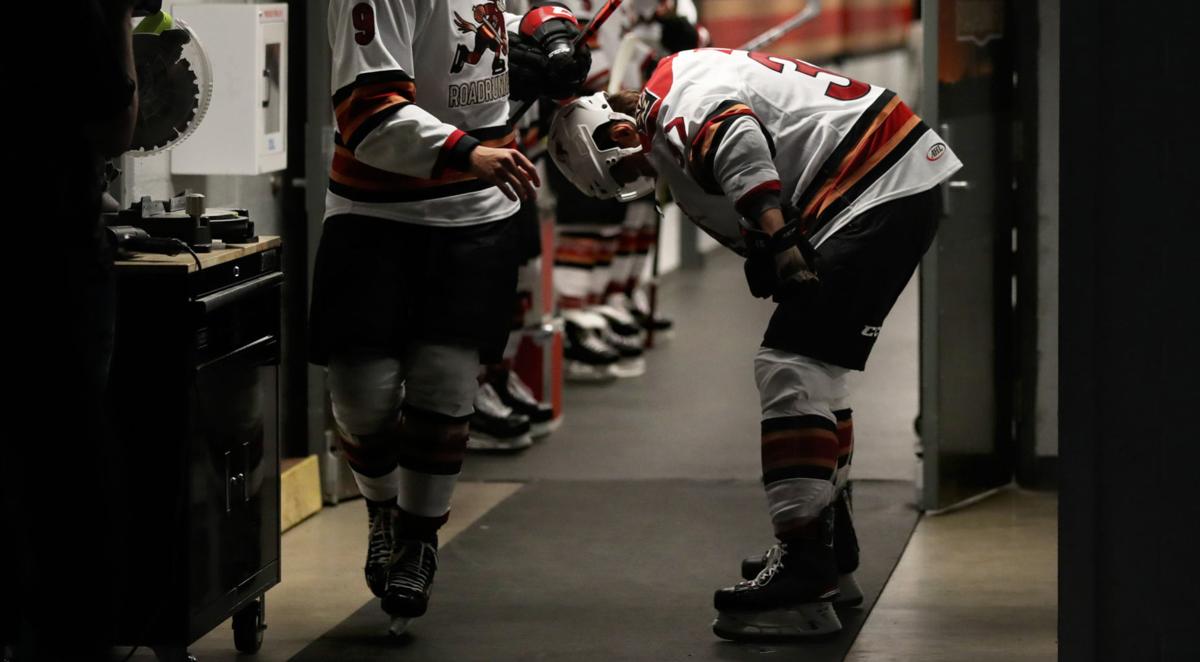 It's easy to imagine Dysin Mayo as the Tucson Roadrunners' one-man welcoming committee.
He has, after all, spent the majority of his pro career in Southern Arizona and is far and away Tucson's longest consistently-tenured player. He's been a familiar face in the corridors of Tucson Arena virtually every day since February 2017.
Mayo's answers about where to live or where to eat would be built on a wealth of personal experience. Like when he's craving Italian, it's North at La Encantada that does the trick; or when he's downtown, within a stone's throw of the Roadrunners' home ice, Oban, for ramen, is the go-to stop.
Mayo, who leads the Roadrunners (10-3-0-0) into Friday's game against the Stockton Heat (8-2-1-2), is, in many ways, the wily and wise old man on the team. Which is surprising, given his age — 23.
"Getting married this summer, I feel like a bit more of a grown up," Mayo jokes, recognizing that despite parts of five seasons with one American Hockey League organization — he was even with the franchise for a few weeks during 2015-16, the club's final season in Springfield, Massachusetts —he's been around since he was basically a teenager.
"I was really happy to re-sign here," he said of the contract he inked with the Arizona Coyotes, the Roadrunners' parent club, this past offseason. "There wasn't even a thought about it. I was hoping they were offering me another contract, and when they did I knew right away I wanted to come back here."
Ask virtually any current Roadrunner, and he'll say he's happy Mayo is back again, too.
"The word that comes to mind when you say Dysin Mayo is just reliable," Tucson coach Jay Varady said. "He's been here for a long time, and any time you're in a situation for a long time, you take a lot of pride in it. That's what quality people do, who have high character.
"They care about the organization, the team, the younger guys going through the process."
Adin Hill joins Mayo and forward Michael Bunting as Roadrunners who have been with the team since before it moved to Tucson. Hill was excited to see Mayo do a little more damage than usual on the scoreboard. He had a front-row seat, albeit in the backup goaltender's spot near the northwest corner of the Tucson Arena ice surface, to Mayo's game-opening goal in a 7-6 home win over Stockton on Saturday.
"He's one of those guys who's blocking shots every game, doing his job in our own end," Hill said, "so it's great for him to get rewarded on the offensive end."
Mayo's three-point night — he scored a goal and had two assists — marked a career high. The 6-foot, 195-pound native of Victoria, British Columbia currently paces all Tucson skaters in plus-minus rating, with a plus-8 on the season.
Mayo's contract with the Coyotes organization is a "two-way deal," meaning that Arizona carries Mayo's NHL and AHL rights. The club can, more or less, move him between Glendale and Tucson it sees fit.
It's not lost on Mayo that he's yet to get an NHL call-up, despite his consistent contributions over 176 AHL games.
"I really was happy to re-sign (in Arizona). It's a great place to play. Tucson is all I've really known for my pro career," Mayo said, adding that he and his wife, Brittney, do consider Tucson home.
"Home to Victoria for the summer, then here in the winter. … It's the best of both worlds."
Mayo added that he has no plans to let his goal of an NHL opportunity slip away, and he hopes that keeps him in the desert.
"Just to get another NHL contract this summer, that's a good sign going forward," he said. "A two-way deal is what you're looking for each time, and that's what I'll be looking for again next summer. A two-way deal keeps the dream alive."