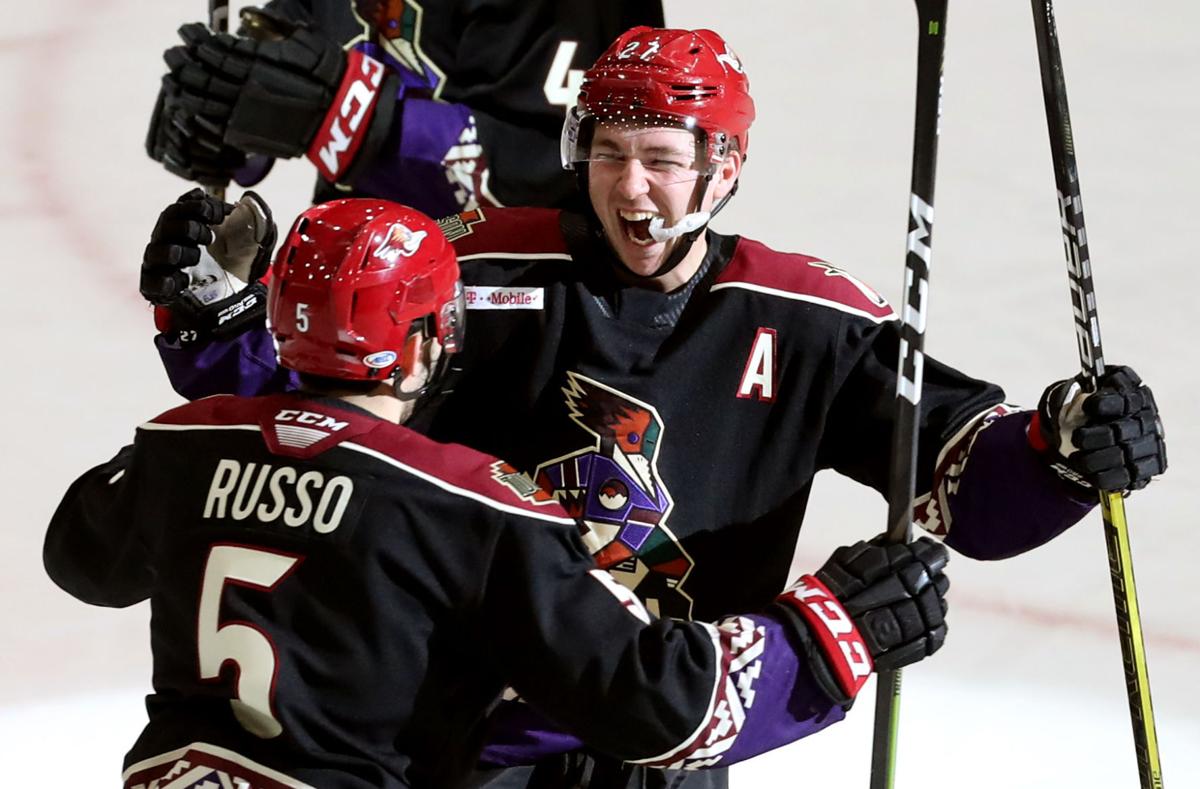 Michael Bunting has a slightly complicated relationship with Southern Arizona.
Bunting is every bit believable when he says he's excited to be back in Tucson. Friday marks the fifth season opener for the American Hockey League's Tucson Roadrunners since the franchise moved to the desert from Springfield, Massachusetts, and Bunting has been with the club for all five (he was also part of the team's last season in Springfield Falcons, too).
"I'm happy to be back. I love Tucson," the Roadrunners' all-time leader in games played, points, assists, goals, penalty minutes and likely any number of other statistical categories said. "I'm excited to be back for another year."
But forgive Bunting if he wonders if he'll get the chance to visit Tucson someday for vacation — not because his job brings him here.
"No one on the team wants to be here," he said, "but everyone loves to be here, if that makes sense."
It's the inner battle that every professional athlete who spends significant time at the minor-league level goes through. In Bunting's case, he's spent more than one-fifth of his young life with the same AHL organization. He's played 307 games at the AHL level … and five in the NHL.
"I've been here for five years, and I've also had that taste of the NHL," he said. "At the end of the day, when I do get my shot again, I'll prove that I don't belong in Tucson.
"That said, the time I'm going to spend down here, however long it will be, I'm going to enjoy it and keep working hard."
Roadrunners coach Steve Potvin explained Bunting's situation with an anecdote told to him by Tucson's general manager.
"Steve Sullivan says this often: the last 5% you need to get to the NHL is the hardest," Potvin said. "'Bunts' is in that position. He's 25 years old, and he has a choice to make. … Is he going to do everything to keep chasing his dreams? He's got a great opportunity here to do that."
For Bunting to be seen as a potential call-up this season, he'll have to start faster than he did a year ago. It took Bunting 10 games to get his first goal last season, even though his playmaking chops were on full display with seven assists over that span.
Bunting ultimately finished 14th in the AHL in points while leading Tucson with 37 assists, good for seventh league-wide. His 49 points in the shortened 2019-20 season ended up second among all Roadrunners only to fellow forward Brayden Burke's 52 points.
Starting fast hasn't been an issue so far time around, even it if it has just been the preseason. Bunting scored goals in each of Tucson's first two exhibition games on the road against the Ontario Reign last weekend. The team held him out of its third preseason game, a home tilt against the San Jose Barracuda. The Roadrunners will host one more preseason outing Monday, also against San Jose, before opening the 2021 season in unconventional fashion Friday.
The Roadrunners are the designated road team for a three-game series against the Barracuda that begins Friday at Tucson Arena. San Jose had to schedule its first three home games elsewhere due to a ban on college and professional sporting events in California's Santa Clara County.
Those first three games at Tucson Arena will be held without fans, while Roadrunners president Bob Hoffman said the team is working to see if a limited number of spectators can be on site when the team plays its official home opener on Feb. 18.
Bunting, known to incessantly chirp at opposing players — getting under their skin is a skill Bunting has down pat — said it will be odd starting the season with no fans inside Tucson Arena.
"It will feel weird not hearing the cowbells and all the little things during the break — the (video board) things, all those little things we get used to," Bunting said. "And the fans can definitely play the sixth man on the ice. … I do get under people's skin, and, say someone does do something to me (to retaliate), the fans then have a reaction. There have been times that has gotten us a penalty called because the refs notice it because the fans are cheering."
Potvin, who has worked extensively with Bunting in his role overseeing the team's forwards and power-play unit the past three seasons, sees Bunting starting the season with Tucson — and not on the Coyotes' taxi squad — as a blessing in disguise for the Roadrunners' winger.
This season, each NHL team is keeping an extra four to six players nearby to alleviate issues tied to the coronavirus pandemic. By staying in Tucson, Bunting will get games under his belt.
"People are going to see what he's doing," Potvin said, adding that Bunting has, as expected, stood out in training camp. "So far, I've got to say, he's been a real important piece for us in camp. He's come in with a great attitude.
"I have to commend him for his attitude and approach so far," Potvin added. "I really hope it continues and he gets an opportunity to take that next step."