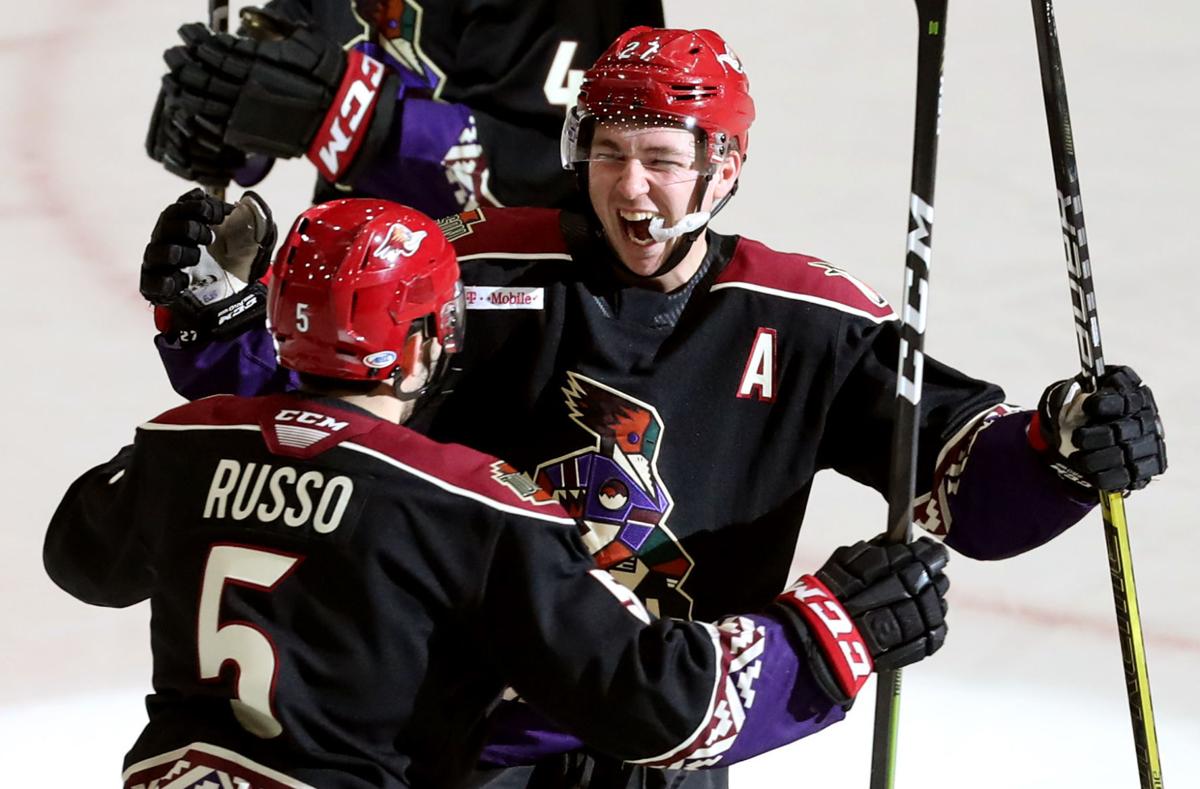 Michael Bunting is the Tucson Roadrunners' career leader in goals scored. Sixty times over his four years in Southern Arizona, Bunting has been the last one to touch the puck before the red light starts spinning.
This season, however, as the Roadrunners have roared to the top of the American Hockey League standings behind the league's third-most-prolific offensive unit, Bunting has scored just five times himself in Tucson's first 37 games.
That's easily on pace for a career low and, at the moment, 10th-best on his own team. Entering the Roadrunners' (27-9-1-0) 8 p.m. road tilt Tuesday against the San Diego Gulls (17-15-2-2), more than 250 American Hockey League skaters have deposited the puck past opposing goaltenders more times than Bunting this season.
So what gives? Are the Roadrunners succeeding in spite of the player who has arguably been the best, if not most indispensable, scorer since the franchise moved to Tucson in 2016? Has Bunting been lapped on the NHL prospect pecking order?
Not a chance, argue his coaches, teammates and Bunting himself — and the rest of his statistical output this season goes a long way to back that up.
Bunting's league-best 31 assists — already a career high — have him inside the top 10 in AHL points, even if those five goals might be the fewest for any of the league's top-30 point producers. He's also probably only a few weeks away from surpassing his own single-season high in points, too.
"Five goals and (31) assists? If someone told me coming into the year that would happen, I wouldn't have believed it.," he added. "But we're producing — our whole team's producing — so I'm just going to keep this rolling.
"Usually my game has been strictly shoot it — try to put the puck in the net," he added. "And I've been successful at it. But this year … well, it's been funny."
Funny in the sense that Bunting is, actually, still shooting the puck. His 94 shots on goal lead all Tucson forwards. No AHL forward has more shots this season, with fewer results, than Bunting. But second-year coach Jay Varady is OK with that, signaling the confidence he has in Bunting's ability to understand how an opening might present itself.
That's a sign of the growth Bunting's game has shown during his time in Tucson, Varady said, adding that the stat sheet rarely tells the whole story.
"Maturity. That's one word I'd use to describe Bunts' game from last year to this year," Varady said. "He's a more mature person in every aspect of what he's doing."
No Tucson skater has played more games alongside Bunting than fellow-fourth-year Roadrunner Dysin Mayo. While Bunting has made a name for himself around the AHL for his ability to bait opponents into taking dumb penalties, Mayo said Bunting has taken it to another level, toeing the line better than virtually anyone.
"He's plays right on that fine line. Sometimes you'll cross it, but he's done a great job of not doing that this season," Mayo said, a nod to the fact Bunting' penalty minute total is also off last year's pace, in a positive sense. "He's been calmer — more able to make those plays."
Added Bunting: "Being kind of a pest out there has been my game since I can remember — since I was a little kid … With that said, maturity has taught me that fine line. Early in my career I didn't know that line. I always went way past it. But I'm starting to learn it and using it to a strength now."
Varady agrees with Bunting, a player who earned enough trust in the coach's first season in the desert to enter this season as one of the Roadrunners' alternate captains.
"It's situational understanding. Just being able to play an intense, hard, aggressive game like we need him to play all the time, but at the same time not crossing any lines and understanding exactly what's happening," Varady said.
In terms of Bunting's future — in Tucson this season, but also within the Arizona Coyotes' organization — Varady said while there is no way to predict when Bunting's next NHL call-up might happen, showing an evolved game across the board will only help that cause.
"Versatility just creates opportunity — both for the team and for the player," Varady said. "Every year he's taken a bigger bite of the apple in terms of what he does for the team, his approach to getting better every day, and, now, maybe a new element to his game.
"He traditionally has been a scorer, but now he's able to get some primary assists and do some things maybe we haven't seen in the past. Those are all positive things."
Be the first to know
Get local news delivered to your inbox!