While the Tucson Roadrunners reached a milestone last weekend that they hope to forget, one of the franchise's scoring greats ascended to offensive heights no Roadrunner has reached before.
In Tucson's 5-2 loss to the Ontario Reign on Saturday, forward Michael Bunting's second-period, power-play goal marked his 100th point in a Tucson uniform — the first Roadrunner to reach that milestone. Bunting has 59 career goals in the American Hockey League and 125 career points, with the first 11 goals and 25 points coming when the franchise was based in Springfield, Massachusetts.
"It's pretty cool. I love playing here in Tucson. I love playing in Arizona in this organization," Bunting said of being part of the Arizona Coyotes' system. "I want to be back for years to come. I'm planning on it."
The tally ended Bunting's own goal-scoring drought. He had gone 10 games without one before Saturday. But the AHL All-Star's 12 goals in just 38 games are still tied for third on the Roadrunners thanks to multiple NHL call-ups.
Bunting said he's more focused on the team's drought, though.
Tucson is trying to end a franchise-record seven-game losing streak, and with 14 games to play, its playoff hopes are ever precarious. The Roadrunners sit 11 points back of Colorado for the fourth and final Pacific Division playoff spot, but Tucson has four more games remaining than the Eagles.
"I have to thank my teammates for that," Bunting said of No. 100. "But we've got to get going here. I'm not really focused on the individual points right now. I want to get going on the team points and making the playoffs."
Current struggles beginning to parallel 2016-17 season
The sentiment in the Roadrunners' locker room isn't one of panic, Bunting said.
"The room is all right. … We're playing pretty good hockey games, we just can't get the puck in the net to win a game, and we know that," he said. "We've just got to press that refresh button."
But depending how this weekend goes, it's a wonder if Bunting and three-year teammates like forwards Dysin Mayo and Trevor Cheek, defenseman Dakota Mermis and goaltender Adin Hill might start to have frightening flashbacks of the club's late inaugural season free fall.
During the 2016-17 season the Roadrunners won just four times in 26 outings from late January to the end of March, earning 11 of a possible 48 points in the standings and falling from playoff contention to sixth place in the Pacific Division. That team averaged 1.73 goals per game, while giving up 3.69 per outing over that stretch.
This year: two wins in their last 16 games (seven of 32 possible points). Tucson has scored 1.88 goals per outing while allowing an average of three on the dot.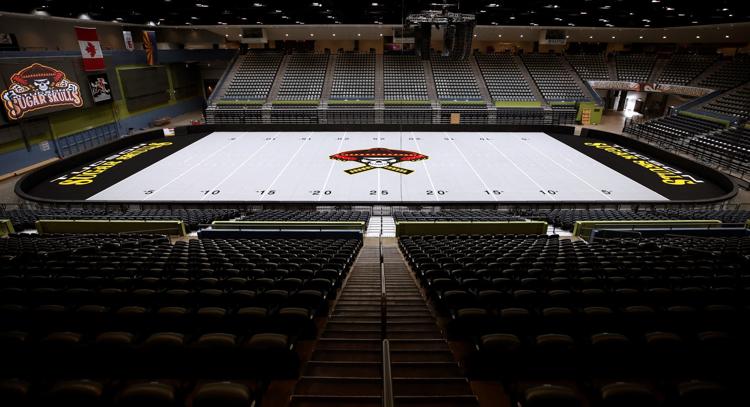 Tucson Arena crew gets busy with hockey-to-football flip
Last weekend marked the first time Tucson Arena has hosted hockey and football games on back-to-back days, a turnaround that pushed the arena's operations staff into overdrive.
The Indoor Football League's Tucson Sugar Skulls celebrated their home opener Sunday at 3 p.m. That meant the Tucson Arena facilities team kicked into gear almost immediately after the Roadrunners' game ended around 9:30 a night earlier.
"I'm very proud of our crew. They definitely punch above their weight class," said Glenn Grabski, general manager of Tucson Convention Center. "We flipped it to football for Sunday, back to hockey for Monday, flipped it to a concert on Tuesday, and Wednesday back to hockey."
"Flipping" the arena from hockey to football Saturday night through Sunday morning included covering the ice before laying down the Sugar Skulls' gray-themed indoor turf field, removing the hockey plexiglass, installing padding, and hoisting football goal posts and netting.
Grabski said quick turnarounds are hardly new for his crew — monster trucks, requiring literal tons of dirt, used the arena the week before — but still make things interesting.
Grabski anticipates a typical crew of 12 working about 10 hours to flip the building from hockey to football.
Twice more this season the Roadrunners have a 7:05 p.m. Saturday faceoff followed by a 3 p.m. Sunday Sugar Skulls start. It could happen more if the Roadrunners make the playoffs.
"We threw more men at it the first time because it was the first time," Grabski said, adding that with the Roadrunners and Sugar Skulls on the road, "I'm happy this is a light weekend for our crew. They need to catch their breath."