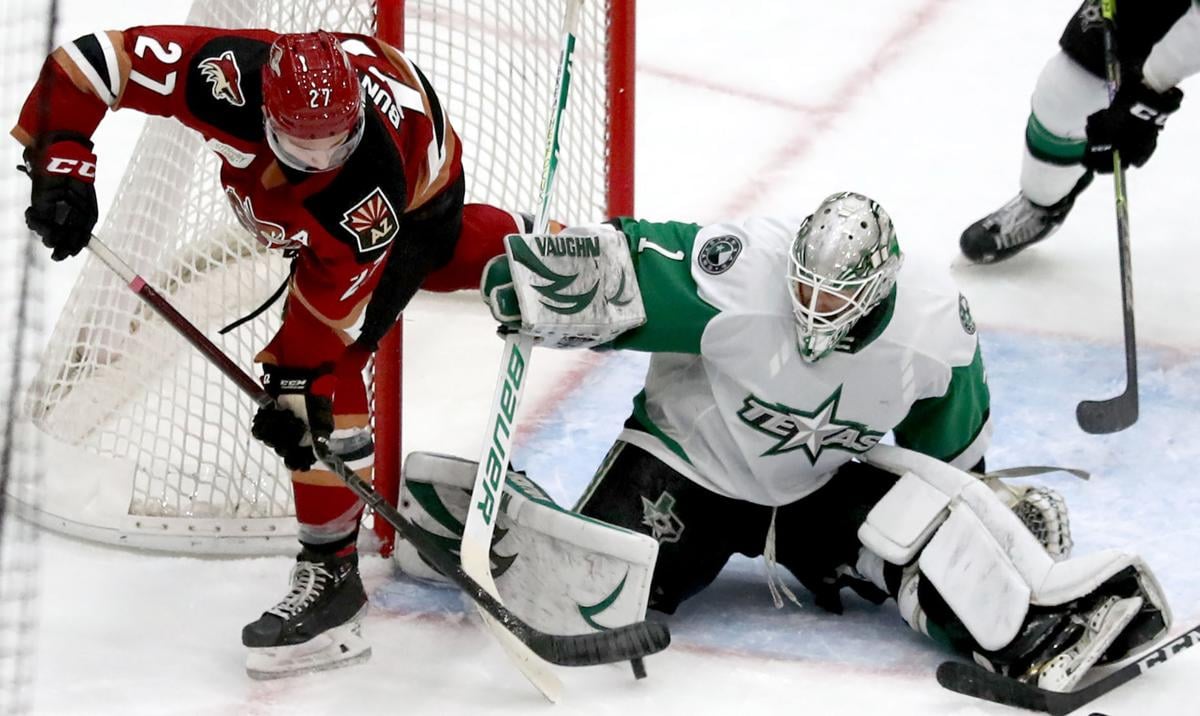 Michael Bunting can't believe how quickly the Tucson Roadrunners' AHL season is moving.
Just weeks ago, the Roadrunners' players and coaches were returning to Tucson to start training camp. Now, they're at the midway point of the pandemic-adjusted and -shortened 2021 season.
"Yeah, it's flying by, with the blink of an eye," Bunting said after a recent Roadrunners' win. "All we really can do is take it day by day. I keep saying that, but it's that kind of season.
"We had eight months off," he added, noting the COVID-19 impact on not on not just the AHL, but all sports. "We're really blessed to be back and able to play the game we love in the situation the world is in."
This weekend, the Roadrunners (7-9-0-0) will play their 17th and 18th games of the 2020 schedule – a Friday 6 p.m. matchup with the Ontario Reign (6-12-0-0) and a Saturday, 7 p.m. showing against the San Diego Gulls (11-10-0-0), both in Southern California.
Barring the rescheduling of a few games canceled earlier in the year due to AHL COVID-19 protocol, that leaves roughly 18 more for the Roadrunners this season. Here's a look at the good, the bad and the perplexing of Tucson's first half:
First Half MVP: Michael Bunting
It's well-chronicled that Bunting is the Roadrunners' career leader in just about everything; that includes games played, goals, assists, points, penalties drawn, chirping at opponents – everything. What he's never done yet prior to this, his fifth season in Tucson and sixth with the organization as a whole: lead the Roadrunners in scoring over a full season.
He's doing it now. His 19 points in 16 games leads Tucson, and is currently fourth in the AHL. He's also one of only three players league-wide — the others are AHL leading scorer Cooper Marody of the Bakersfield Condors and fellow Roadrunner Lane Pederson — to enter this weekend in the AHL's top 10 in all three scoring categories – goals, assists and points.
The Good: Fast start, fans in the building
The Roadrunners' 4-0 to the season feels like eons ago, but without it, Tucson wouldn't be flirting with .500 either.
And, Sunday's 4-2 loss notwithstanding, the Roadrunners have also shown they can dominate their most established rival – the Gulls.
A 4-1 win on the road and 6-2 win at home in the past two weeks show that Roadrunners do have enough in the tank to compete, if they can only be consistent.
Tucson has a handful of off-ice wins this season, too. That includes inking the deal to have the Roadrunners appear on local TV for the first time in their five years in Southern Arizona, and just this past week, welcoming fans, at 10% capacity, back to Tucson Arena.
The Bad: Stuck in second gear for more than a month
Entering this weekend, the Roadrunners have two wins in their last 10 games, and three in their last 12. It's been rough since that 4-0 start. More than that, though, they've been flat out blown out (let's define that here as losing by three goals or more) or given up at least five goals five times apiece.
In an extra-short season, there's little room for error if Tucson wants to make a push into respectability in a division that houses the league's best team. That's the Henderson Silver Knights (13-3-0-0), who Tucson happens to face six times over those final 18 outings.
The Perplexing: Brayden Burke
In his second full professional season last year, Burke led the Roadrunners with 21 goals and 52 points — the latter eighth-best, league-wide. An AHL All-Star, he was also in the Edmonton bubble for the Arizona Coyotes' NHL playoff run.
Fast-forward to now, and Burke has been a near non-factor offensively. His six assists in 12 appearances are plenty respectable, but he's yet to score a goal. What's more, Burke has only taken eight shots on goal. Eighteen Roadrunners have shot the puck more than Burke this season, a year after he was one of the top league's top 25 goal scorers.
NHL ready? (they'd better be…): G Ivan Prosvetov, F Lane Pederson
It was bandied about at the start of the season that Prosvetov may lead the AHL in games played in net this season. Not so, after all. A goaltending quandary in Glendale has led Prosvetov to spend time on the Arizona Coyotes' taxi squad, and at times back up former Roadrunner Adin Hill. With Antti Raanta hurt again, and Darcy Kuemper's return to Arizona's net still unknown, Prosvetov's first career NHL start very well could be just days away.
For Pederson, a scorching first half earned him a call-up, too. Per Craig Morgan of AZ Coyotes Insider, Coyotes' coach Rick Tocchet said Pederson may get his first NHL appearance this weekend, too. Pederson, called up to the Coyotes Thursday, is a legitimate two-way player at this point in his career.
Who's next on the NHL call-up list – especially with the taxi squad option NHL teams have in 2021? If numbers and leadership were the only factors, it would be Bunting. He made his NHL debut in 2018-19, playing five games with Arizona and scoring one goal, but was in Tucson the entirety of last season.
Top Newcomer: Kevin Roy
Roy has been a revelation, entering the weekend ninth in the league in points and tied for fifth in goals. Friday at Ontario will mark Roy's 200th career AHL game; coming into 2021, he'd averaged roughly two points for every three games played. This year, his point-per-game pace and penchant for late-game goals – five in the third period or overtime – have been crucial to Tucson sticking close to .500.
Worth noting: The "fourth-line" play of rookie forwards Nate Sucese and Ryan McGregor; defenseman Jordan Schmaltz's NHL experience.
Earned his ice time: Kevin Hancock
Two is Hancock's lucky number, it seems. In his second year with Tucson, he's appear in two games, taken two shots on goal, and scored both times.
Second half breakout: Barrett Hayton
Hayton only has four points on the season, but they've all come in the Roadrunners' last four games after going point-less for his first nine appearances. He's getting hot, and the Roadrunners need it.
It's important to remember that the forward is only 20 and still developing.
The NHL's oft-odd agreement with Canada's major junior leagues to not have players with junior eligibility play at the AHL until they reach a certain age, means he actually has 34 NHL games to his credit already over the past two seasons, compared to 17 with the Roadrunners.
Hayton is poised for big things over these final two months.
So long, farewell: Adin Hill
Hill was back in Tucson last month for what looked like a two-week conditioning stint, per NHL rules. But the goaltender only got two games out of the deal before the Coyotes' needed him again, meaning that arguably the most popular and well-known player in Roadrunners history won't be in Tucson again this season.
It's not impossible to think Hill likely won't ever suit up for Tucson now that he's proving himself as an NHL regular. If so, he ends his career with 138 appearances in net, a record of 67-50-14-10, a 2.69 goals against average and a .909 save percentage.
No time like the present: Kyle Capobianco
Capobianco is back at his old tricks – his nine points in 11 games right near the top of the AHL scoring lists for defensemen. But that's the rub with this fourth-year Roadrunner who's appeared in at least one NHL game each of the last four seasons: is he just an offensive genius, or can he be an everyday defensive stalwart at the game's top level, too? It would seem like Capobianco has this season's shortened second-half to show the Coyotes' brass he's capable of that.