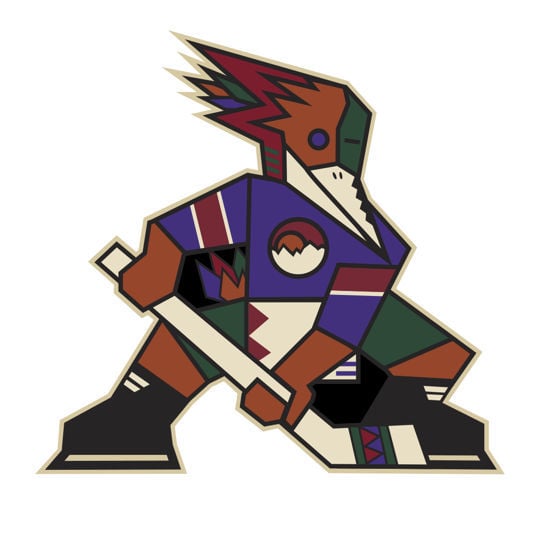 Andy Miele knew that, at 31 years old and more than five years removed from his last taste of the NHL, returning to play hockey North America again this season meant NHL contracts — even a two-way deal that would likely pin him to an American Hockey League roster — probably wouldn't fall from the sky.
"I was more than willing to come back on just an AHL deal," said Miele, now in his first season as the elder statesman of the upstart Tucson Roadrunners (12-4-0-0) — owners of the AHL's second-best record entering Friday's 7:05 p.m. home matchup with the Ontario Reign (8-6-2-0).
"I was coming back with the mindset that I know where I stand. A team will want me to be an older guy that's good with the younger guys — to bring some skill to the team and help win some games."
But pushing a decade into his professional career, with six AHL seasons, 15 NHL game appearances, and the last two years playing overseas in Sweden and Russia, respectively, already under his belt, "things came full circle," he said.
"This was the only organization that offered me a two-way deal," Miele said of the NHL's Arizona Coyotes — the Roadrunners' parent club, and the team that gave Miele his first pro shot when he signed as an undrafted free agent out of college in April 2011. Just prior to that, Miele was honored with the Hobey Baker Award — given to the nation's top collegiate hockey player — following his senior season at Miami-Ohio.
"When the Coyotes came in with the two-way offer it was such a unique feeling," he said of re-signing with Arizona. "So many different emotions. It brought me back to when I first signed here."
A two-way contract meant that Miele wasn't signing with an AHL team, per se, but rather the NHL club. That means that, although he's currently in the AHL, an NHL team would have significantly fewer hoops to jump through should it choose to call him up, since the NHL club would already have him under contract.
Years ago, Miele spent most of his first three professional seasons within the Coyotes organization — the Roadrunners didn't even exist at the time — with snippets of time spent in Glendale with the Coyotes themselves at the NHL level.
But he always enjoyed living in Arizona, he said, no matter how short his stays might have been back then. And, this time, getting back to not just the United States, but a relatively familiar locale, was a priority for reasons that go far beyond hockey for Miele and his wife, Hilary.
"A big part of it was that my wife was pregnant, and we wanted her to deliver on United States soil," he said.
Their daughter, Bonnie, was born at about 4:30 a.m. on Nov. 7.
The next night, Miele helped the Roadrunners to a wild 3-2, nine-round shootout victory at Tucson Arena. A day later, he scored two goals in helping the Roadrunners hold on for a just-as-hectic 7-6 win over the same Stockton club.
"After my daughter was born, I was on such a high," he said. "To be able to get two wins that weekend … I wish little Bonnie would be able to actually see me score those couple goals, but I'll have a story to tell her in a couple years."
While Roadrunners coach Jay Varady recognizes the value Miele's leadership and experience bring to the locker room, Miele has made his presence known on offense as well. Heading into this weekend, his four goals and 12 points in 16 games are both tied for fourth on the team, while his eight assists are tied for third.
"The dressing room has a life of its own," Varady said. "But older players like (Miele) influence the dressing room.
"That's been an important part of what we've been trying to do around here — find those guys who are doing the right things every day," Varady added. "That's coming to practice and going to work. Going in there to work out and train, and eat the right way, and those things that go along with being a pro athlete."
Varady, his coaching staff, and the Roadrunners' front office were so quickly impressed by Miele's presence that even after just a couple of weeks with the organization, he was the only newcomer named to one of the team's four leadership posts this season. Miele is an alternate captain.
Miele has been especially valuable in pressure-packed situations, too. He's often been one of Varady's go-to players when the Roadrunners have had to play past regulation. Miele has a game-winning overtime goal, while recording assists on two others so far as the Roadrunners are 4-0 when playing longer than 60 minutes.
Miele, a smaller build at 5-foot-7 and 170 pounds, said the open ice of the 3-on-3 overtime scenarios are perfect for his skill set.
"At any second of overtime, there can be a scoring chance. And the more room out there, the open ice, the more I can do," he said. "I really try to take advantage of that."
But, the rest of the way this season, what Miele is really trying to take advantage of is that two-way contract.
"When I signed, my agent told me (Roadrunners general manager) Steve Sullivan said there's a chance for me to play, to get some (NHL) games," he said. "The overwhelming excitement of hearing that is hard to explain. I thought that dream was over. But now that it's back again, it's completely changed my mindset."