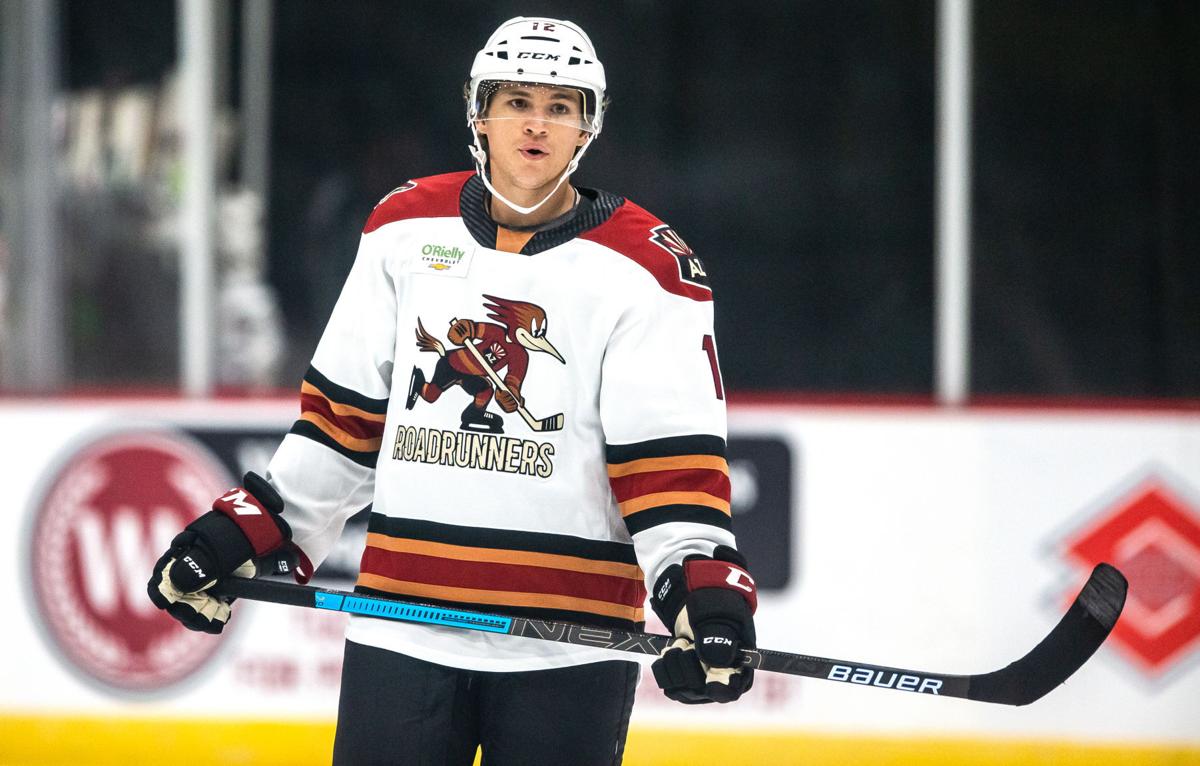 As the Tucson Roadrunners approach the home stretch of their 2021 schedule, forward Kevin Roy is on pace to accomplish something no Roadrunner has done before: Lead Tucson in goals, assists and points in the same season.
Roy leads his team outright in points (26) and assists (16), and is tied with linemate Michael Carcone with a team-high 10 goals.
Roy is the only AHL player in the top 10 in all three categories. At the close of Monday's American Hockey League schedule, Roy's 26 points were tied for third in the league, his 16 assists tied for fifth, and those 10 goals tied for seventh.
"(Roy) is such an elite player at this level. He can shoot; he can score; he can make plays in tight," Carcone said of Roy. "He's super-silky. He's almost two steps ahead of the player in front of him on the ice."
Roy is one of three players in the AHL to be leading his team in the categories. The Binghamton Devils' Nolan Foote has team-highs of six goals, 10 assists and 16 points, and the Iowa Wild's Gabriel Dumont leads the team with 23 points and 14 assists and is tied for the team lead with nine goals.
His success, should it hold, would be a Tucson first.
Chris Mueller nearly did it during the club's inaugural season of 2016-17. He finished with 67 points and 48 assists, but finished one shy of teammate Christian Fischer's team lead. Michael Bunting, who's now turning heads with the Arizona Coyote, is the Roadrunners' all-time leader in games played, goals, assists, points, and a number of other categories. However, he never led the team in goals or points in a single season. He did, however, pace Tucson with 37 assists last season.
A record-setting night
Eight players in Roadrunners history have scored hat tricks in a game. But nobody had ever scored more than three goals in a game before.
That changed Friday, when Carcone scored four times in a 8-6 loss to San Diego.
The Roadrunners and Gulls combined to set a half dozen offensive records that night.
Carcone set the club record for most shots on goal in a single game, with 11. The prior mark of 10 was set on April 12, 2019 against San Diego by Conor Garland.
Roy's five assists tied Carter Camper's single-game record, set March 2, 2018 vs. Cleveland; Roy's five points also tied Camper and Conor Garland for most ever by a Roadrunner in one game.
The 14 combined goals were the most in any game in Roadrunners history, topping the previous high of 13.
San Diego's eight goals tied for the most all-time against the Roadrunners. Its happened six times in five seasons.
Gauthier's impact felt
When Tucson coach Steve Potvin put Roy, Carcone and center Frédérik Gauthier on the same line, he had no way of knowing that would happen.
But while Carcone's six goals and Roy's seven assists over two games certainly have the Roadrunners thinking differently about their offense heading into a three-game road trip to Las Vegas against the first-place Henderson Silver Knights, Gauthier managed just a single assist, coming at the tail-end of Friday's game.
But none of that is what Potvin — or either Carcone, 24, or Roy, 27, for that matter — look at when analyzing the way the trio is playing together.
"Give Freddy a lot of credit. He wins all of his faceoffs, so you get to start with the puck. And if you're starting with the puck you're obviously not chasing it," Potvin said of Gauthier, 25, a 2013 first-round NHL draft pick of the Toronto Maple Leafs who has 170 NHL games under his belt and 167 at the AHL level. "You're putting it in guys' hands who can make plays."
Roy, whose last name is commonly pronounced "Wah," even though many in the U.S. have said it phonetically since he came south for college, jokes that he and Gauthier are the new "French Connection." Both hail from Quebec, just outside Montreal; Roy is from Greenfield Park, and Gauthier about 30 minutes away in Laval.
"He's one of the best at just ripping those draws back," Roy said. "He just goes to the net. He's a big body. He moves really well for a big guy like him. He gets to those dirty areas and makes it easier for his linemates."
Added Carcone: "(Gauthier) is I think almost 80% on draws. He's unbelievable. … I think we're just perfect together right now and clicking, so we've just to keep going with it."