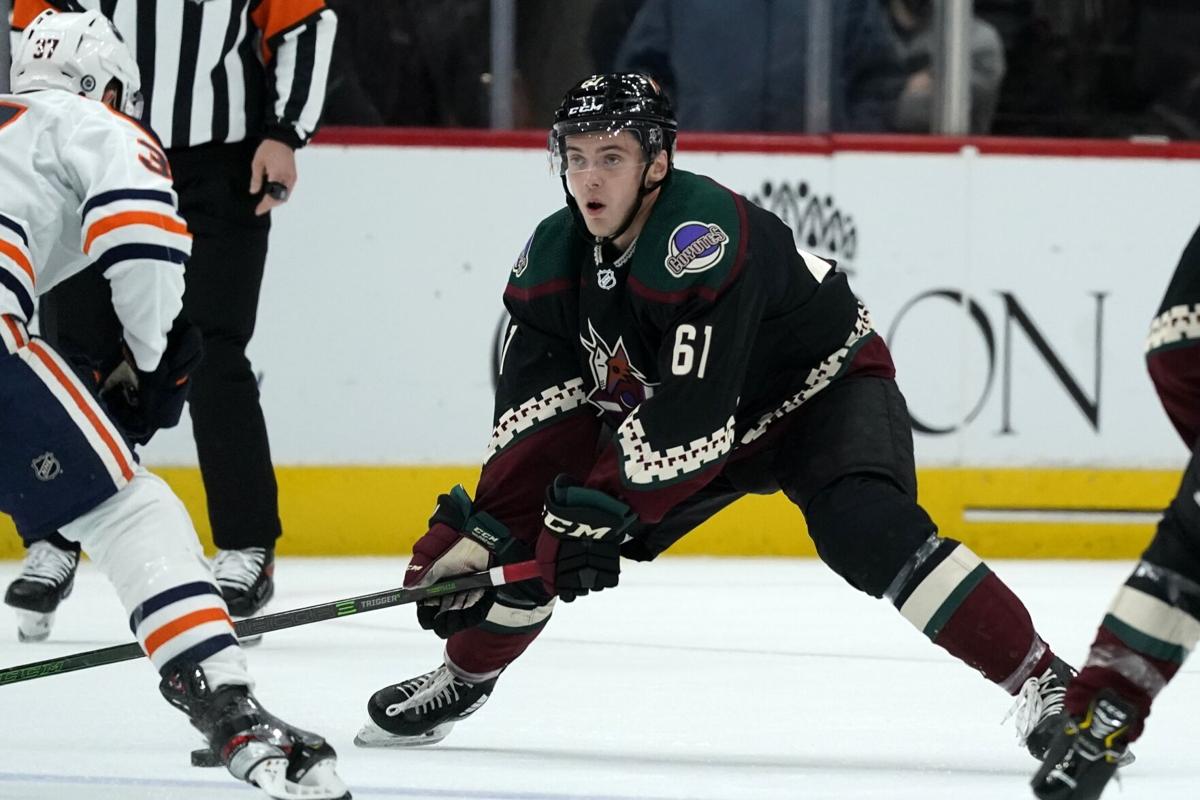 Just one thing would have made longtime Tucson Roadrunner Dysin Mayo's NHL debut with the Arizona Coyotes better.
Mayo, 25, played parts of the six season with the Roadrunners, the Coyotes' American Hockey League affiliate, before getting called up on Oct. 18. Three days later, he scored in his Coyotes debut, going top shelf from the right faceoff circle over the stick-side shoulder of Edmonton goaltender Mikko Koskinen early in the third period.
"I wasn't expecting that coming in tonight. My goal was just to play a good shutdown game and show I can compete here and play here," Mayo told assembled media after his first official night wearing the Coyotes' Kachina on his chest. "I think I did a good job of that."
Mayo said in his postgame press conference that when he first became a professional, he had to shift his game after being more of an offensive force in junior hockey. He credited Tucson assistant coach John Slaney is for a lot of his development. "He works with me a lot and is a big part of transitioning me into the type of player I am today," he said.
"It took a long time to get here," Mayo added. "We've got a lot of good 'D' prospects in this organization coming up, and I'm kind of getting a little older now out of the prospect zone. But I was confident enough in my game that if I got the opportunity, I could show that I could play here."
Mayo's goal was the marquee moment for the Coyotes' in a 5-1 loss to the Oilers.
The Coyotes are 0-5-1 entering Thursday's game against the two-time defending Stanley Cup champion Tampa Bay Lightning. And now, after multiple key injuries this past week, the parent club has called on Tucson for reinforcements.
The Roadrunners have a roster of high-end NHL prospects, from goaltender Ivan Prosvetov to forwards Barrett Hayton and Jan Jenik. There's also veteran leadership from players like Mayo, fellow blueliner Cam Dineen and forwards Hudson Fasching and Mike Carcone.
Dineen got his first NHL call-up Tuesday. Whether he makes his NHL debut remains to be seen, but Roadrunners coach Jay Varady said he was happy to see two veterans rewarded.
"I think its exciting that the organization made the decision to call those guys up who were working hard and doing the right things here," Varady said. "They're going to get their chance, and from there, anything can happen."
Hayton and Prosvetov were also recalled, leaving the Roadrunners — 2-2 heading into a two-game home set against the 0-3 San Diego Gulls — shuffling their own lineup now.
Prosvetov, in particular, started the season hot. His two shutouts lead the AHL, and 1.34 goals-against average is third among goalies who have played more than half their team's available minutes in net. Hayton ate up a ton of minutes for Tucson, anchoring the Roadrunners' top line, power play and penalty kill of late.
"(The Coyotes) just got into injury trouble, so somebody was going to go up," Varady said. "I think Barrett has been playing a really solid 200-foot game. You can look at the point production and say, 'Oh, well he's got one point in four games,' or whatever it may be. But I think he's doing a lot of things.
"He's involved in the game in a positive manner in both ends of the ice and I think that's important for him."
Coyotes coach André Tourigny told Phoenix-area media that he's "always liked Barrett."
"He had a really good camp," Tourigny said. "He was flying for us. He was one of our best players. And he got an injury. He didn't practice, didn't play in the last 10 days or maybe more — I don't' know exactly. So we had a tough decision to make. So we decided it would be good for him to go to Tucson and get his game shape, get his rhythm. We know eventually he would have his chance for us. That's (this week). Having that said, I think Barrett can do a lot on the ice. He's good defensively, can be good offensively, he's physical."
As for what happens now in Tucson, Varady reiterated that roster stability is rarely a given at the AHL level.
"We're not surprised by this situation. This is what happens here," he said.
Josef Korenár, a veteran with 75 AHL appearances and action in 10 NHL games to his credit with the San Jose Sharks organization, will replace Prosvetov in net. Korenár stopped 22 of 25 shots in a 3-2 road loss to Stockton opening weekend in his only action of the season.
"Here's his chance," Varady said. "Ivan went in, and he played really good games. We thought he was the hot hand, so we went back with him. Josef this weekend will get a crack at it."