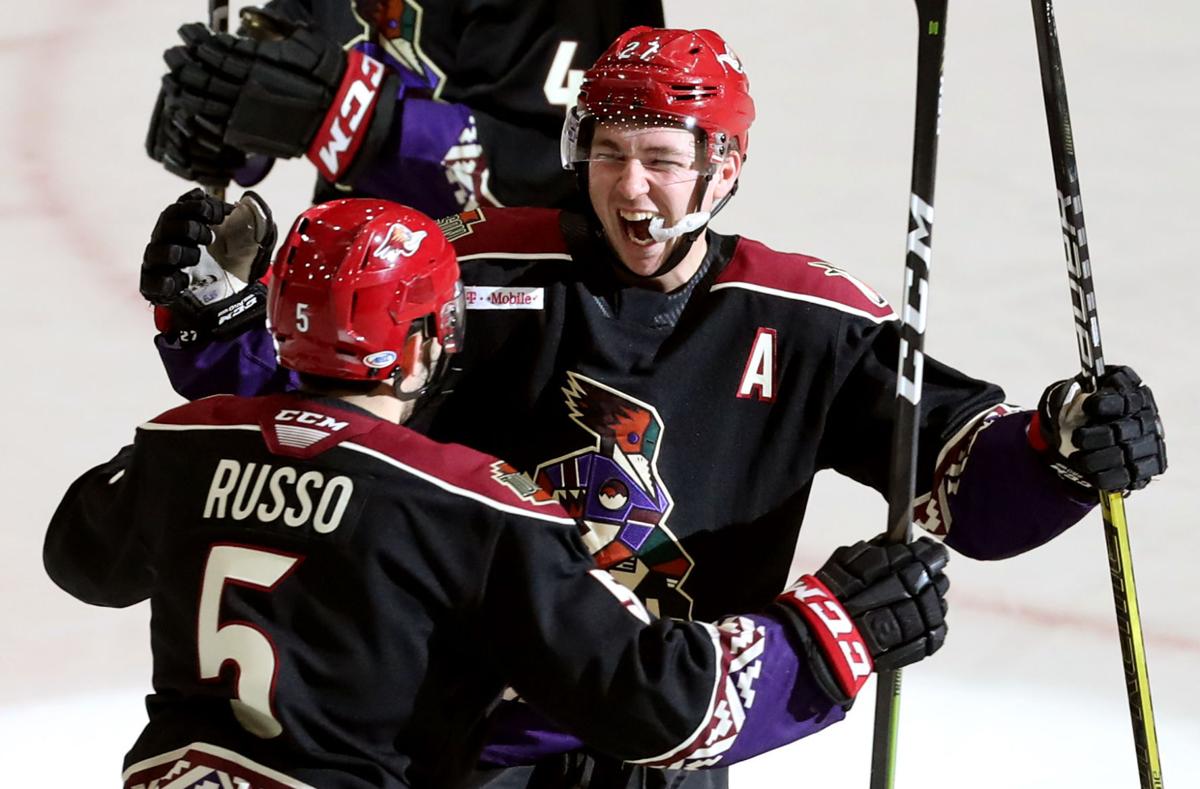 For at least the first month of the 2021 season, Tucson Arena will be home to two professional hockey teams.
The Tucson Roadrunners open their fifth season of American Hockey League play Feb. 5 against the San Jose Barracuda. But officially, it's the Barracuda who will be designated as the home team for a three-game series running that Friday, Saturday and the following Monday.
As part of the American Hockey League's efforts to return to live game action for the first time since March, the Roadrunners and Barracuda will face each other twice to conclude the preseason, then square off six times in their first eight regular-season meetings.
All of those matchups will take place at Tucson Arena.
"The only time we've ever done something like before is a playoff series," Tucson forward Michael Bunting said. "I can guarantee you by Game 3, you basically hate each other."
Bunting, the Roadrunners' all-time leader in games played, goals, assists and points, began his fifth training camp in Tucson this past week as part of a preseason collection of 14 forwards, seven defensemen and three goaltenders. Just 11 of the 24 players have played for the Roadrunners before — though eight of those 11, including 2019-20 leading scorer Brayden Burke, are embarking on at least their third season in Tucson.
The Barracuda opened their own camp this month in Chandler, a far cry from San Jose. The Barracuda and the parent San Jose Sharks held their respective preseason training in Arizona as Santa Clara County continues to prohibit contact sports at both the professional and collegiate level in an effort to combat the spread of COVID-19.
The Barracuda's only "home" games their first month of the season are those first three in Tucson. The team is scheduled to return to San Jose's SAP Center starting Feb. 28.
Roadrunners president Bob Hoffman said the Roadrunners are willing to be "a supportive, willing partner, and help them in any way we can." While he expects the team to be back in California in late February, "all cards will be on the table to see how we can help" if Santa Clara County's ban stretches into the spring.
Hoffman said the Roadrunners are cautiously optimistic about their own plans to return to play in the coming days. That includes the possibility of "some type of restricted-capacity crowd," Hoffman said, noting fans won't be allowed for the season-opening series when San Jose is the designated home team, but could return Tucson's true home opener on Feb. 18.
"The last thing we ever want to do is create a harmful situation for anybody," Hoffman said. "But it is a goal, as long as we can do it safely."
Hoffman said all parties are paying "close attention to" coronavirus case count and hospitalizations in Pima County.
"We have to make sure our setup, our process to get (fans) into the arena, how they're going to sit, where they're going to sit, and what those standard sports interactions of people coming together — something as simple as high-fiving each other — will be," Hoffman said. "It's an ongoing process and something that takes on a different life almost every day."
Hoffman hopes for a gradual ramp-up of capacity through the end of the regular season, culminating — record on the ice and yet-to-be announced AHL plans permitting — into a playoff run following the May 16 conclusion of the regular season.
"The perfect goal would be to see this grow as the virus becomes less transmittable and the vaccine has a little bit more of an effect," he said. "And hopefully, we're in a position where that number can grow throughout the season to where a nice long playoff run, we can do it in front of the home fans and welcome a really good crowd for that."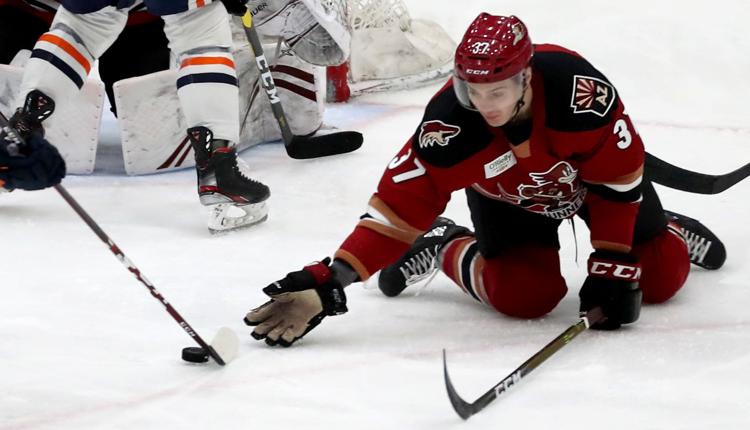 The Roadrunners were the top team in the AHL's Pacific Division at the time of the season's stoppage a season ago. To even be in the conversation for a playoff shot this year — and the AHL has yet to confirm if it will even host a playoff bracket this season — they will have to navigate a schedule that includes 40 regular-season games over a little more than three months.
It's a more compact calendar than the AHL's westernmost teams have experienced since the league realigned many of those teams be geographically closer to their NHL counterparts.
It's also the first time in years the Pacific Division teams will play more games than the rest of the league. While the Roadrunners and their division foes played 68 games in their last full season of 2018-19, the non-Pacific teams all played 76. This year, teams further east may play as few as 24 games — the league-mandated minimum for the new season.
The Roadrunners will face seven opponents this season; that includes four games (two home, two road) against the Stockton Heat, and six each (three home, three road) against San Jose, the San Diego Gulls, Ontario Reign, Colorado Eagles, Texas Stars and Henderson Silver Knights. Aside from a few exceptions, most home or road series will be three-game sets against the same team.
The Silver Knights are new this season and will play their home games out of Orleans Arena in Las Vegas. San Diego will play its home games in Irvine, closer to their NHL affiliate, the Anaheim Ducks, and Ontario will play in El Segundo, California, at the Los Angeles Kings' practice facility.
"It's definitely going to be an interesting season," Bunting said. "But it's going to be fun hockey. "We're all ready for it."