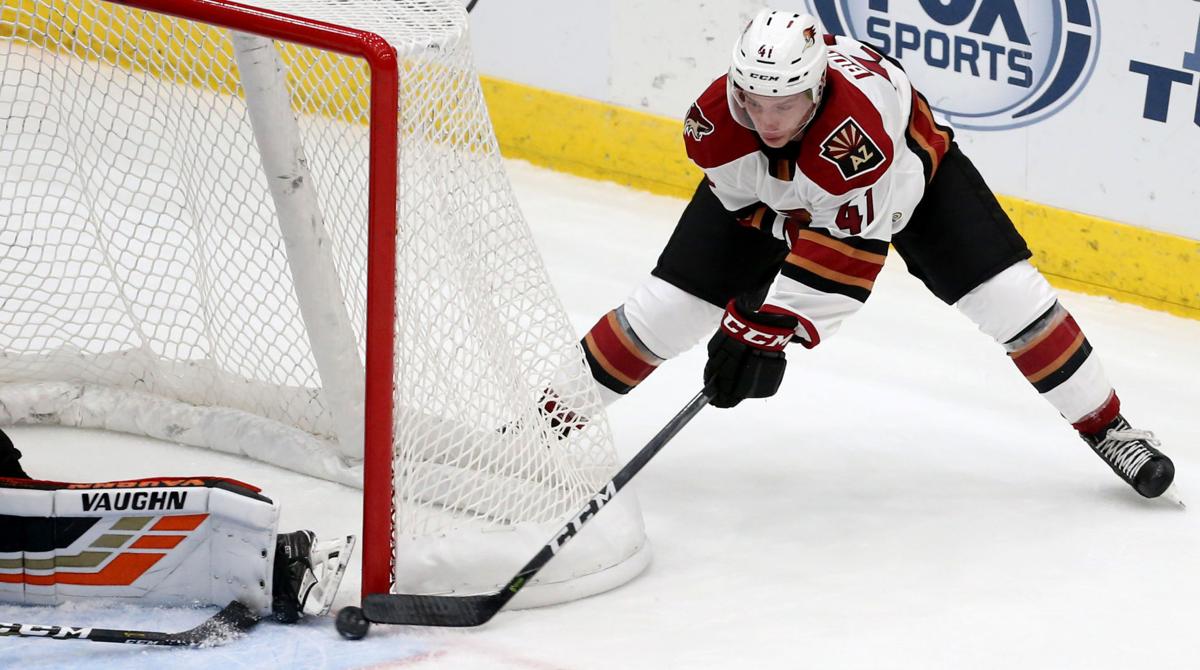 Brayden Burke can surely picture it.
Same sheet of ice — at the Toyota Center in Ontario, California.
Same 3-on-3 open-ice format, with Burke, the Tucson Roadrunners' top goal scorer, cradling the puck as he barrels down the right side at an awaiting goaltender.
And, perhaps, the same result — yet another high-impact goal for the second-year pro who is already one of the AHL's sharpest of shooters.
Burke will have a chance to replicate that feat in just a few days. He's one of four Roadrunners — alongside forward Lane Pederson, defenseman Kyle Capobianco and head coach Jay Varady — who will be back in Ontario on Sunday and Monday for the AHL All-Star Classic.
"The All-Star game is obviously a huge honor," Burke said this week, just days after notching the overtime winner in Ontario. "We've got a lot of guys in that dressing room who could be there."
The quartet was chosen to represent the AHL's Pacific Division at the two-day event, which concludes Monday with a 3-on-3 "Challenge" — not unlike the style of play the Roadrunners have enjoyed during each of their four overtime wins this season.
"If I can come in, in that same exact position, I think I'll shoot that exact same shot," Burke said. The Roadrunners (28-9-1-0) play host to the Bakersfield Condors (17-18-4-1) Friday and Saturday nights at Tucson Arena. "Maybe the All-Star goalie will make the save, but I like my chances."
While Burke wasn't originally selected when rosters were announced earlier this month, he had a solid case from the get-go. His six game-winning goals are tied for the league lead, and his 10 power play markers are third overall. His 17 goals are tops on the Roadrunners — one better than fellow forward Pederson.
Pederson, defense- man Capobianco and Varady were Tucson's original All-Star selections, with Burke rounding out the foursome as a late addition just last week.
Varady said hearing his name called is more a testament to the success of the organization as a whole. The coach isn't wrong — his selection came because the Roadrunners are leading the Pacific Division race. But he added that he's excited for the chance to bring a strong cadre of his own players, to boot.
"They probably don't want me around. They see me plenty," Varady said, laughing. "They probably thought the All-Star break was a chance to get away from me."
Capobianco, picked for the third consecutive year, said things will be different in Ontario.
"It's going to be a lighter atmosphere," Capobianco said. "Really, I think any time a coach gets recognized, it shows how well our team's doing. He's done a phenomenal job preparing us this season."
Pederson, an All-Star for the first time, will always be able to claim that status on his hockey resume. Yet the league announced Thursday that he won't actually lace up his skates in either the Sunday Skills Competition or Monday 3-on-3 mini-tournament that pits teams representing all four of the league's divisions against each other. A lower body injury kept Pederson out of the Roadrunners' last two games and has put in jeopardy his availability for this weekend's series against the Condors. He'll miss the All-Star Classic as a precautionary measure.
In Capobianco's case, he said the team's hot start was a key reason for his own selection.
"I just think the teams we've had down here have had really hot starts, and that's helped my success. Our team is really good right now — we're clicking on all cylinders. We do it as a group, so as much as I'm having personal success, it's a team," said Capobianco, second among all AHL defensemen in points per game this season. "Our power play is doing great. Burke, Pedey and (forward Michael Bunting) are leading the way offensively. All three of those guys could have had All-Star nods. They're playing at a high level."
Sunday's AHL All-Star Skills Competition begins 6 p.m., while Monday's All-Star Challenge is slated for 8 p.m. Both events will be televised nationally on NHL Network.