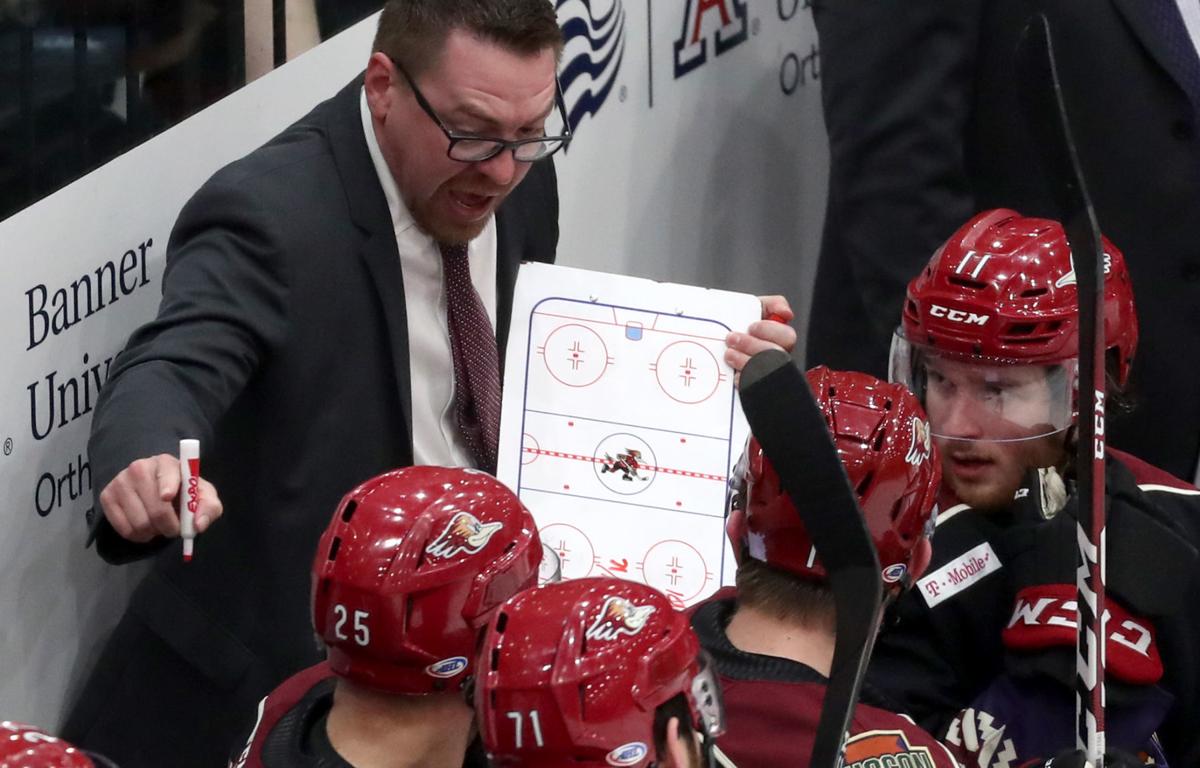 History and some rough math show that the Tucson Roadrunners need about four wins in their last 14 games to earn the organization a Calder Cup playoff berth.
Tucson coach Jay Varady doesn't think four will be enough — not with such a logjam amid the top five spots in the seven-team AHL Pacific Division.
"If you start to look at it like that, 77 points … you're going to get in to trouble," Varady said from the Chicago area this week, where the Roadrunners (33-18-1-2) were preparing for a pair of games against the Chicago Wolves (26-25-5-2). "This game is about being the best possible team we can be every night. That's where our focus is."
Tucson enters the Thursday-Saturday series as the AHL Pacific Division's top team, boasting 69 points with 14 games left to play. The Colorado Eagles (66 points with 16 games to play), Stockton Heat (65 with 16 left), Ontario Reign (64 with 13 remaining) and San Diego Gulls (63 with 15 to go) are all in the picture for the division's four guaranteed playoff berths.
Varady isn't one to look ahead of the next game, but he's also known to say — especially this season — that the Roadrunners know every last point will matter. That was true last season, when a 76-point finish last season left the Roadrunners one point out of a playoff berth; Colorado made it in with that seemingly-magic 77-point mark.
Hill playing like an NHL-caliber goalie
While Adin Hill's time in Tucson has been sporadic, his play has been steady. Multiple recalls by the NHL's Arizona Coyotes have limited Hill to just 16 Roadrunners games this season.
In Hill's last seven AHL starts, dating back to Dec. 4, Hill has allowed one goal or less five times, with a .958 save percentage and 1.28 goals against average.
Tucson is 6-1 in those outings.
"I feel good. I feel confident in my game right now," Hill said. "The team down here in Tucson definitely allows me to have that confidence. We play a well-structured game."
While Hill appreciates the regular playing time, he is aware that he might not start every single game. A hefty schedule awaits the Roadrunners, and the team has a desire to develop rookie Ivan Prosvetov.
"It's more of a 1-2 punch for me," Varady said. "We'll continue to use both of them. You need two goalies to be successful."
Starting Thursday, the Roadrunners will play six games in 11 days. That includes two in Chicago, followed by midweek home games against the San Diego Gulls and a weekend set at Tucson Arena against the Texas Stars.
"From a competitive standpoint, I'd love to play every day. I want to be in the net," Hill said. "I understand it. … We play a lot of games coming up, and Ivan is a great young goalie."
Streaky down the stretch
All-Star forward Brayden Burke, the Roadrunners' leader in both goals and points, missed Sunday's 3-2 win at Bakersfield with a lower body injury.
While it's unknown how long Burke may be out of action, Tucson has a bevy of streaky skaters of late who could fill in.
Andy Miele, who trails Burke's team-high 52 points by just six, has 12 points in his last 11 games. His line mate, Beau Bennett, has six in his last six outings.
Defenseman Kyle Capobianco is possibly the hottest of all, registering points in a career-best six in a row, with 17 points in his last 16 games overall. Capobianco still leads all AHL defensemen in points per game.
Newcomer Markus Hännikäinen is also in that mix, despite only being with the Roadrunners for three games. He has registered points in all three outings since being acquired at the NHL trade deadline from the NHL's Columbus Blue Jackets. Hännikäinen was hot in his final days with the Cleveland Monsters, Columbus' AHL affiliate. Counting his time in both places, Hännikäinen has 11 points in his last 11 games played.
"It was an interesting conversation when he came in. I just kind of asked him where he's most comfortable in terms of playing," Varady said, adding that the left-handed Hännikäinen was familiar with either wing position. "The thing that he adds is just an attitude and approach about being a pro every day."
Be the first to know
Get local news delivered to your inbox!