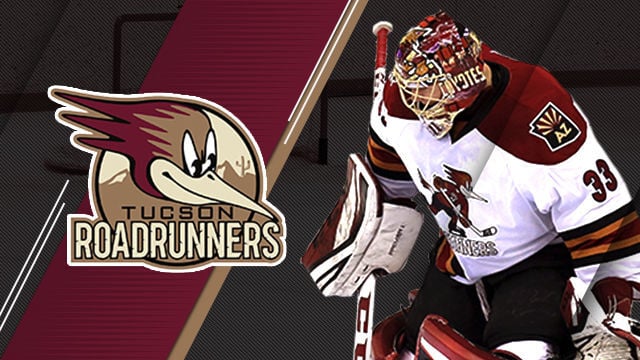 The Tucson Roadrunners finally found a deficit they couldn't come back from.
The club trailed by four goals in the third period before falling 5-2 to the Texas Stars Wednesday night in Tucson's first home game in 24 days.
The Roadrunners (5-3-0-0) showed some late-game urgency, but goals by  forwards Lane Pederson and Kevin Roy 74 seconds apart weren't enough to overcome the Stars (5-3-0-0). Tucson has lost three of four games after a white-hot 4-0-0-0 start to the 2021 season.
"We're getting away from our gameplan," Pederson said. "We have little spurts where we go to sleep a little bit mentally. It costs us — you saw it tonight. Just some mental breakdowns. They get a couple of goals, and we're chasing the game.
"We've got to figure out a way to right this ship here. Chasing games is a tough thing to do in this league."
After Tucson scored three goals in final two minutes and overtime in a wild come-from-behind win Friday night on the road against the Colorado Eagles, the Roadrunners went 108 minutes of game action without a goal deep into Wednesday's outing. That included a 1-0 shutout at Colorado Saturday, and the more than two periods Wednesday in Tucson. Pederson snapped that streak with his third goal of the season midway through the third period. Pederson would later add an assist, giving him 11 points on the season — tied for third across the American Hockey League.
Pederson and the newcomer Roy, a forward who came into the 2021 campaign with four full American Hockey League seasons and a couple of dozen NHL games under his belt, continue to be bright spots for the Roadrunners. Roy, the hero in overtime during last week's comeback, cut the lead to 4-2 barely a minute later. Roy's team-high fifth goal of the season is tied for eighth league-wide.
Coming in to Wednesday, Tucson had killed 17 consecutive penalties. But the Stars' first two goals — 5:19 into the first and 7:44 into the second, both by Cole Schneider — came with the Roadrunners down a man.
"I just think we need some patience. If we go down, we need that confidence that we're going to get it done and it doesn't need to get done the next shift, or next play. I think it's just keep chipping," Roy said. "If we do that, we're going to win a lot of games. We can't take shifts off and start worrying about the outcome mid-game.
"We have the firepower to do it, we just have to execute and stick to it," he added.
For the first time in eight games this season, Tucson outshot its opponent — this time with the 37-31 edge. In his seventh start this season, goaltender Ivan Prosvetov carded 26 saves. He is now 5-2 with a .908 save percentage and 3.11 goals against average. Prosetov is fourth, league-wide, in minutes played.
The same teams take a break Thursday, before going back-to-back Friday and Saturday at Tucson Arena. Both games start at 7 p.m.