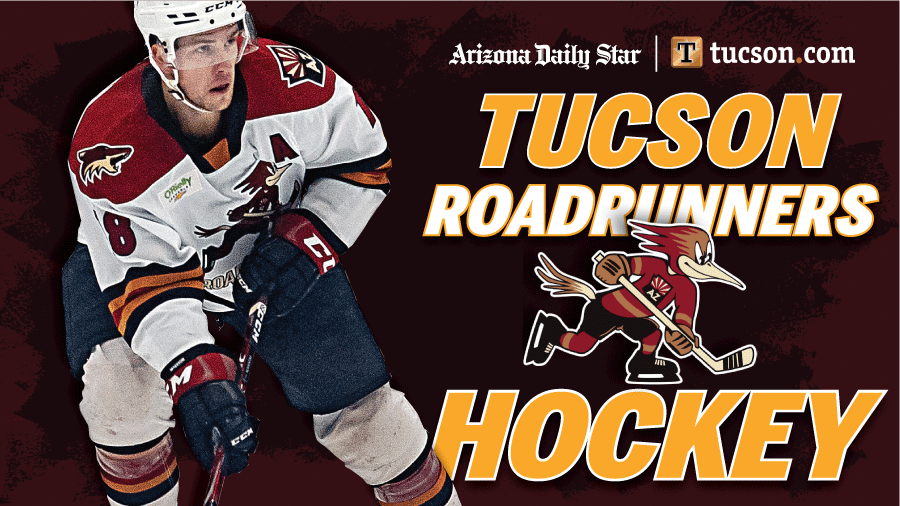 With the American Hockey League's Pacific Division race already set in stone coming in, it was no official matter who won Sunday's regular-season finale between the Tucson Roadrunners and Ontario Reign.
But the limited-capacity sellout crowd of 1,500-plus inside Tucson Arena for the last time during the abbreviated 2021 season got their ticket-price's worth of offensive fireworks — albeit most via the visiting team's sticks.
The Reign (17-19-4-0) and Roadrunners (13-20-3-0) combined for eight goals in the game's first 27 minutes of action and 13 overall in a 9-4 Ontario victory.
A quick 2-0 lead for the Reign — Sean Durzi scored 29 seconds in, followed by Adam Johnson 6:41 into the first period — was erased by three straight Tucson first-period goals. Roadrunners forward Tyler Steenbergen's 10th of the season midway through opening frame was followed by late-period goals barely a minute apart from defenseman Cam Dineen and forward Jan Jenik.
Tucson would only lead in this one for all of 37 seconds, though. Ontario's Lias Anderson would make it 3-3 to close out the first, with the Reign pouring on three more in the second period to turn the contest into a rout. Bokondji Imama scored two of Ontario's second period goals, bookending one by Markus Phillips.
In the third, it was just about all Ontario again. Samuel Fagemo, Rasmus Kupari and Akil Thomas each netting goals for the Reign in the final period before Tucson forward Barrett Hayton closed out the scoring for both teams with his sixth goal of the season.
Clearly Tucson's hottest offensive weapon down the stretch, the 20-year-old rookie Jenik now has six goals in his last five games — a number that includes four in his last three AHL games with the Roadrunners, and one each in his first two NHL games last weekend with the Arizona Coyotes. Jenik also assisted on Steenbergen's goal, giving him seven points in his last four AHL outings.
Ben McCartney, up with the AHL's Roadrunners after concluding his fourth season earlier this month with the WHL's major-junior Brandon Wheat Kings, carded two assists. In just four games with the Roadrunners, he has a pair of multi-point games and five total points. Forward Frederik Gauthier and defenseman Kyle Capobianco and Doyle Somerby each also collected an assist Sunday for Tucson.
While Tucson forward Michael Carcone carded an assist on Dineen's first-period goal, he ended finishing the season atop Tucson's goal-scoring charts, posting 15 as one of four players, alongside Steenbergen, Nate Sucese and Ryan McGregor, to skate in all 36 Roadrunners' regular-season contests. Carcone's goal total ended up tied for fifth league-wide.
Kevin Roy finishes the 2021 season as Tucson's top point producer, his 11 goals and 19 assists in 35 games tied for 16th across the AHL. Roy had skated in each of Tucson's first 35 games, but was scratched for Sunday's finale.
Sunday's effort continued Tucson's struggles against Ontario this season. In eight combined matchups — four in Tucson and four in the Reign's temporary home of El Segundo, California — Ontario finished 6-1-1-0 against the Roadrunners.
With the Reign locking up sixth place in the Pacific Division, and the Roadrunners in seventh, the teams could conceivably see each other one more time. First, they'll both high-tail it out of Tucson to Southern California for respective "play-in" games as part of the recently announced mini-tournament to decide the AHL's Pacific Division champion for 2021.
While the AHL's other four divisions all crowned champions this week based on regular-season standings, the westernmost division will see the bottom four teams — No. 4 San Jose, No. 5 Colorado, Ontario and Tucson — square off in two days of single-elimination games.
Tucson and San Jose play at 1 p.m. Tuesday, with Colorado and Ontario following at 7:30 p.m. Both games will be played at at FivePoint Arena at Great Park Ice in Irvine, California, which served this season as the temporary home of the San Diego Gulls.
The last of those four standing will then head to Las Vegas to take on the top-seeded Henderson Silver Knights in a best-of-three series, while No. 3 San Diego visits the No. 2 Bakersfield. The winners of those series will eventually meet later this month in another best-of-three battle, with the division crown on the line.
Sunday concluded the Roadrunners' struggles inside Tucson Arena this season. Tucson finished in the bottom five of the AHL's 28-team lineup with a record of 6-11-1-0 on its home ice. If the Roadrunners are to play as many as eight games this month in the divisional playoff, all will ultimately come away from home.