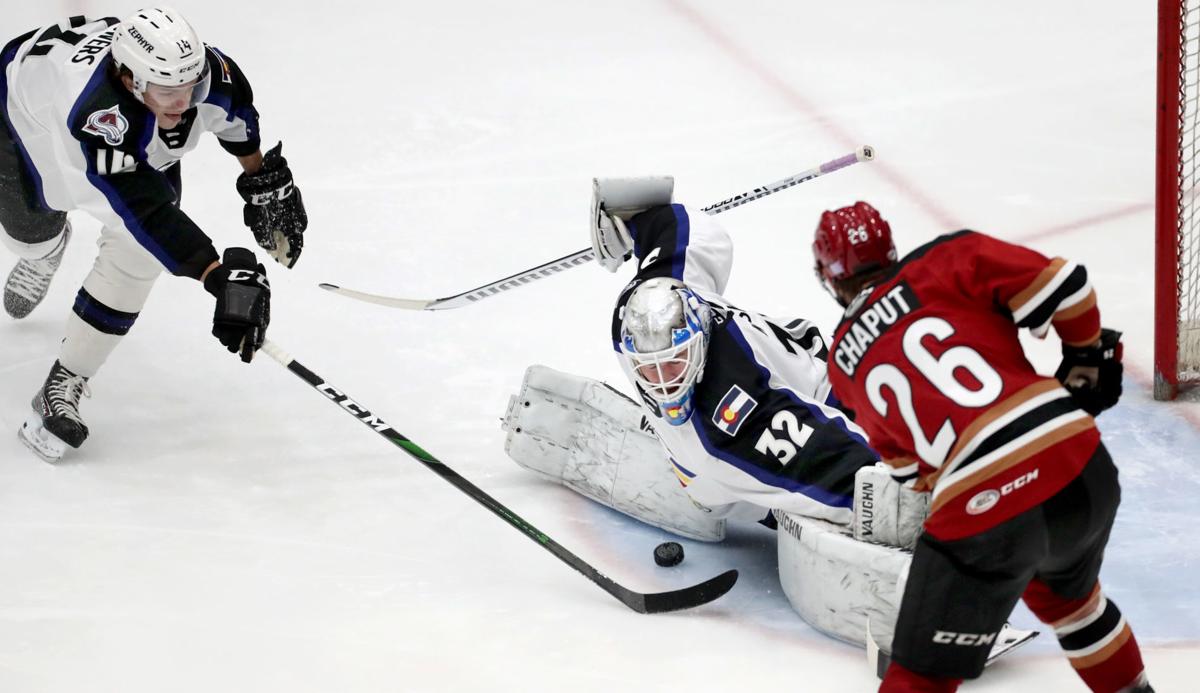 For the first 20 minutes, and again for all of the final period Friday at Tucson Arena, the Tucson Roadrunners and Colorado Eagles managed to play a tough-minded, defensively-focused hockey game.
In between? A divergent twenty-minute segment of adrenaline-filled, rough-and-tumble on-ice absurdity.
A scoreless opening period made way to seven combined goals in the second — three on the power play, another shorthanded — before the Eagles (23-14-3-1) closed the door again in the third to secure a 4-3 win over the Roadrunners (28-12-1-0) in the first of a pair of meetings between the clubs this weekend.
"We took about five to 10 minutes off there," admitted Tucson forward Tyler Steenbergen, who scored one of the Roadrunners' second-period goals. "At the end of the day, that's what kind of cost us the game."
Still holding on to first place in the American Hockey League's Pacific Division, the once-mighty Roadrunners are every bit stuck in neutral of late. Tucson has lost three games in a row — its first three-game skid of the season — and is now 5-6-1-0 over its last 12 outings overall.
"You know what, seeing ourselves at the top of the standings, it's always a confidence boost," " Steenbergen added. "But, at the same time, if we get too complacent, that's what happens — these last couple games."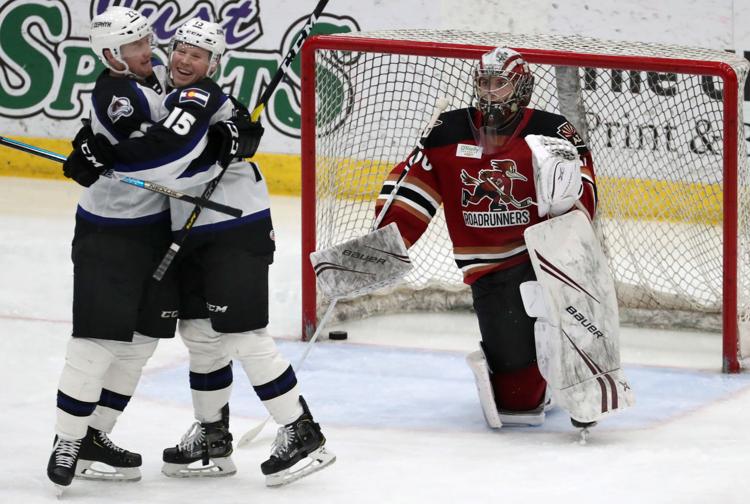 That five-minutes Steenbergen eluded to came right at the start of the Friday's second period.
After the scoreless first, Colorado — thanks to a power play goal by Sheldon Dries and additional goals from Martin Kaut and Michael Joly — was suddenly up 3-0 barely five minutes and a few seconds in.
"That five minutes — our identity, our game, got away from us," Tucson coach Jay Varady said. "It cost us. That's a lesson for us tonight."
Tucson rebounded almost immediately, with forward Michael Bunting scoring his first goal in his last 11 games a minute and 35 seconds after the third Colorado goal. The Roadrunners were then methodical over the next 10 minutes, picking up two more — Steenbergen and defenseman Aaron Ness both scoring on the power play — to tie the contest at three apiece. But Jason Megna's shorthanded marker, the Eagles' fourth goal of the period, came with a little more than two minutes to play in the period, and ended up being the final goal for either team on the night.
"I don't know how you calm the temperature after that. That was bizarre, to be honest," Varady said of the high-octane second period. "We were walking off the ice after that second period and kind of looked at the scoreboard and said 'we've got to get back to our game.'
"It got too loose," he added.
Tucson goaltender Ivan Prosvetov stopped 34 of the 38 shots he faced, including 17 of 20 in the second period alone. Former Roadrunner Hunter Miska, in goal again for the Eagles, turned away 28 of 31 in the victory.
Tucson's Brayden Burke picked up a pair of assists, while Jeremy Gregoire, Michael Chaput, Ness, and Beau Bennett added helpers of their own.
The Roadrunners have one more chance to pick up a win on their current four-game home stand Saturday, again against Colorado at 7:05 p.m. at Tucson Arena. Come Sunday, the Roadrunners won't have use of their home ice in any capacity for more than two weeks. With seven road games in 13 days, Tucson's players, coaches and traveling staff will live out of suitcases away from Tucson entirely while the annual Tucson Gem and Mineral Show inhabits much of the Tucson Convention Center facilities.
"Tomorrow will be huge. It will be a big confidence boost heading on to the road," Steenbergen said. "If we get this one, we can keep it rolling when we head out.
"You know, we face these guys two times during that span, too, on the road," he said of the Eagles, who Tucson is now 3-4-0-0 against this year with five more meetings remaining. "So it will be a little bit of revenge tomorrow and hopefully we can keep on pushing forward from there."