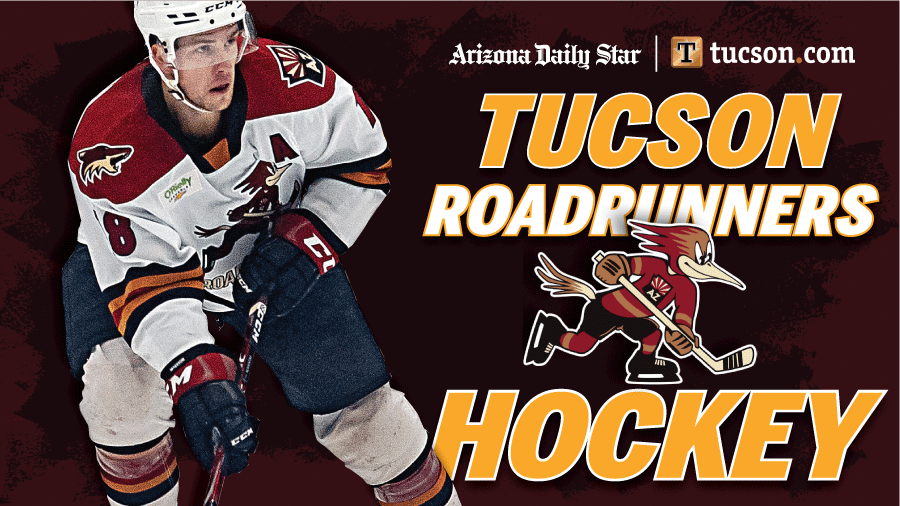 The Tucson Roadrunners' promising start ended with a most uninspired conclusion — and the team is surely scratching its head as to how it let this one get away.
Tucson led 2-0 in the game's first seven minutes thanks to a pair of goals by forward Travis Barron. But the vising Henderson Silver Knights chipped away, ultimately flipping a 3-1 Roadrunners' third-period lead into a 5-4 overtime win for the visitors from Southern Nevada.
"When you have a 3-1 lead in the third, you want to walk away with two points," Tucson head coach Jay Varady said. "We got a point, but you'd like to get two. When you play the way we did in the first, you'd hope we can carry that through the game.
"Third period, we were able to find a goal and after that, we kind of sat back," Varady added. "We need to continue to push for the entire 60 minutes."
The Roadrunners (9-8-2-0) and Silver Knights (10-7-1-1) go at it again Wednesday at 6:30 p.m. in Tucson Arena.
Barron, a veteran of 74 American Hockey League games, scored his second and third goals of the season in the first period Tuesday to give Tucson that early 2-0 lead.
Barron's first goal came off assists from Hudson Fasching and Cole Hults, with Vladislav Kolyachonok helping on the second. Barron now has three goals in his last three games, matching his career total through the first 72 of his career.
"Obviously a good start is key. Every team wants to have a good start," Barron said. "We sure did today, and unfortunately we let things go.
"The beauty about this game is we're right back at it tomorrow," he added. "So, learn from your mistakes and, you know, improve and get better every day. So we'll be ready for tomorrow."
Henderson's Jake Leschyshyn scored a minute into the second period, before Terry Broadhurst put Tucson up 3-1 early in the third on a goal assisted by Ryan McGregor and Hudson Elynuik.
After Ben Jones cut into the lead for Henderson midway through the third, Leschyshyn dropped his second of the night to tie the game at three apiece with 2:40 to play in regulation. Colt Conrad won it for Henderson 1:14 into the overtime period.
"That one stings," Barron said.
Tucson goaltender Ivan Prosvetov allowed just one through on the first 22 shots on goal he faced.
Prosvetov finished with 31 saves on 35 shots.
Tuesday marked Prosvetov's fifth consecutive start for the Roadrunners, leaving wonder if Varady may elect to go with McIntyre, who dressed as the backup Tuesday, or Josef Korenar in net Wednesday. If Prosvetov does get the nod again, it will mark the third straight two-day series he'll have started both sides of a back-to-back.
Wednesday marks Tucson's last home game until New Year's Eve. That night, the Roadrunners take on the San Diego Gulls at 6 p.m. in Tucson Arena.