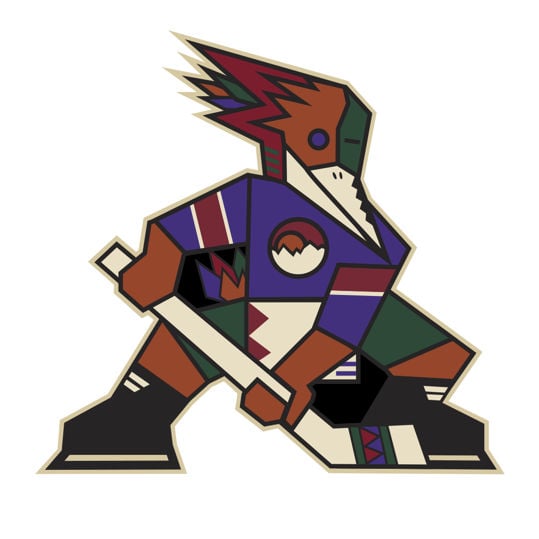 To anyone who thought the Tucson Roadrunners' nine-round shootout win Friday night was the wackiest hockey they'd see for some time, Saturday night sure wasn't fooling around.
Sitting in first-place in the American Hockey League's Pacific Division and now with the best record in the league's Western Conference, the Roadrunners (10-3-0-0) nearly coughed-up a four-goal lead, but held on in the end for a wild 7-6 outcome Saturday night over the visiting Stockton Heat (7-2-1-2).
With the win, Tucson became the first AHL team this season to reach 10 wins, and did it Saturday on Military Appreciation Night at Tucson Arena. With the Roadrunners wearing special gunmetal-gray jerseys inspired by the A-10 Warthog fighter jet stationed out of Tucson's Davis-Monthan Air Force Base, Saturday's victory came in front of a season-high home crowd of 6,117.
And those 6,000-plus through the gates might as well have been ringside in Vegas or Atlantic City, gearing up for a multi-round prize fight.
The 13 combined goals tied a single-game Tucson franchise record, and the Heat and Roadrunners joined forces for 18 penalties and a generally chippy joint disposition throughout.
"Yeah, I don't think when you walk into the rink you want to play a hockey game like that," Tucson coach Jay Varady said. "But when you walk out of the rink, it's great to get two points (in the standings). That's all I can say about that game."
The teams' 55 combined penalty minutes included a five-minute major and game misconduct handed out to Tucson leading scorer Lane Pederson at almost exactly the game's half-way point. With the Roadrunners leading 4-1 just inside the 10-minute mark of the second period, Pederson was called for kneeing Stockton's Adam Ruzicka, who writhed on the ice while – he was ultimately helped by teammates to the Heat locker room – just as Pederson was escorted off himself.
The Heat used the ensuring five minutes – on a five-minute major, the power play is not over once a team scores – to score three power play goals, cutting that 5-1 to a single goal differential. Two goals from Oliver Kylington and another from Matthew Phillips cut Tucson's lead to 5-4 before Tucson returned to even strength.
"Yeah, it's tough when they get three quick ones like that and you're still killing a penalty," Tucson defenseman Dysin Mayo said. "But credit to the guys for bearing down and figuring out a way to win."
Stockton and Tucson traded barbs – both in terms of physical play, and on the scoreboard – until the bell sounded at the end of the would-be final round.
For Tucson, Andy Miele and Michael Chaput each had two goals, with Mayo, Jeremy Gregoire and Kelly Klima rounding out the Roadrunners' scoring. Gregoire's goal was his third of the year – all have been in shorthanded situations – while Klima's was the first goal of his AHL career.
Mayo finished with a goal and two assists, while Michael Bunting had three assists on the night for Tucson. Pederson, Brayden Burke, Nick Merkley, Nate Schnarr, Robbie Russo, Jalen Smereck all also had an assist apiece for the Roadrunners.
For the Heat, Kylington would another goal to complete the hat trick in just the Stockton defenseman's second game of the year. Dillon Dube and Glenn Gawdin also added goals for Stockton.
The big pre-game news for Tucson was the announcement that goaltender Eric Comrie had been assigned to the Roadrunners for a conditioning assignment. Comrie, who can stick with Tucson for up to two weeks, was penciled in for the start Saturday, stopping 30 of 36 shots, and holding on for the win.
Comrie had been practicing over the last month or so with the NHL's Arizona Coyotes after being picked up of waivers from the Winnipeg Jets' organization.
A week ago, when these teams met for the first time this season — the first of four meetings between the top two Pacific Division teams over a give-game span— Bunting said after that one, "I'm sure we'll hate each other by the end."
It sure looked that way by the conclusion of Saturday's affair. Multiple crunching hits and multi-player skirmishes littered the second and third periods, with Bunting a part of a number of them, to be sure.
"That's honestly the most fun hockey you'll ever play — when you get to know each other and you just battle it out," Bunting said.
Tensions between the clubs escalated right in line with the climbing combined score, but the multi-round prize fight isn't over just yet. Tucson and Stockton face each other yet again this week — this next-go-round is Friday night at Stockton Arena, before the Roadrunners head further west to San Jose for a  Saturday night tilt with the Barracuda.
"I'm excited for next Friday," Bunting added, "and I'm sure they're going to come out with some jump because we beat them the last two games — actually three games."