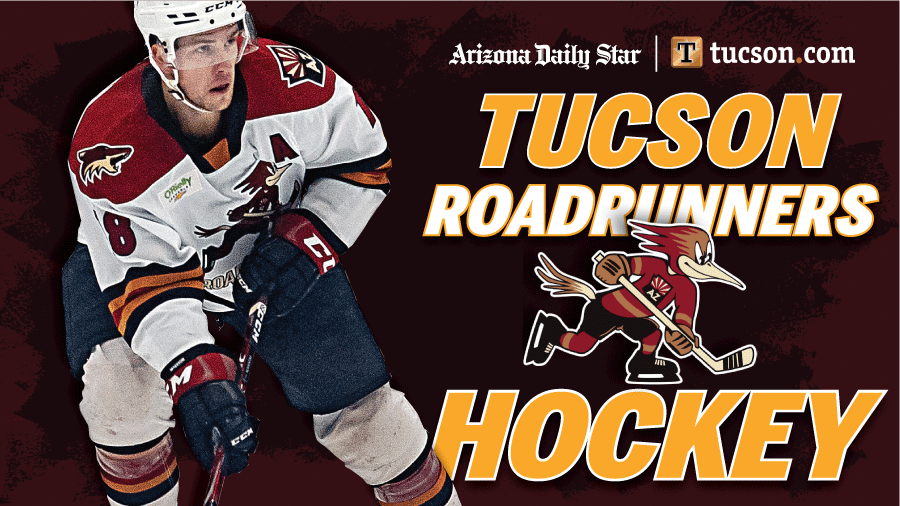 A four-game homestand that started with such promise for the Tucson Roadrunners this past week concluded with a thud Sunday – no matter how hard the Roadrunners tried to soften the landing.
The visiting Colorado Eagles defeated Tucson, 5-3, to hand the Roadrunners their third straight defeat just as they prepare to leave Southern Arizona on a two-week, six-game road trip starting Wednesday in San Jose.
"It's unfortunate, we couldn't come up with some wins this weekend. These are some big games, and we knew that going in," said Tucson forward Mike Carcone, who had a goal and an assist in defeat. "All we can do is learn from it."
Colorado blew open a game that was 1-1 late in the first period with four straight goals to go up 5-1 near the end of the second. While it appeared the Eagles (14-11-3-2) would just cruise down the stretch, the Roadrunners (11-11-2-1) managed to make things somewhat interesting, scoring with 10 seconds remaining in the second period and again midway through the third to cut the four-goal deficit to just two.
But that's as close as Tucson would get, with Colorado stymieing the Roadrunners momentum and chances as a true comeback late.
The Roadrunners began the week in fourth place in a crowded middle section of the American Hockey League's Pacific Division standings. But earning only three points out of a possible eight, thanks to a 2-1 win Tuesday over first place Stockton and Saturday's shootout loss to Colorado, pushed the Roadrunners down to sixth out of nine teams in the AHL's westernmost division. The top seven teams will earn postseason berths this season.
Dylan Sikura, Jayson Megna, Martin Kaut, Justin Barron and Kiefer Sherwood collectively paced Coloardo with two points apiece. Sikura's goal less than five minutes into the first period opened the scoring, before Tucson's Matias Maccelli tied the score late in the first on a power play goal, assisted by Carcone and Vladislav Kolyachonok.
But that's when Barron, Andreas Wingerli, Kaut and Megna each scored to push the Eagles back in front and padding the lead in the process.
"A couple bad bounces actually, (goals) four and five I think they were double deflections," Tucson coach Jay Varady said. "But we've just got to be better over the top earlier in the game. They're a team that's great in transition. They score on the rush.
"In the first period they had some odd man attacks," he added. "A couple two-on-ones, a breakaway, a three-on-two. So you look at those things and we got to be over the top of the puck a little better there."
Carcone scored late in the second period – his power play goal assisted by Victor Sodorstrom and Hudson Fasching – before Boko Imama added one of his own in the third period. But Imama's marker, assisted by Hudson Elyniuk, would be the last bite Tucson would take out of Colorado goaltender Justus Annunen. Annunen turned away 22 of Tucson's 25 shots on net, while Tucson's Ivan Prosvetov was peppered by 48 Colorado shots on goal, stopping 43.
Imama had goals in both games against Colorado, and now has points in three straight.
Carcone's goal and assist give him five points in his last five games for Tucson, while Sodorstrom's helper gives him eight points from the blueline in his last nine games.
Maccelli's goal Sunday was his team-best eighth of the year – a day after he earned his Roadrunners-high 14th assist in Tucson's 3-2 shootout loss Saturday night in Tucson Arena. Maccelli also leads all Roadrunners with 23 points in 23 games this season.